Believed to have been first created in Spain's region of Valencia by way of farmers, Paella is said to be the perfect union between two cultures; the Romans creating the pan and the introduction of rice by the Arabs. The term 'Paella' actually refers to the pan in which it is cooked in, with varying sizes available, the characteristically shallow depth and dimpled rivets remain the same, ensuring that the contents have a maximum surface touch for cooking, whilst the dimpled rivets cause a dispersion of heat, creating a textured finish with the rice.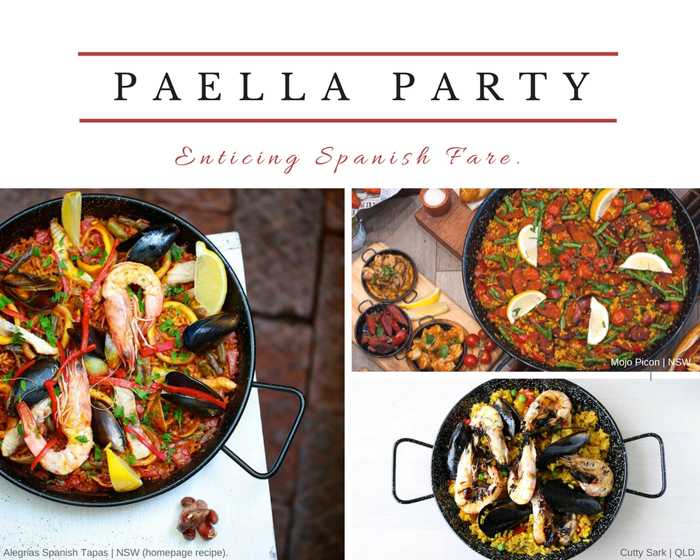 Commonly associated with seafood, Paella was originally made with only game meats like rabbit, chorizo sausage and escargot, with its versatility seeing its transformation over time to the medley of proteins it is today.
Just as popular as the Paella, the Spanish eating style of 'tapas' has made its mark on our country's food scene as a popular dining option to accompany casual drinks amongst groups. As we celebrate all things Spanish, jump on our Paella Party bus as we take tour, exploring splendid Spanish flavours and embracing their lively culture.
Alegrias Spanish Tapas | NSW
For an entertaining night out, visit Alegrias Spanish Tapas restaurant to be instantly submerged in the Spanish way of life. Surrounded by traditional dancers performing the sultry flamenco, diners indulge in accustomed eats seen in dishes like deep fried strips of lightly floured calamari drizzled with Andalusian spices and served with lemon and aioli. However, it is Alegrias Paella recipe which we have gotten our hands on that has us stamping our feet and rejoicing olé! Bring the taste of Spain into your very own kitchen by whipping up Alegrias' seafood paella recipe found here.
Cutty Sark | QLD
When seeking authentic Spanish cuisine with a modern twist, stroll along Brisbane River to discover Cutty Sark bar and restaurant, where an open and airy dining space has been created to suit any occasion, from long brunches with friends to intimate dinners. Cutty Sark serves up a Spanish tapas inspired menu meant for sharing, offering dishes like free range grilled chorizo with fire roasted peppers and their well requested paella inspired by Australian produce using chicken, chorizo and fresh, locally sourced seafood.
ICON Event Catering | NSW
For something a little different, why not invite the paella to your very own home? ICON Event Catering of Sydney offer a comprehensive catering business which can customise a package to suit any function big or small, with a skilled team of managers who are on hand to help ensure the function runs smoothly by offering their professional service. Adding to the already impressive cuisine portfolio available, ICON added the Spanish paella, making for a crowd-pleasing favourite which will leave your guests entertained as well as satisfied.
Tapas Tapas Bodega | NSW
Hailing inspiration from the Catalonia Basque Region, Turramurra plays host to one of Sydney's Spanish hot spots, Tapas Tapas Bodega. Offering an impressive imported wine list to accompany a stellar menu of shared meals, sample bold flavours found in mains like the crepe con salmon, a light and thin crepe filled with smoked salmon, artichoke, onion and capers or perhaps enjoy a crowd-pleasing tapas seafood paella with prawns and fresh lemon juice.
Tapavino | NSW
Known for their fortified wine collection, Tapavino has left an undeniable mark on Sydney's Spanish dining scene, securing its place as a regular haunt for those in the know seeking quality Spanish fare along Bulletin Place in the city centre. Dine under sultry ambient lighting, setting the tone for the contemporary fitout, whilst you savour smaller bites with menu options like diamond shell clams roasted in parchment, kipfler potatoes, vermouth, garlic and chilli or the sardines de compostela with fennel, black olives and hazelnuts.
Remy Bar De Tapas Y Vino | VIC
Enter the European inspired interior of Remy Bar De Tapas Y Vino, styled with terracotta tiled floors and blue mosaic tiles, giving diners the feeling that they have travelled abroad without leaving the streets of Malvern. Dine as the Europeans do and take a seat curb side to people watch as you share jugs of sangria whilst you tuck into a tasty Paella of mussels, calamari, clams and prawns.
Mojo Picon | NSW
Bringing the flavours of the Spanish Canary Islands to Sydney, make a visit to Mojo Picon for hearty, flavoursome servings of dishes like the individual chorizo, chicken or seafood paella, or a pulled pork roll with 10-hour slow cooked pork with chorizo, salad and the signature fiesta relish. Mojo Picon also offers inventive catering options for customers to create their own menu for their very own fiesta at home.
Despana | NSW
Despana restaurant residing in Sydney's Glebe is a mecca of colour and passion, creating a welcoming and energetic space to unwind with friends sharing in plates of veal and pork meatballs with saffron and almond or stuffed squid with Botifarra sausage and white beans or perhaps enjoy a glass of sangria whilst devouring a Paella Blanca with clams and peas all finished off on a sweet note with freshly cooked churros and chocolate.
So why not take to your closest Spanish restaurant found here, and say Olé to their philosophy of sharing this good life with good food.