By Leigh O'Connor.
Where would Spanish cuisine be without the humble sausage? Imagine a paella without chorizo, it just wouldn't be paella. This spicy pork sausage - known for its rich, red colour and tangy, smoky flavour - is equally delicious eaten in slices as tapas or savoured in a slow-cooked, traditional stew.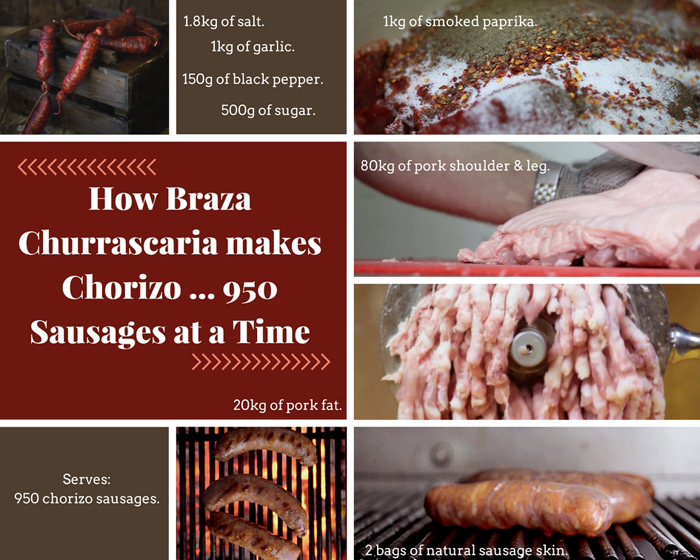 Most countries around the world have their own take on the sausage from bratwurst to kielbasa, but none quite matches the fascination foodies have with chorizo. Sweet or hot, depending on the heat level of the smoked paprika used, chorizo can be grilled, braised or fried, adding amazing flavour to any dish from appetisers to omelettes.
In Sydney, authentic Brazilian barbeque house, Braza Churrascaria serves world-renowned Australian meats, with carvers rotating from table to table offering more than 20 different types of skewers, including chorizo.
With restaurants in Leichhardt, Miranda, Darling Harbour and Manly, diners tastebuds experience their own carnival with succulent cuts of beef, pork, lamb and chicken, all skewered and slow roasted over a charcoal wood fire grill.
They even make their own chorizo… usually 950 sausages at a time. Sharing their ingredients in celebration of all things Spanish, Braza uses nothing artificial right down to the fresh, natural sausage casing. Pork shoulder and leg are cut into small pieces, minced with pork fat and combined with garlic, smoked paprika and black pepper, before being fed into a hydraulic sausage filler.
Once filled, the chorizo is bagged, delivered to the restaurants, skewered and cooked on a traditional wood and charcoal rotisserie barbeque to bring out the succulent, smoky flavours.
The idea of skewering meat came from the gauchos – cowboys of the Pampas – who spent weeks away from home working with cattle; as a practical way of cooking a meal, they would use a sharp knife to cut a strong wooden stick, add a piece of meat and rock salt, before grilling over an open fire.
A typical Spanish household will have two types of chorizo hanging in the larder – a firm, cured chorizo to be sliced and eaten as a snack, and a softer one for use in cooking. The lean to fat ratio in the preparation determines the use of the sausage, those for cooking have more fat to flavour stews and prevent drying out when grilled.
Keep a chorizo in the fridge and you will never have to worry about what's for dinner again. For more recipes and ideas click here.