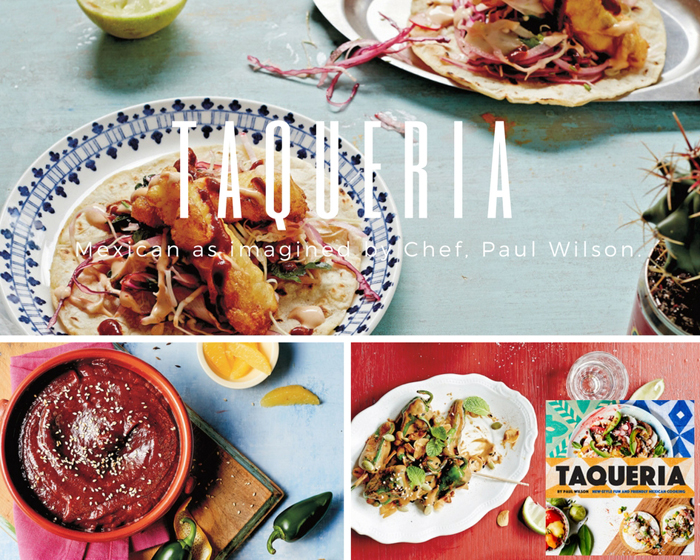 "From the bright citrusy notes of the Yucatan Peninsula to the rich, earthy and complex sauces of Oaxaca, this book demonstrates that there is so much more to Mexican food than just the lime and jalapenos that people associate with the cuisine." ~ Paul Wilson.
Renowned Chef Paul Wilson believes there has been no other place in all of his travels that has inspired him quite like Mexico has. He describes the humble and unselfish way of eating in Mexico to be refreshing, with large spreads of food offered to friends and meal times being a communal affair of sharing, creating an almost ceremonious harmony with each meal. This has seen the revival of Mexican becoming popular again in the western world with diners enjoying the bold flavours, potent cocktails and easily eaten finger food, living up to the resident saying that the tortilla is the knife, fork, serviette and plate of Mexico.
A true test of a good Mexican recipe is its versatility and interchangeability, so that it can also be used for other applications. This is the case for Wilson's tamarind chilli mole, making for a sauce or marinade that can be used across the board in any kitchen. Wilson suggests using it as a spicy baste for barbequing meats or mixed with a little sour cream and added to any tacos or spread onto seafood. Rich in colour, this mole sauce can be kept in jars and refrigerated for up to a month.
For an entrée with kick, follow the padron peppers with sesame pipian, often sold fried or grilled in snack bars throughout Spain. This is an ideal entree to begin a meal or as an accompaniment to any white meat or seafood. With a similar texture and taste to capsicums, 10% of Padrons are almost unbearably hot, making for an adventurous game of chilli Russian roulette. These Padrons are served in a creamy and cooling sauce with mint and served with a sprinkling of toasted seeds and zesty lime wedges.
A Mexican cookbook wouldn't be complete without the addition of a killer taco recipe, so make time to delve into Wilson's fish tacos with slaw and two sauces. Straight from the Baja coast of Mexico this recipe calls for first choosing the right fish and doing it justice with a great crunchy batter. Mixed with a fennel and radish slaw, chipotle mayonnaise, zesty lime dressing and parsley, this is a gourmet taco screaming with flavour and freshness.
Paul Wilson is one of Australia's foremost experts on Latin American cooking. Known for taking classic ideas from traditional food cultures and transforming them into contemporary dishes, he is critically acclaimed for creating some of the most unique Mexican food available today. Enjoy his insight and knowledge throughout Taqueria, teamed with vibrant and colourful photography and accompanied by animated illustrations and geometric patterns, it will reinvent the way you think about Mexican food by experimenting with its flavours and techniques, bringing back the fun and friendliness into cooking the ancient cuisine.
Images and recipes extracted from Taqueria by Paul Wilson. Published by Hardie Grant Books, RRP $AU40, and is available in stores nationally. Photography credit to Chris Middleton.