By Sean Melrose.
After two eagerly anticipated festival showings of his film Charged, travelling adventure Chef, Eduardo Garcia is taking a couple of minutes to relax before "shipping out" again for the Martha's Vineyard film festival. There's also the food company Montana Mex to take care of, so it's safe to say the man known as the bionic Chef is a fairly busy guy.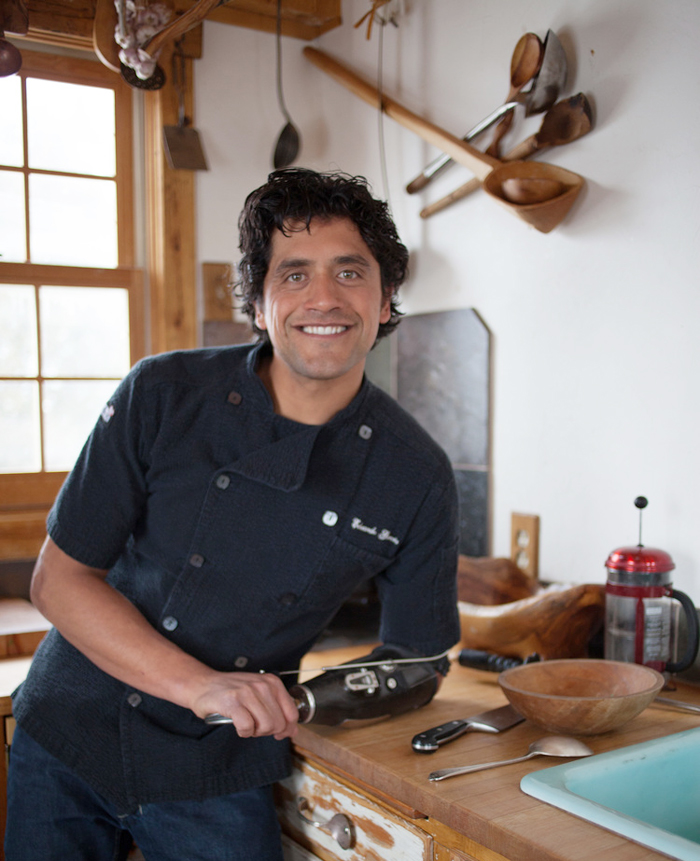 Eduardo back in his Chef coat and rocking it in the kitchen once again. Image: supplied via chargedfilm.com
"For the first time we'll show on the East Coast for the documentary, so [we're] just trying to keep up to speed with it all," says a cheerful Eduardo, who's spent the past couple of days enjoying feasts created with the produce from his garden. Most recently on the menu was chicken and dumplings. It's 4pm in the afternoon in Montana.
For those yet to hear Eduardo's story, it runs something like this: a handsome young Chef who looks like Vincent Chase from Entourage (co-incidentally Eduardo cameoed in the Entourage movie) is living the life, cooking on super yachts and bagging unsuspecting tropical fish with vigour. Our Chef then decides to start a food company with friends and make an adventure cooking show, which looks like it will be a big hit. Everything is rosy.
Then it gets dark; when the Chef who has it all pokes what looks like a dead bear with his hunting knife on a hike. At that moment he is assaulted by 2400 volts of electricity flashing through his body, sounding like a symphony in his head. Unbeknownst to him, there was a live power source running through the animal and the next thing he knows, he's blindly walking along a gravel track and chanting to himself to keep going, to make it out.
To say he required a lot of surgery is an understatement, though the main loss was his left hand which had to be amputated. Later on, in a ludicrous development mid-way through the excruciating surgery, Eduardo was told he had testicular cancer. The knife-work was all put on hold so that he could undergo intense chemo therapy, after which there was the added benefit of more surgery to look forward to.
CHARGED: The Eduardo Garcia Story Official Trailer from Implement Productions on Vimeo.
Charged is the story of Eduardo Garcia's journey through some of the worst things life can throw at us and his subsequent recovery and return to a rich and vibrant life. Watching the film affects people in different ways, but it's always emotional and people generally want to connect afterward to say thank you.
"Trust me, it's phenomenal, it's really heartfelt.
"We spent years talking about this film and years putting into it, and you get a 12-year-old come up and then you get an 80-year-old come up and they have different takeaways, completely separate takeaways, from totally different angles of the film, and it 100 percent validates all the effort going into it.
"I probably won't have another time in my life to really experience just the impact it has on me, to engage with so many people that are getting an inside look into the joy, the pain and the total, kind of magic that is being alive."
Ideally, Eduardo will visit Australia sometime in the near future to enjoy the surf, but also to bring Charged to an Aussie film festival, or failing that, film an episode of his new TV show Hungry Life. Charged hasn't landed down under just yet, but anyone interested can check out the trailer and stay tuned, plugging in to Hungry Life in the meantime, which will be coming out soon in an online format thanks to Yeti Coolers.
Hungry Life is a series of short snippets cut from Eduardo's hunter gatherer lifestyle, set in different jaw dropping locations each time and embodying his zest for life. It's set to be released in collaboration with Yeti Coolers, an outdoor gear manufacturer and collator in a sense, of adventurer's stories. Blog entries and recipes will be added to the mix from each trip, to add colour, detail and an opportunity to interact. A comparison could be drawn to RedBull, who often sponsor and support extreme athletes with RedBull TV.
"It's just a matter of time before there's a Hungry Life OZ episode," says Eduardo.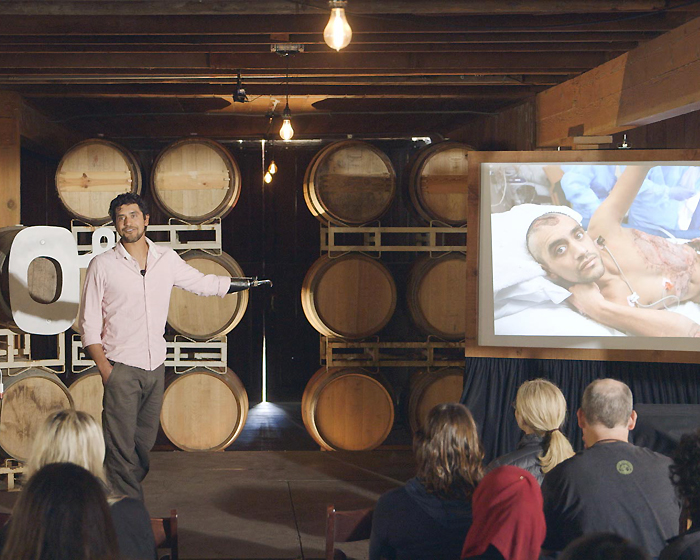 Eduardo talking about his injury and recovery at the Do Lectures USA. Image: supplied via chargedfilm.com
Perhaps it's because of his experiences, or his Vinnie Chase charm, but Eduardo is just one of those people that seems to have a gift for communicating and expressing themselves. When he talks, people listen. It's interesting, because listening to a Do Lectures speech he presented in 2013, he mentions he had a hard time in the school system and still thinks of himself occasionally as "that scrappy kid from Montana."
Eduardo explains how he spent a lot of time listening from the hallway at school, where he was placed so he couldn't disrupt the class. It could be seen as a sort of silver lining that such misfortune has struck a person with not only the strength of character Eduardo has, but a person with this amazing ability to share his story with others.
"Quite honestly I've always been very expressive, I was raised with a mum from New York, so when my buddies were watching like, you know Terminator or you know Naked Gun, or when they were watching pop culture films, I was raised on Broadway musicals and theatre and classical music, and then I read a lot as a kid," he says.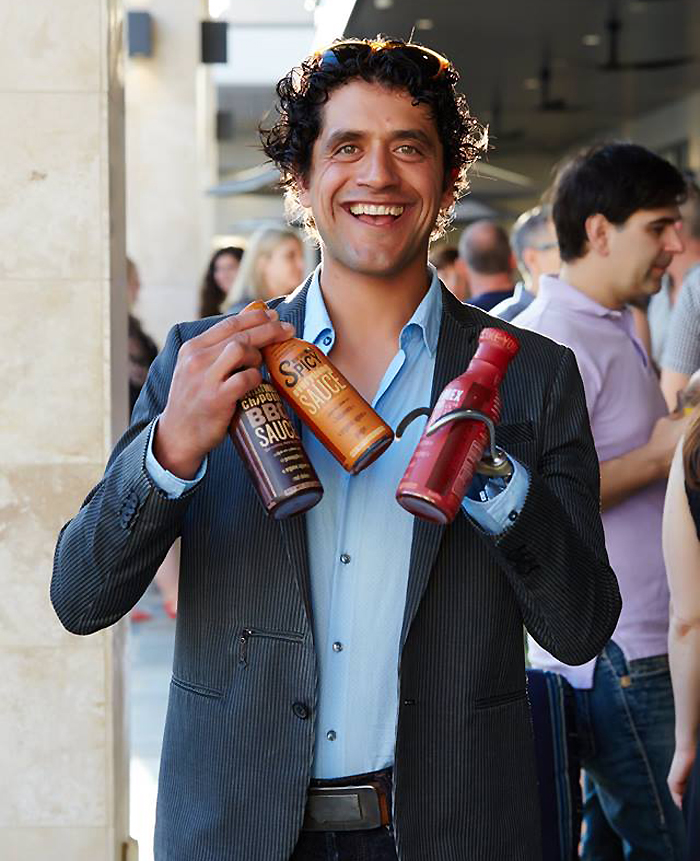 Eduardo and his brand of sauces, Montana Mex. Image: supplied via Facebook, Eduardo Garcia, @foodwitheduardo.
It was a serious passion for food that was the catalyst for Eduardo, leading him to Chef school and the realisation that he needed to keep his hands busy. Later on, his love for food manifested itself in Montana Mex, an organic seasoning company that Eduardo co-owns along with family and friends. The company is built on the same food philosophy that drives much of Eduardo's other ventures, a belief that food is so much more than fuel. It's also why the spices and oils they have created are all organic and exclude any additives.
"Food should be one of the highlights of your day.
"If I find myself panicked or stressed about food in my life, how I'm going to eat, when I'm going to eat, or how I'm going to eat well, then something's way off," says Eduardo.
There are plans in the works to make Hungry Life a longer form TV show, along with other adventures waiting around every corner. For now, though, it seems like it's time to just feel each moment, soak in the reaction to the film and ride the wave. Fans waiting for Charged's arrival can rest assured, we'll be seeing plenty of Eduardo Garcia.
To tune in for any updates with regards to Charged, the film can be followed on Facebook or by subscribing to the website chargedfilm.com. Montana Mex spices and oils can be bought from the Montana Mex website montanamex.com. Eduardo can be followed on twitter @FoodwithEduardo and Instagram @chefeduardogarcia.