Embrace the beauty of Australia's dusty red terrain
Wide red plains, blue skies, unique plants and animals, even more unique locals and an abundance of art, history and culture are just some of what outback New South Wales has on offer to those who make the journey. Breathtaking in its beauty, Outback New South Wales is made up of many national parks alongside small country towns with big country hospitality. From the Royal Flying Doctor Base at Broken Hill, explore the wonders of the outback, being sure to stop at attractions like the World Heritage listed Mungo National Park, where you can see the remains of the Mungo man and Mungo woman that date back some 40,000 years. Whether you are exploring the Upper Darling with some opal fossicking at Lightning Ridge or taking time out on the Lower Darling for some fishing, Outback New South Wales is anything but dull and makes for a perfect holiday for family, groups or couples.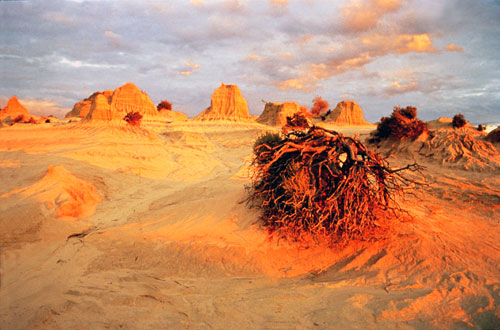 Where are some of the best outback destinations?
To best experience Outback New South Wales, why not stock up and head off on a four wheel drive adventure, through Australia's historic little towns, going off the beaten track to discover some of New South Wales' rich heritage and natural beauty. The Darling River Run is one of New South Wales' greatest drives through the state's outback regions, where you can take time out to explore towns and natural attractions along the way. Discover the many networks of rivers, gorges and endless horizons of the New South Wales outback, sink a few beers with the locals and experience a side of Australia you'll remember for the rest of your life.