By Freya Ensbey.
The Sunday roast has become somewhat of an institution in Australia, bringing together friends and family to enjoy a hearty weekend meal, to slow down and to share in conversation; a dinner time ritual that can quickly become a missed opportunity throughout the busy working week when spare time is fleeting.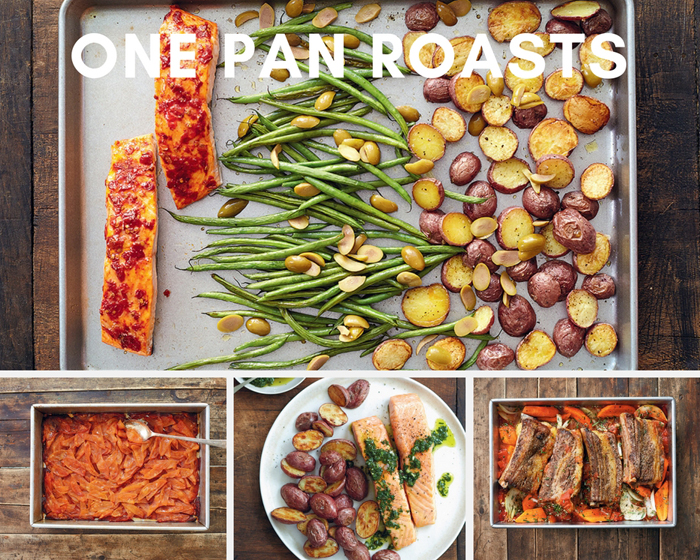 Residing in New York, Molly Shuster is a freelance food stylist, writer and recipe developer, holding a culinary degree from The Institute of Culinary Education in New York. With her work featuring in many publications including Gather Journal, Boston Magazine, The New York Times, Food and Wine and Edible Vineyard.
Finding that it is not always easy to prepare a healthy family dinner after a long day at work and missing the simple pleasure found in sitting down to a communal meal and sharing news as done so effortlessly on the weekends, Molly Shuster decided it was time to create a guide to bring the humble roast into homes every night of the week, bringing us her highly anticipated first cookbook, One Pan Roasts.
This cookbook features 80 incredibly simple recipes for meat, poultry, seafood and vegetarian meals, all cooked in the oven with the use of just a single pan! Needing only three basic tin sizes, Shuster takes readers through roasting 101, teaching technique, aromatics, timing and the finishing touches to create an impressive master piece dinner, no matter how little energy or time you may have throughout the week. Along with scrumptious side dishes to master like her creamy cauliflower puree or herbed farro, Shuster also whips up sauces to top off any roast like a punchy warm mustard sauce or a spicy chimichurri sauce.
For a finger licking dish the kids will love getting their hands dirty with, serve up these braised beef short ribs with beans. This slow cooked recipe creates fall-off-the-bone meat which has been infused with the rich flavours of tomato, garlic and rosemary and added nutrition from the hearty addition of white beans.
When most people think of a roast dinner, the image of larger cuts of red meats usually come to mind. However, page 66 delivers a roast seafood gem with the succulent baked harissa salmon. Using only a handful of ingredients, with the likes of spicy harissa, salty olives, green beans and crunchy potatoes this recipe creates an easily made dish sure to impress any fish lover.
If by now One Pan Roasts hasn't already reinvented the way you think about roasts, the last chapter devoted entirely to roast desserts certainly will. Slow baked apples is a versatile recipe which can be used and adapted time and time again. Slowly baked for 4 hours with lemon, a touch of sugar and butter, these can be put on in the afternoon and be ready to eat hot out of the oven by the time dinner rolls around. Serve with a generous scoop of vanilla ice-cream or save any leftovers to add to your granola or porridge in the morning.
One Pan Roasts will have you reclaiming the weekday dinner time, creating conversation and connection and ensuring fond family memories are made for years to come.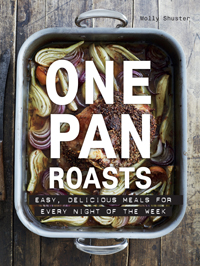 Images and recipes from One Pan Roasts by Molly Shuster, published by Murdoch Books, RRP $35.