By Leigh O'Connor.
"Finding the time to prepare delicious food is a challenge for most of us, whether or not we enjoy cooking." – Sue Quinn.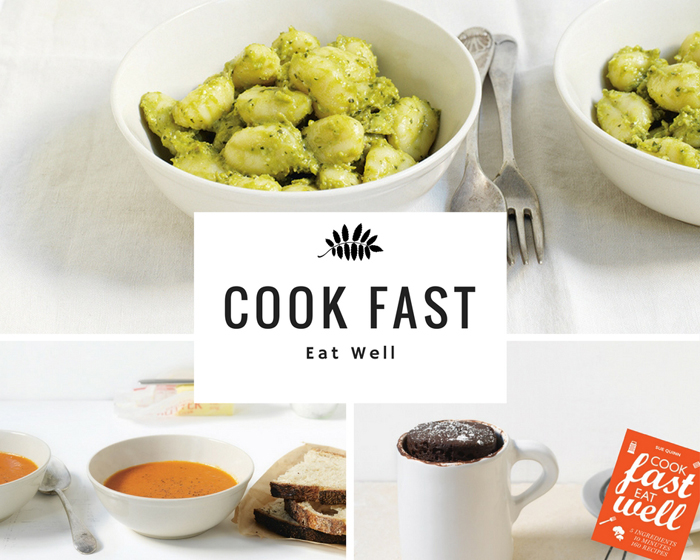 Cooking dinner doesn't have to mean long lists of ingredients and hours in the kitchen, according to Sue Quinn. Many cookbooks and television shows would have us think that tasty meals take forever and aren't authentic unless they involve a shopping list the length of your arm.
As a respected Australian author and food writer, Sue's focus on healthy recipes in quick time is emphasised in "Cook Fast Eat Well" as she takes the home cook through plates to share, light bites, super salads and soups, as well as main meals and desserts - all served in 10 minutes.
Strongly influenced by Italian, Greek and Lebanese communities in Sydney, where she was born and raised, Sue has also drawn on her extensive travels for inspiration for this collection of more than 160 recipes.
One of the keys to super-fast cooking is well-chosen ingredients – fresh pasta, jars of marinated vegetables, frozen fruit, punchy sauces, cans of tomatoes and excellent stock cubes are necessary staples and perfectly acceptable short cuts to cooking speedily without compromising flavour.
Being organised in the kitchen is the other key – cooking time starts once all the ingredients and utensils are assembled. Sue urges cooks to have everything ready before starting each recipe and to follow the method as instructed, multi-tasking as much as possible.
Hearty soups are always welcome on the family menu, especially during the Winter months, but can often take time to develop depth of flavour – not with Sue's recipes, such as roast capsicum with basil and garlic.
This quick and easy lunch or dinner time savoury dish uses drained roasted peppers from a jar, vegetable stock cubes and chopped onion sautéed in a pan and then blitzed in a blender to create a smooth, tasty soup, ideal teamed with toasted sourdough.
Make Sue's avocado pesto gnocchi for a weeknight dinner that will put smiles on dials around the table, leaving enough time to relax with a glass of wine while enjoying tasty food in quick time. This recipe uses store bought gnocchi, while the pesto sauce is whipped up in a food processor using avocado, basil and pine nuts.
There's something satisfying about ending a meal with a decadent dessert teamed with an aromatic coffee, especially if the sweet can be put together in record time. Chocolate cake in a mug delivers all the desired richness with only three minutes cooking time in the microwave and dusted with icing sugar, it is a mouth-watering morsel.
Once you get into the swing of speedy cooking, nothing is out of reach. This cookbook serves up a repertoire of meals that can be concocted more quickly than you ever thought possible and will become a go to on the kitchen shelf.
Images and recipes from Cook Fast Eat Well by Sue Quinn, published by Murdoch Books RRP $35.