Here I am, sitting in View Restaurant at Peppers Noosa Resort waiting to have dinner with Matt Golinski. Expectation and anticipation are palpable in the air, this is a big moment – a chance to talk one on one with not only an inspirational Chef, but a man who has captured the minds and hearts of the nation through his courage and perseverance.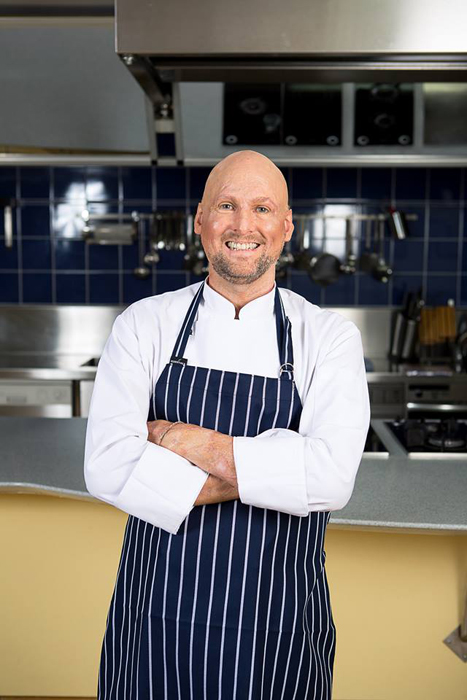 Matt Golinski. Source: Facebook.
We all grieved with him when almost seven years ago a tragic fire at the family home in Tewantin resulted in Matt losing his wife Rachael and three daughters – Starlia, Willow and Sage. Left with horrendous burns to more than 40% of his body, Matt faced skin grafts, operations and painful physiotherapy, as well as coping with the mental anguish that comes with such an unimaginable loss.
I look across the restaurant and there he is, looking a lot leaner after completing the gruelling Kokoda Challenge in the Gold Coast Hinterland just a few weeks ago. Sporting his familiar black baseball cap and cheeky grin, he is also with his fiancée Erin Yarwood and one-year-old daughter Aluna, an unexpected and welcome surprise to our awaiting group.
These days Matt is smiling again, and it's not hard to see why.
Matt Golinski's Instagram photo of daughter, Aluna. "Drum Lesson 1: Eating your sticks." Source: Instagram.
"Sorry we're a bit late, but I only got back to Noosa an hour ago from Beenleigh. I have been gone all week, so seeing this little one again makes me realise how fast she is growing up," he says.
Aluna looks adoringly at him and giggles "Daddy!" His face lights up and Erin smiles – the joy their daughter brings is evident for all to see.
"She's a little restless," Erin explains. "For some reason she slept all day and is now wide awake. Having Dad home is very exciting."
Over a Negroni and grapefruit Margarita, he starts to tell me how he joined the Peppers organisation.
Five months ago, Matt came on board at View as Executive Chef, the restaurant was rebranded to carry his name and he began creating menus to showcase local produce and the Noosa lifestyle.
"I've done a lot with Peppers over the years and have known the crew for a long time. They spoke to me a few times about coming here to create menus, train the staff and source local produce. Peppers wants to brand itself with a focus on food and this gives me an opportunity to have somewhere to show off local producers.
"This is our focus here, from five or six suppliers we now have 40 or 50 producing everything from foraged sea succulents to pork and seafood. Logistically that can be very hard, ordering the pork on a Monday so it is here later in the week. We now have 100% free range eggs from Gympie - I won't let a caged egg in the place," Matt says. "In the five months I have been here, no one has ever said to me you can't spend money on that."
Craving Dad's attention, Aluna has a little cry and Matt immediately responds with a gently shuffle onto his knee to bring her closer. "Aww man… that's not a real whinge. Oh yeah, cry and point at stuff at the same time," he laughs.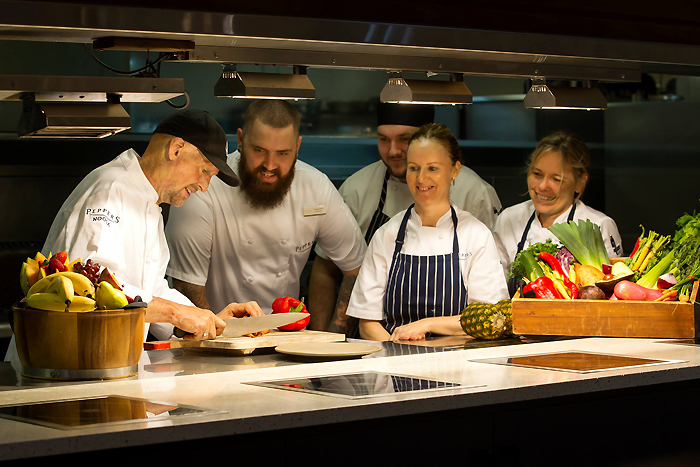 Matt Golinski in the View kitchen with staff. Supplied.

"People come to Noosa because it is a food town. That's what we are trying to achieve here, a place that serves 'on holiday food'. Not everyone wants fine dining or fussy food every night, if you want to go out for breakfast, lunch and dinner – the food has to be suited to the lifestyle."
The waitress arrives at the table and asks if anyone wants bread?
"I'll have some bread, yes please. I've been dreaming of this bread all day," he says. "Did you know we make our own butter here? You have to try some, it's amazing… we also make ricotta for our ricotta gnocchi."
Happy to tuck into the fresh sourdough I didn't order anything else, however Matt is determined we try his freshly shucked oysters with Green Valley finger lime vinaigrette and sea succulents, sourced from Wild Forage Australia.
"Come on, try the oysters! I could eat two dozen of these by myself."
As we slurp and enjoy morsels tasting of the sea with a sharp tang of lime, Matt explains what he has been doing for the last week and I get the feeling of how passionate he is about helping others.
"I've just come back from a paddock to plate lunch at Beenleigh High School, working with students for three days and at the end of it we produce a four course, two choice lunch for 250 people, using mostly stuff off their school farm. What we can't get from there, we get from the whole Logan-Beenleigh area, using everything from strawberries to sweet potatoes and olives.
"I've travelled to all these different regions from Port Macquarie, Roma, Biloela and the Hunter Valley to source produce and they are awesome. But then you come here and you have got diversity galore."
We sit and enjoy the View experience of open plan dining in tropical surrounds and live music in the background and I get the feeling this is a place where Matt belongs. Sunshine Coast bred, he is at home in the warm climate and ocean lifestyle and has big visions for where the restaurant will be in a few years' time.
"I don't feel like I have even scratched the surface here yet, the thing is I said yes to it when I already had 12 months' work in the pipeline. I'm chasing my tail constantly – I'm here for a while and then I'm off to places to do things I have promised. In the next couple of years, I want to pare back some of the away stuff and be here more to get the chance to work on the conference menus, the room service menus.
"At this stage, it is just lunch and dinner. The breakfast here is great but it would be awesome for me to have some influence on that as well."
By now, two dozen oysters have vanished off the plates and it's time to order the next course. I let Matt do the honours and he chooses betel leaves with tempeh, pickled oyster mushrooms, macadamia and sambal chilli, simply delicious.
Talk turns to Matt's athletic pursuits, fitting in running training proves difficult when travelling so much.
I ask about the 5 km run he completed just a few weeks after being released from hospital, where he spent four months including six weeks in an induced coma. How did he push himself to complete such a massive goal?
"Sheer stubborn determination, it was the goal setting I needed to keep my mind occupied and on track. When you do something like that it is almost on auto pilot," he says.
It was during his rehabilitation that Matt and Erin met, she was a member of the staff at Eden Rehab in Cooroy and their friendship blossomed slowly, turning into romance down the track.
In 2016, at the top of Mount Cooroora in a spot where they always rested at the end of their climbs, Matt proposed and then joked if she didn't say yes he would push her off the side of the mountain.
Luckily for Erin, she agreed and now their family has grown with Aluna's birth and recent first birthday.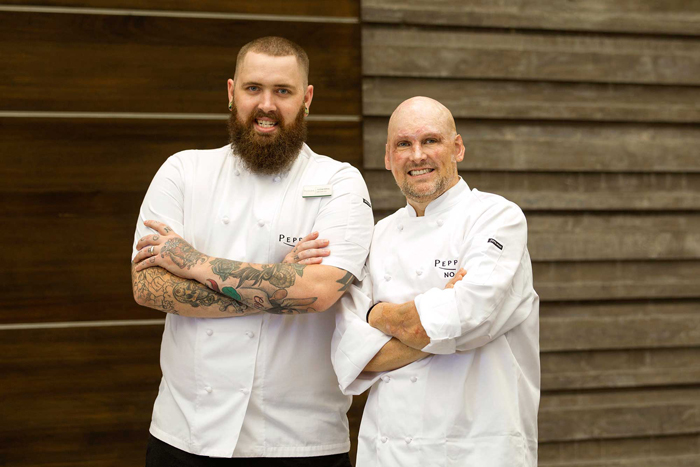 View Head Chef Andrew Wilcox with Matt Golinski. Supplied.

As we order our mains – I opt for yellowtail kingfish, soba noodles, sea succulents, pickled ginger and miso broth; Matt chooses Bendele Farm spatchcock, sourdough and pancetta stuffing, roasted cauliflower, sunchoke and Gruyere custard - I wonder how he copes with all of Australia knowing his story.
"I have got used to it, people have been harassing me for the last six years to tell my story and I finally thought let's just get it over and done with. Australian Story did such an amazing job - yeah, I don't really have that privacy any more, that's fine. I have had hundreds of people contact me to say thanks so much, while going through their own grief the story helped them.
"It's great it is out there and done now."
Most Chefs I have interviewed always knew that was the path they would take and Matt is no different. He happily recalls the first time he created a dish for his family:
"There was almost a lightning bolt moment when I was about 10 and decided to make chicken filo parcels for my visiting family. They all raved about them, not sure if they were just being polite. But it showed me that I could really do this and make people happy. When you are my age [he's 47] and still loving what you are doing, it is just always in you."
You made filo pastry at age 10?! I exclaim.
"Hell no… I bought Antonio's!"
Matt completed his apprenticeship in Brisbane and says two female Chefs became his mentors.
"I had a really good female Chef at a vegetarian restaurant where I started and another at my second job. That totally shaped who I am and I would be a different Chef I reckon if I'd had male [Chefs].
"Female Chefs tend to be more likely to research what they do and think about it, while men learn from other men and do that. They introduced me to Stephanie Alexander and Alice Waters, gave me their books and said here read this. They were books without photos, just all words, all philosophy – that's what shaped me.
"Because of that I have never been in an aggressive kitchen, like that alpha male kind of stuff. I don't tolerate that myself at all, I don't like yelling in kitchens, it doesn't make anyone feel good."
Almost with a sixth sense, Matt realises his daughter is starting to tire, pops her on his hip and wanders around the restaurant stopping at tables to say hi and checking in with staff on the floor. He has such an easy manner about him and is obviously a born father.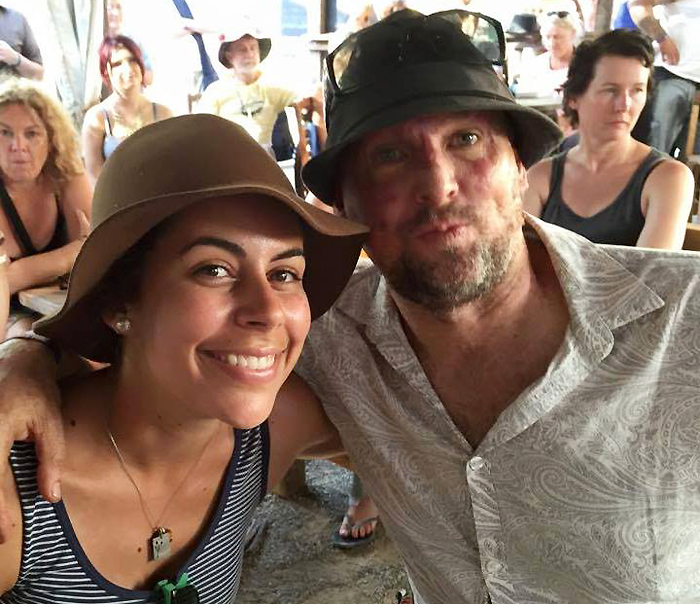 Erin Yarwood's Facebook photo with Matt Golinski.

While her fiancé takes care of business, it's an ideal opportunity to ask Erin about cooking in the Golinski household.
"So do you ever cook, Erin?"
"Yes I do, but Matt loves to be in the kitchen as well. When we first were together it was hard, he was always popping in to check on me and offer suggestions – it wasn't to be annoying, more trying to be helpful. Now he just leaves me to it and my favourite meal to make is Porterhouse steak and vegetables."
After a couple of hours chatting, eating and drinking I feel it's the right moment to let Matt, Erin and Aluna catch up on some special time together. After one of the most memorable interviews I have done, I walk away feeling inspired, in awe and totally respectful of what this man has achieved.
I want to leave the last words to Matt's late wife Rachael, who at the time of her death was penning an article about parenting their twins Sage and Willow who had De Vivo disease, which left them with developmental problems and epileptic seizures.
A little while after the fire, Matt's father Keith was contacted by a woman who was helping Rachael edit her work and offered to get a copy for him. The first lines became a mantra that was laminated and placed on the wall in Matt's hospital room.
"Life doesn't always follow the script you've written and when it takes a different direction, you've simply got to pick up and follow that direction."
AGFG was a guest of View Restaurant and Matt Golinski at Peppers Noosa Resort.