By Kirsten Kruck and Freya Ensbey.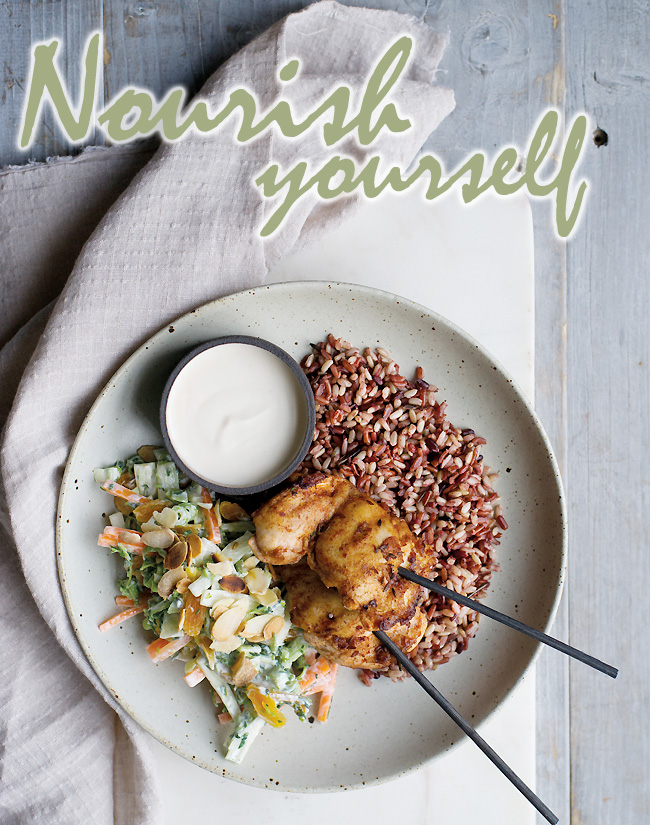 Persian Chicken Skewers, p 80.
Jump on board the world bowl domination train and ditch those flat lay plates. Nourish Bowls is the ultimate guide to creating the perfect complete meal in a bowl from scratch, building on the right foundations and measured proportions of proteins, fruits and vegetables, leafy greens, complex carbohydrates and healthy fats. Once you have mastered these foundations, the combination possibilities are endless.
The recipes are split into easy to follow chapters of breakfast bowls, light bowls and full bowls so you can enjoy this wholesome new way of eating at any time of the day depending on your appetite.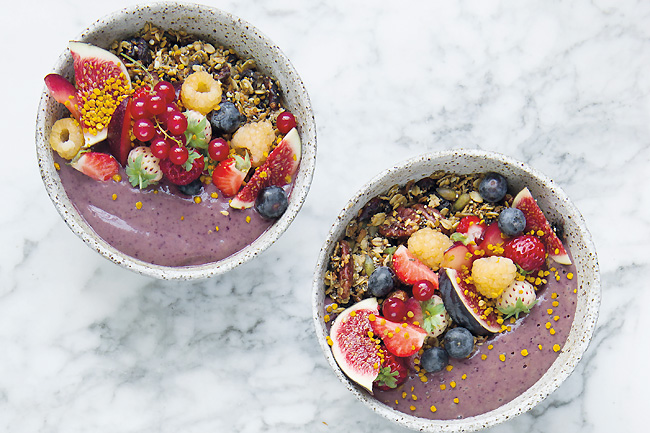 Berry and Spinach Smoothie Bowl, p 30.
Tired of your boring bowl of cereal? Try something new with this refreshing and delicious berry and spinach smoothie bowl. With fresh blueberries, cooling frozen bananas and the added anti-oxidants of acai berry powder, this colourful bowl is topped with any seasonal fruit of your choice, bee pollen, and a gourmet home-made hazelnut granola. The beauty of this recipes is that it could also be made as a snack bowl or an easy light lunch, perfect for those days where you just want breakfast for lunch!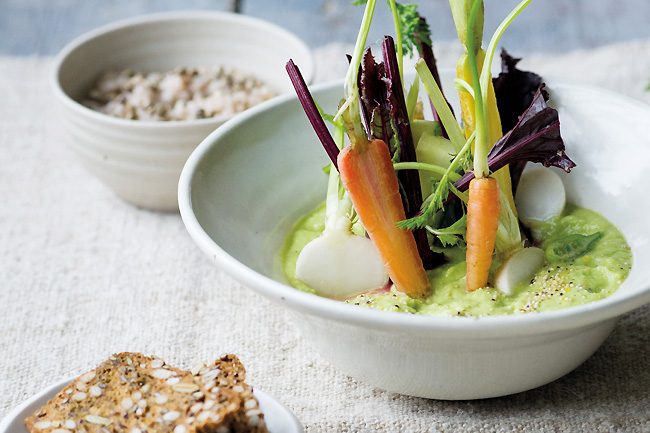 Broad Bean Bigilla, p 52.
Each recipe is accompanied with photography by Issy Crocker who brings each meal to life through stunning imagery, with each page being just as exciting to the eye as it is to the tastebuds. Feast your eyes on the mackerel fillet with cucumber and melon salad on a bed of homemade spelt flatbread or the coddled egg with baby cauliflower and fregola shakshuka. Move onto the broad bean bigilla, which packs a huge flavour hit and is high in protein yet very low in calories and being vegetarian friendly it could be used as an impressive dip served with rye crackers for those who love to entertain but struggle at cooking for dietary requirements.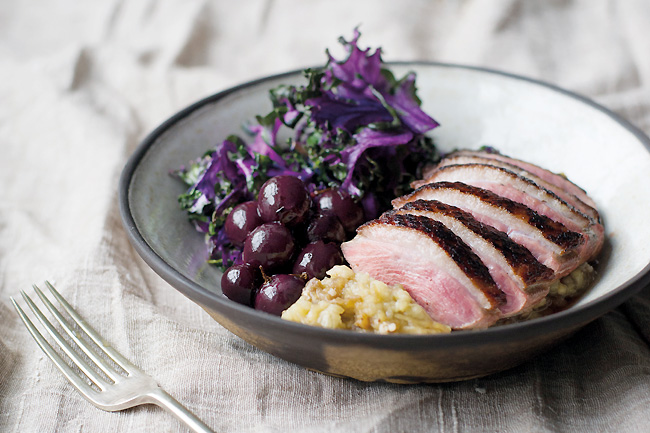 Seared Duck Breast Bowl, p 130.
Nourish bowls are simple in preparation yet never compromising in the taste department as seen in the seared duck breast bowl - a refined and decadent dish that is easy to prepare any night of the week, accompanied by honey roasted grapes and baba ghanoush with scarlet kale.
The Persian chicken skewers with Tamarind yoghurt are teamed perfectly with a stunning gypsy salad - a rainbow salad that is full of colour, with fennel, apricots, carrots and toasted almonds for added crunch. As suggested, these elements would be perfect to team with other dishes such as mixing things up and adding the seared duck to the gypsy salad and vice versa.
Nourish Bowls are simple and completely balanced meals in a bowl. This book encourages you to let your creativity take hold and gives you the freedom to experiment year round throughout the seasons with what nature provides.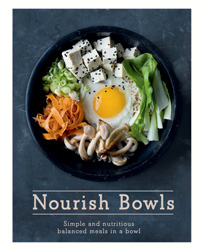 This is an edited extract from Nourish Bowls published by Quadrille $24.99 and is available in stores nationally.