23 May, 2012 - Festival Follow-Up
Noosa Festival Success Earns International Tag
The Noosa International Food & Wine Festival truly earned its new international moniker showcasing four days of world class food, wine and entertainment to over 26,000 patrons on the weekend. Advance tickets sales indicate 37% of attendees were locals and a surprising 63% came from intrastate, interstate and international patrons respectively. The location sparkled, the chefs outdid each other in friendly rivalry, the food, wine and entertainment established new benchmarks - and festival goers were the winners.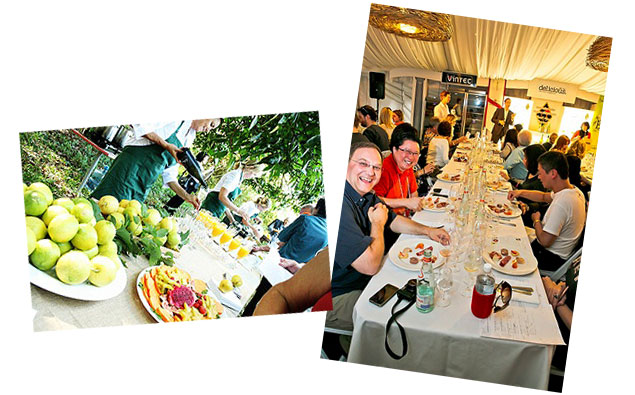 Renowned chefs, food media, wine experts and happy amateur foodies and families converged on the Festival Village to taste, drink, watch, participate, critique, sample and pay homage to award-winning produce, wines and dishes prepared with passion.
Festival Director Jim Berardo is thrilled with the result, saying both attendance and great feedback this year reached record levels. He said, "The outstanding attendance and support we have enjoyed this year from guests, sponsors, and festival goers is a win for Noosa, the Sunshine Coast, Queensland and for Australia, bringing invaluable international media coverage and an economic boost for the entire region. It is a testament to the quality of the guest chefs and participants we attract and the produce we are privileged to feature. Noosa International Food & Wine Festival is recognised worldwide as one of the best of its kind and is now firmly established on the world foodie event calendar."
Davide Scabin, renowned S. Pellegrino Top 100 chef of Combal.Zero in Turin, enthused, "...of the many such festivals I am invited to attend around the world, Noosa has been the best."
Highlights of the Festival included the stellar performance of "The Chef the Cook and the Orchestra," launching the event under starry skies to a rapt audience of lucky early attendees and invited guests. The new rustic picnics; Country French, Italian Tavolo Rustica and Spicy Asian were another major hit. The spectacular seafood, Asian and hinterland food trails were again a sell-out, with guests booking for next year immediately, to ensure a place. An unmatched array of Festival events and entertainment kept festival goers busy and smiling all day and dancing or dining well into the night.
The Qantas Best Dinner in the World hosted by Matt Preston and featuring a seven course degustation menu prepared by S. Pellegrino Top 100 chefs Mark Best, Fergus Henderson, Alvin Leung, Davide Scabin, Ben Shewry and David Thompson, was the crowning glory of the gourmands dream weekend and not for the fainthearted. With wines expertly matched by wine maestro Lisa Perotti- Brown, over 100 diners experienced the meal of a lifetime.
Plans are now well underway for the 10th annual Noosa International Food & Wine Festival, 16-19th May 2013. Jim Berardo has vowed to pull out all the stops with some spectacular surprises and culinary creativity that will out-do this year's event and continue to keep the Festival at the top of foodie chain!
Minister for Tourism, Major Events, Small Business and the Commonwealth Games, Ms Stuckey, said that the Noosa International Food & Wine Festival is an excellent showcase of the high quality restaurants, winemakers and producers from across the Sunshine Coast. "Queensland is proud to host this popular event which celebrates the very best our state has to offer," Ms Stuckey said.
"Tourism is one of the Newman Government's four economic pillars, and we are working hard every day, in every way, to grow the industry. Our aim is to double overnight visitor expenditure by 2020 and create more jobs and opportunities for Queensland. Events like the Noosa International Food and Wine Festival will help us achieve these goals and lift Queensland's profile in the international market," Ms Stuckey explained.
Noosa International Food & Wine Festival is supported by Events Queensland as part of a growing calendar of sporting, cultural and regional events across the State.
Courtesy of Caroline Davidson, Davidson Communications - Sydney
*
17-20 May, 2012
Move to the Music of Your Munching
Come mid May, it's time to get your munch on and wash it down with top drops in at the ever-expanding Noosa International Food and Wine Festival.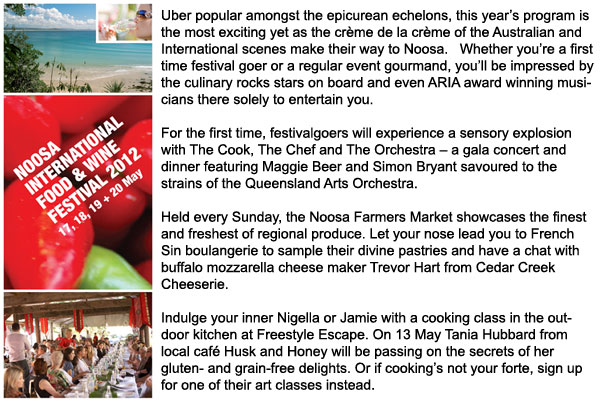 Launching with a Luncheon and Moving Right Along
The Noosa International Food and Wine Festival launches in the afternoon of Thursday, 17 May with the Westpac Ruby Luncheon where three inspirational women will offer their insights, adjudicated by Women's Markets Director Larke Riemer.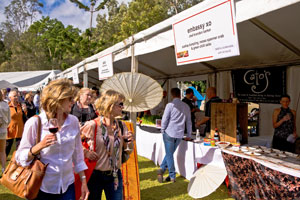 Renowned food writer, with 21 years of restaurateur experience up her chef sleeve, Stephanie Alexander is one of the featured speakers in the company of Yalumba wine expert, Jane Ferrari and current owner chef at Union Dining Nicky, Riemer.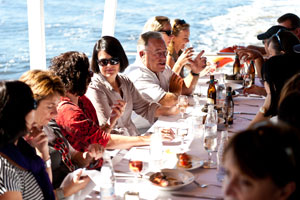 Like a gourmet food dish, each event will have its own flavour, textured by the expertise and style of those presenting at the event. To give you a sense of the passion put into each and every show you may choose to partake in, we spoke to the luncheon ladies as they prepare to set the trend for an engaging foodie weekend in Noosa.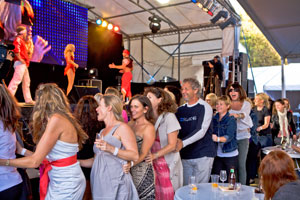 Chef Nicky Riemer can hardly contain her excitement and explains how her event came about:
The Director of Women's Markets, Larke Riemer – my mother - was planning a big event and wanted to feature women in the hospitality industry and Jim Berrardo suggested getting Stephanie involved. Yalumba Wines has such a big involvement with the festival that it seemed only fitting to have one of their best wine makers on board too!

To top it all off, I had been an apprentice at Stephanie's restaurant in Hawthorn and went on to open Richmond Hill Cafe & Larder with her in Richmond – so had worked for Stephanie for about 6 years – some of the best times in my career to date. This is an exciting event for me as I get to collaborate with Stephanie again and be it at a premiere event for the festival... showing off the skills of women in our industry!
Turns out Jane Ferrari claims to be "more of a storyteller" than a top winemaker at Yalumba, though this was where she started off her career with the company. With that in mind, be prepared to be engaged as Jane travels the world with their wine and has more than a tale or two to boot:
Yalumba goes way with Noosa - we've literally been on the beach there with wines on the dining deck at the Noosa Surf Lifesaving club for ages. It's one of THE 'don't miss' dates on the Australian Food & Wine calendar. We're looking forward to our first Westpac Ruby event, and can't speak highly enough of any initiative that has folks with kindred business interests actually talking to each other to build relationships that become bulletproof over time and make everyone's lives a lot easier and more enjoyable.

We've also had a tremendously long relationship with one of the major prime movers in Australia with respect to the 'paddock to plate' credibility given to great food and its regional provenance - Stephanie Alexander.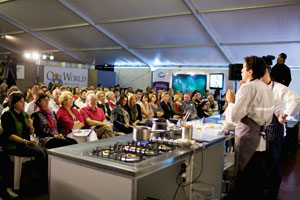 Whether you're commencing with the women's luncheon or starting off the weekend with another chosen event that suits your schedule, considering the amount of effort and excitement revolving around just one aspect of an incredibly massive culinary weekend goes to show, it's time to buy tickets if you haven't already.