Saturday 05 May, 2012 from 2pm-10pm
Easy, Breezy Darwin Spirit
Early explorers once scrambled these Northern Territory rocks, the din of sea water crashing at shore accompanying their discovery of cliffy projections by lantern light. In the late 19th century the name Nightcliff was accorded to this popular suburb, situated on the coastal fringe north of Darwin nearby Rapid Creek.
Today the Nightcliff Seabreeze Festival is highly recommended for locals and tourists ready for a cruisy and unperturbed cultural experience – it draws thousands of visitors every year. Perfectly timed at the tail end of the wet season, when the area is quite dry and humidity is relatively mild, the festival occurs annually during the first weekend of May.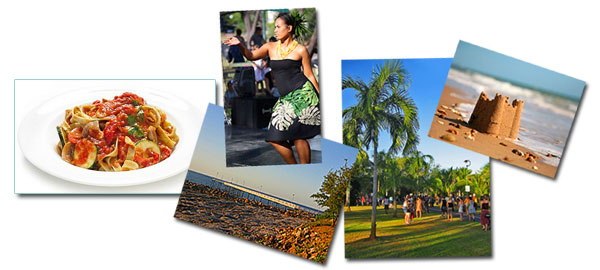 The Nightcliff foreshores are highly regarded for accessibility, and their extensive footpath is noteworthy. Designed for walking and cycling amidst impressive beach views, it leads all the way out to the picturesque jetty and makes up part of the festival location.
Though the Nightcliff Seabreeze Festival only takes place once a year, the community is well-established when it comes to event coordination that makes for a massive day. You can anticipate workshops, demonstrations and performances that guarantee fun for all ages and will exhibit Nightcliff's renowned artistic fortitude. All the while their alfresco dining bar will stand nearby the jetty, serving you gourmet fodder all day long so you're fuelled up for adventure.
There's much to do and a lot to eat, though one event you won't want to miss is the Seabreeze Sand Sculpture Competition – let the sculpting begin. This event starts as early as you can get to the sand (note: low tide is at 11am), and judging commences at 2.30pm. Don't forget to take pictures, since these smooth and sparkling original works of art will all be under water by dusk.
Something to keep in mind following the festival, the Nightcliff Markets run from 6am-2pm on Sundays, serving local food, cool drinks, and featuring regional fruit providores. So you can enjoy a sleep in then head over for fresh breakfast fare.