May 2012
Chef Q&A with a Lifestyler & Lover of Italian Food
The first time we met Tobie Puttock in person was at the Melbourne Good Food and Wine Show 2011 when he passed us a signed copy of "Cook Like an Italian" with a smile. Seems everyone who meets and greets with Tobie says the same thing, he's such a nice guy. While in town we dined at The Kitchen Cat (TKC) for a more definted taste of his talent and were impressed with the menu design, not to mention the unforgettable pig's ear chips starter, served with lemon and caper mayonnaise; though it didn't necessarily beg us to spend top dollar on matching wine.
TKC has a Mediterranean orientation heavily influenced by Tobie's own propensity for Italian food so it's somewhat incongruous that we conducted this interview with Puttock whilst he was busily promoting Australian Mangoes - lets hope for another long dry winter, favourable conditions for everyone's favourite golden fruit. "They truly are one of nature's super fruits bursting with nutrients to help you stay healthy," Puttock claims in the ongoing campaign.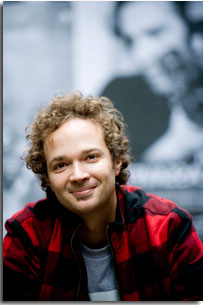 AGFG: Moving on from mangoes for a moment, you're a born and bread Melbournite though your books are based on Italian food and your restaurant promotes Mediterranean cuisine…
PUTTOCK: Even though I wasn't born in Italy, the cuisine is in me. I don't just cook Italian – I feel it.
AGFG: Your publisher just released a new version of "Italian Local"; however, it's "Cook Like an Italian" from September 2010 that truly establishes the influence of European travel on your cooking. You took time out from Fifteen Melbourne and returned to Italy, seeking inspiration in the streets, alleys and establishments that were home to you in your formative years as a chef. What can you tell us about that experience?
PUTTOCK: "Cook Like an Italian" was the result of a trip I was already doing anyway so I worked a lot while writing the book - it took 6 weeks to write. I got to Naples, Venice, Milan and Rome, plus lesser known places like Ponte di Legno but not Sardinia or Sicily… I would like to do it again, do something similar concentrating on Southern Italy.

AGFG: What can you tell us about you and Italy in the early years of your chef career?
PUTTOCK: At first when I got into the kitchens I had no desire to follow through with that as a career and was very lost at the time. I didn't know what to do and I couldn't get a job in a skate shop. All my friends went off to Uni and I hated sitting down so I travelled to Italy and my first influences were four Italian guys - Paolo, Carlo, Francesco, and Andrea - who I worked with in one of the kitchens. Being around those guys gave me a huge amount of discipline and they pointed out that I seemed to enjoy it…
AGFG: You are now influential to many aspiring chefs in many facets; would you consider Jamie Oliver amongst those who inspire you?
PUTTOCK: Jamie Oliver is more a friend. He's crazy. He inspires everybody. He says and does. He goes for it and believes in himself… He's not arrogant or up himself and follows through. And he's taught me what you do is up to you.
AGFG: In the intro to "Cook Like and Italian" you mention "these days snowboarding plays second fiddle to making pancetta from scratch", now in your mid-thirties what are your key priorities?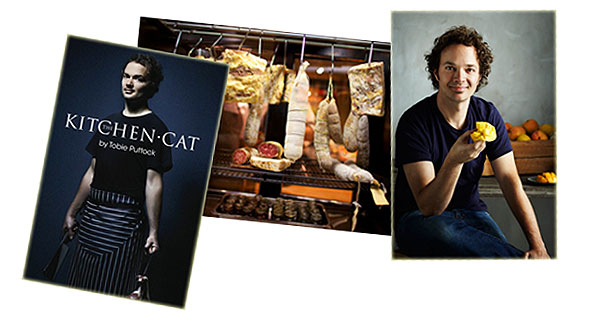 PUTTOCK: Balance. I haven't stopped for 6 years and my friends don't recognize me anymore. I aspire for some time off. So I just got back from Japan and went on a big off-beat mission 7 hrs out of Tokyo looking for big powder. Tricks when you're older equals fracture, so I cruise around like an old man. Maybe kids… Georgia and I bought a four door car recently and everyone's asking now… I think we will.
AGFG: What's the most romantic Italian dish?
PUTTOCK: I'm a shocking romantic. I'm not very good at it… Oysters as an aphrodisiac. But my wife hates them.
AGFG: In the celebrated chef world what are your objectives?
PUTTOCK: When I was younger I didn't want to be that guy at 40 who's pissed off and has a sore body from working too many hours. I don't have to change anything that drastically, I'm writing books and running charities. We merged out of Fifteen Melbourne and the Stepping Stone Foundation followed from there (currently on the backburner); and the restaurant space has evolved into The Kitchen Cat, now undergoing renovations.
AGFG: Cooking demonstrations are great for book publicity and to apply your talent in educating people. Do you have any favourite shows?
PUTTOCK: I prefer attending smaller country shows because I like seeing new places and people are really stoked to have you there. At the bigger shows you really have to prove yourself – either way, I get to eat cool food. And that I love.
Read our book review on Tobie Puttock's new "Italian Local", released by Penguin Australian in January 2012.
You can check out Tobie Puttock's chef profile for more of a bio brief.