Regarded worldwide as a defining contributor to the Modern Australian culinary canon, Neil Perry has maintained a multifaceted career that has spanned over 25 years and 2015 has been quite a big year for this chef who has done it all. With the Burger Project well underway and his daughter, Josephine's Missy French receiving quite the praise, Neil Perry was honoured with being one of three chefs to showcase Australia on Tourism Australia's "Restaurant Australia," while releasing his latest cookbook, Spice Temple. Now, the real question is what's next for Neil and the team?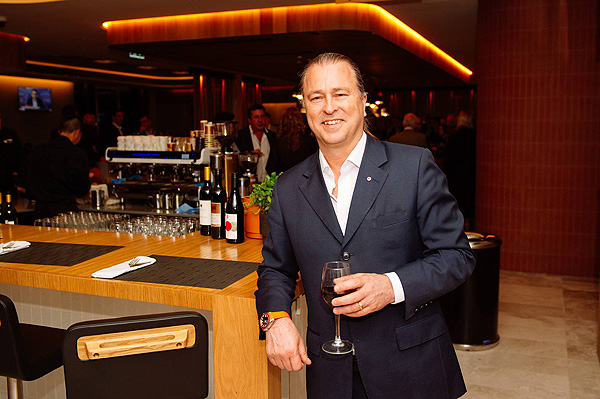 AGFG was able to sit down and speak with Neil about the Burger Project, chef hat season and the future to come.
AGFG: You've had a pretty big year, tell us about the Burger Project and how that came about and whether it's making the impact you envisioned?
Perry: I noticed that the fast casual food market was growing in America and here in Australia and most importantly I saw that consumers were willing to pay around $10 for a hamburger and in the States around $5-7. That gave me the confidence to think that we could use the quality of products we are used to in the Restaurant Group and while not stepping away from using sustainable and quality ingredients at that price point, so that's what got us involved in the Burger Project.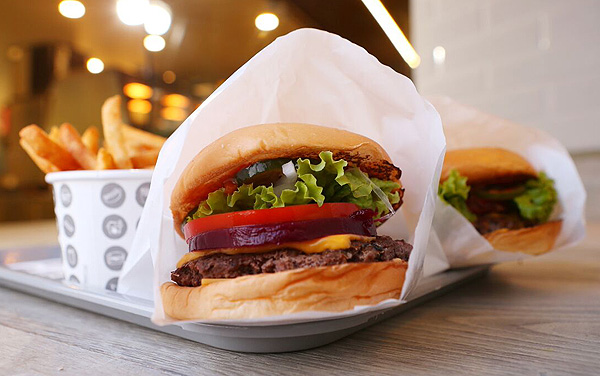 I've been really happy with the way we've seen people fall in love with the product and understand that the burger is really quite different and it has a handmade nature to it and the fact that it is 100% Cape Grim beef. It's whole muscle meat cut on the premises, ground on the premises and hand formed into a patty on the premises and that's where people are tasting the difference.
If you strip our product right back, a burger is essentially beef with seasoning between a bun and then you can take it anywhere from there, so we focused on the beef and made sure that the quality wasn't a step back from what we would expect to serve in one of the Rockpool Bar & Grill's or the Rockpool restaurants.
At the moment I think that the Burger Project may get to the point where we can open our own bakery, but for now we make our own pickles, secret sauce, mayonnaise and ice-cream and get our bread from Bread Top. We are working on creating our own flavour, that is our priority and we are still looking at putting more energy into the meat we serve.
AGFG: How many burgers do you turn over in a week?
Perry: World Square is doing about 3500 and we're doing about 4000 at MLC, so we're looking at about 7000 customers between the two of them, which will start to grow as we get more and more momentum as a brand. We have 5 more locations to open next year and by the end of the year we feel we will have a nice foot hold in Sydney and Melbourne.
AGFG: Are you going to make your way to Brisbane?
Perry: We will, we most definitely will – I have been looking at some great properties in Brisbane and the Gold Coast, but for now we're focused on home base but look toward the North in 2017/2018.
AGFG: You've got a bit of vintage under your belt, the Australian burger used to be an icon and it did go offshore for a bit, and it was a real struggle to find a decent burger, this generation thinks of burgers as chain style food, they don't think of the old ABC cafe's that used to sell a decadent handmade burger with a great milkshake and you just can't find that in too many places in Australia.
Perry: Yeah, so true, you know I used to grow up with the corner store that had freshly grilled burgers and double milk shakes with malt, you know that was the whole experience and one of the other things we need to remember is that in the 50's we invented the milkshake, so it went from Sydney to around the world and it's finally come back again. What makes our milkshakes really interesting is that we make all our syrups - vanilla, strawberry, chocolate, dulce de leche, salted caramel and you can taste the quality in it! That's what we think the market needs and what the younger generation is really interested in – something that tastes real and has a great depth of flavour.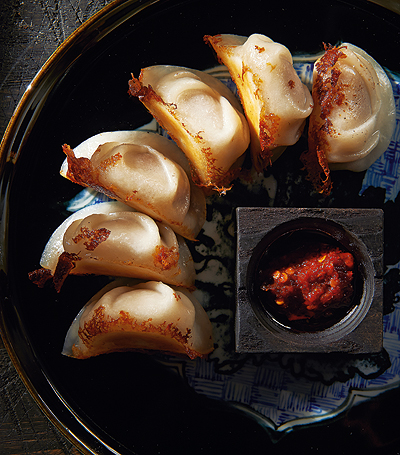 Northern Style Lamb and Fennel Dumplings, p.35.
AGFG: You have also released your latest cookbook, Spice Temple, how did you tackle the challenge of condensing a restaurant into a book?
Perry: Well the restaurant has a look, feel and mood and so the flavour of the restaurant really goes through to the food which is dark and sexy and the restaurant was designed that way. Earl, my photographer, who I have worked with on every cookbook since 2000, really understood the moodiness of Spice Temple and he captured that in every single photograph on every page. I couldn't be happier with how it turned out.
Check out our book review of Spice Temple here.
AGFG: Speaking about doing new things, Josephine's Missy French has had some great feedback so far – what do you think about the bistro?
Perry: Josephine is going really well, I couldn't be more proud of her! She's only 21 and she's been incredibly brave in opening this restaurant, braver than I would have been at her age and she's just like a duck hitting water, she's been very calm and serene, great at delegating and trusting her staff and helping people grow. [Missy French] is a beautiful restaurant to sit in and Chris [Benedet] used to work for me and he's cooking some great food. It's only been open a few months and I feel like it's already feeling like a neighbourhood restaurant that will be there for a long time to come.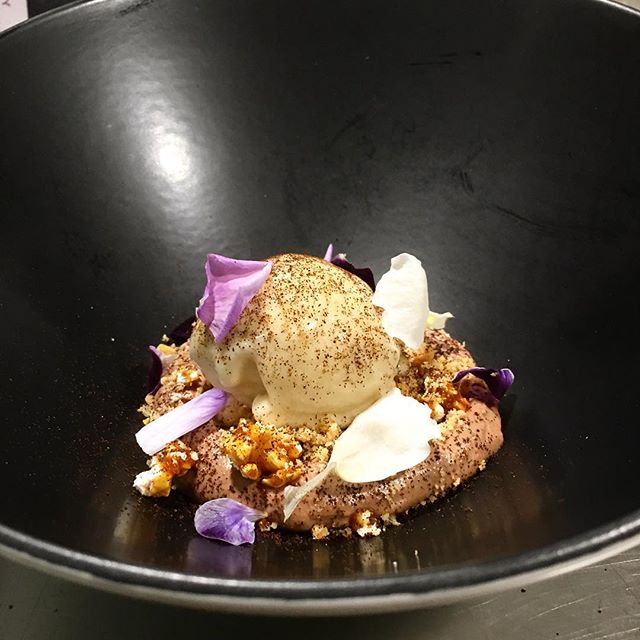 Chocolate délice at Missy French photo by@chris_benedet.
AGFG: She certainly has had the right background for this endeavour.
Perry: She's opened five restaurants with me, so she's definitely seen what it takes and she's been through those experiences at an incredibly young age, so I think for her it wasn't her first restaurant opening which is pretty unique at 21. There's a great team around her, but importantly she has a great temperament which has really come from all the time she has spent around the industry, when she got out of hospital at day 4 her mother and I brought her to the Rockpool and she went into the bassinet underneath the bankett while we ate dinner – that's how her life started, she's spent more time eating staff dinner with me after school at the restaurants than anywhere else.
AGFG: Yourself and your restaurants have an endless list of awards, as we're coming into chef hat season, tell us about what awards mean to you, your team and the industry as a whole?
Perry: Awards are a really wonderful pat on the back for the staff and when it goes the other way we can look at it to try and understand what went wrong. For us the really important thing is that every day we try to be our very best and we try for our customers to be the very best we can be and that's our major focus. I always think with awards that they are an accolade that comes along as a lovely pat on the back, but at the same time they're always hard earned, so they're really worth fighting for and the recognition for 3 hats, 2 hats or restaurant of the year, it's really only the moment that you're worthy of that, so you always have to remember to continue being worthy of that award. In essence they're a catalyst for the hard work ahead as much as they're a pat on the back for the hard work you've done.
AGFG: We've been watching Restaurant Australia – how were you initially approached and how do you think such a serries will impact Australia's tourism and our food industry?
Perry: I think the feedback and where we've gotten to with that can be seen in the latest incarnation with Rene Redzepi coming down with the support of Tourism Australia; it was a great honour to be one of three chefs working in Australia to be a part of it. If you look at it I was 57, Peter 47 and Ben 37, it's quite interesting that we were all 10 years apart and I think that was a really nice mirror of where the industry is and where it has been going generationally. It was an amazing honour to be chosen, considering that there are many chefs in Australia doing great things, but I think we really embodied what Australian food is about. The dinner we put on was amazing, those invited were enthused and not once were they bored – we spent 7 hours with these people and they were so blown away by it and taken with it, so the subsequent energy it has driven for Australia has been absolutely fantastic; it was an incredible endeavour to be a part of and it's great to see Tourism really understanding what the food, wine and hospitality scene delivers in Australia.
Keep up to date with Neil Perry on Facebook.
The Burger Project here.
Restaurant Australia Campaign here, Restaurant Australia Episode 1 here.
Missy French here.