Moody, dark, sexy and intimate are just some of the words best used to describe Neil Perry's Spice Temple restaurant, beautifully captured and embodied in his latest cookbook, Spice Temple. The striking binding of this book is what first captures your attention, with a red and black front and red edging there's just something ethereal about Spice Temple.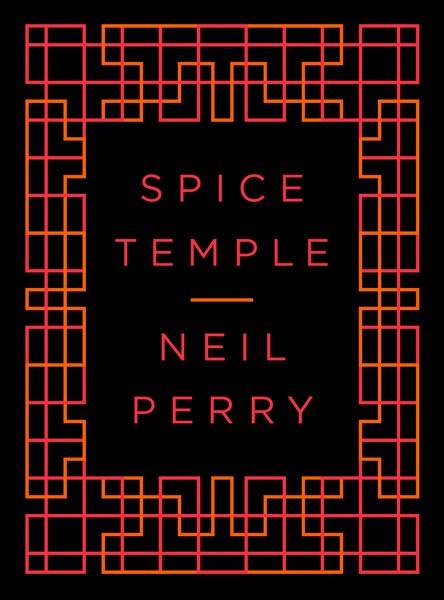 Glossy black pages separate the chapter's containing over 130 seductive Spice Temple recipes from the provinces of Yunnan, Hunan, Jiangxi, Guangxi, Sichuan and Xinjiang, offering decadent modern Asian cuisine to the home cook.
Readers are first met with a photograph of Spice Temple's entrance way, leading you straight onto a journey of 'A Spice Temple Meal' where Neil's suggests a full dining menu to work off while sharing the logic behind preparing such a menu. Starting off at basic preparations, pickles, dumplings and salads before moving onto hot entrees, noodles, rice, seafood and poultry, Spice Temple is one of the most user-friendly and easy to navigate cookbooks on the market.
With a succinct contents page and a wonderfully heart-warming introduction by Neil, his daughter Josephine and his Head Chef Andy Evans, you'll immediately feel part of the team where challenging Neil Perry-style recipes will be an exciting endeavour instead of a daunting task.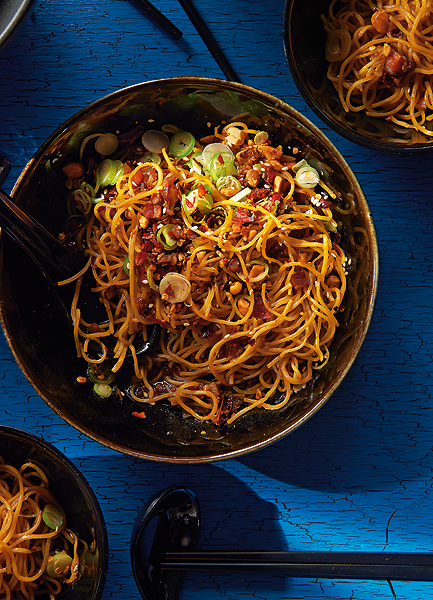 Handmade Egg Noodles, Hunan-Style with Smoked Bacon and Chilli, p.128.
Begin with a hot entree of northern style lamb and fennel dumplings - Neil found these morsels of deliciousness at the restaurant inside the Xinjiang provincial government offices in Beijing. They're similar to a pot sticker as they have a crisp base and chewy top while a rich, aniseed-flavoured filling strikes the back palate as the mouth fills with the spiciness of the accompanying dark chilli paste.
As the main event, try your hand at handmade egg noodles Hunan-style with smoked bacon and chilli, inspired by a Hunanese dish Neil once ate, spice lovers won't be disappointed with this one. Compromising to the Australian lifestyle, where most crave something sweet after a meal, Neil and his team created some unique desserts with Chinese flavour profiles and pastry. Dessert is traditionally not a large part of an authentic Chinese meal, however, Neil's invention of the three milk cake with pistachio and raspberry was inspired by the impossibly fluffy Cantonese sponge cakes that are soaked in condensed milk – sweet tooth's will certainly be satisfied.
If you've always been intrigued by Chinese cuisine (beyond the black bean, sweet and sour pork and lemon chicken westernisations), then Spice Temple is truly the book for you. Authentic Chinese is so much more than what is commonly known and we challenge you to broaden your culinary repertoire.
Want to know more about Neil Perry, Spice Temple and his latest project, Burger Project? Check out our latest interview with Neil here.