A selection of the state's most dramatic terrain
New South Wales is home to more than 800 national parks and reserves, ranging in landscape beauty from lush green rainforest to rugged mountainous bush terrain and dusty deserts. For one of Australia's smaller states, these national parks take up an impressively large amount of space, so in order to get the most out of these precious and unspoilt pieces of land, take time out and explore a range of New South Wales' National Parks, engaging and exploring in a diverse selection of Australia's environment.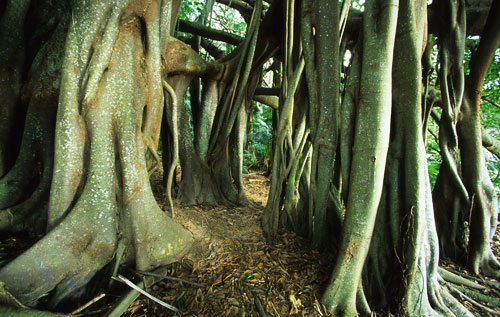 Where are some national parks in New South Wales?
To name a few, the Blue Mountains National Park offers an area of world famous scenery, wildlife and heritage walking tracks. Home of the iconic Three Sisters, this park is located in Blackheath, 45 minutes from the Sydney city and includes camping and picnic areas. Closely situated is Royal National Park in Sydney. Australia's oldest national park, this natural piece of heaven is located in Audrey and spans a massive 15,080 hectares abloom with open woodlands, rainforest and estuarine systems.
Dorrigo National Park in the state's north is largely comprised of a spectacular rainforest, complete with skywalk where you can wander over the top of the canopy. This National Park has a number of walking tracks that take you underneath the waterfalls and through glades where you can explore the unique environment and take a walk with the wildlife.
Mungo National Park is home to the world's oldest known ceremonial burial site, a World Heritage area situated in south western New South Wales. A significant cultural site for Aboriginals, the Mungo National Park is most famous for the archeological remains discovered there, namely that of the Mungo Man and Mungo Lady.
Find out more about national parks around Australia