What better time to share Laura Cassai's new cookbook My Italian Kitchen than when Australia celebrates all things pizza and pasta in the lead up to Italian National Day (June 2)?
Laura Cassai is MasterChef Australia's 2014 runner-up, and at nineteen, was the youngest contestant to ever compete in the grand final. Admired by MasterChef judges, respected by fellow contestants and loved by the Australian public for her warmth and her hard-working nature, she considers herself lucky enough to have been born into an Italian family and attributes her adoration and passion for food to her heritage, giving light and life to her new cookbook, My Italian Kitchen.
Laura's fond childhood memories of living in Italy for two years and growing up with legs swinging, sitting on the kitchen bench, hands coated in a dusting of flour, stirring pots and making pasta with her Nonnas, has fostered her love and respect for traditional Italian cooking. Other vivid memories of first encounters with food are recalled at the start of each chapter or recipe; the smell of chestnuts cooking over an open fire, the damp forest floor while foraging for mushrooms or cockling in the sand at Goolwa beach. Experiencing Melbourne's culinary hotspots, followed by being surrounded by the fresh produce of South Australia's bountiful Fleurieu Peninsula, has encouraged Laura's passion for cooking almost her whole life. Combine this with refining her cooking skills on MasterChef under the guidance of professionals and in the company of equally passionate, fellow contestants; Laura has developed an incredibly keen sense of what works and an insightfulness that many consider beyond her years.
Showcasing her roots in traditional Tuscan and Sicilian cooking, My Italian Kitchen celebrates Laura's love of simple dishes enhanced by her ability to create sophisticated flavours. Alongside long-loved Italian classics, Laura's MasterChef knock-out dishes are also included, such as lobster and scallops with herb butter, mushroom panzanella, fennel and orange, and featuring one of Laura's proudest creations, her rolled gnocchi with porcini mushrooms, caramelised onions and crispy sage which captured the attention of Marco Pierre White during her time as a MasterChef contestant, garnering Marco's kind words and praise.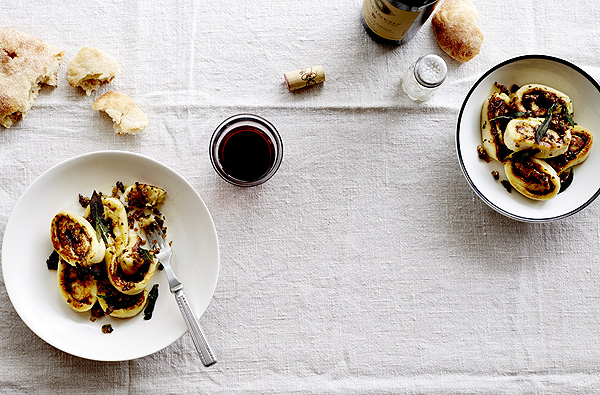 Rolled gnocchi with porcini mushrooms, caramelised onions and crispy sage, p. 40 -41.
Food is and will always be a way of life for Italians, Laura's spritely enthusiasm and love for everything food oozes out the pages of her book and leaps straight into the dishes you try and master.
We were able to ask Laura a few questions about her new cookbook, MasterChef and her current adventures.
AGFG: What did you enjoy most when putting together your own cookbook?
Laura: My favourite part would definitely have to have been the week we spent photographing the book. I just loved seeing all the dishes coming together in the kitchen and in the shots!
AGFG: If you had to pick one recipe from My Italian Kitchen as your favourite, which one would you choose and why?
Laura: Easy – the Tiramisu. It is by far one of my all time favourite recipes. I love the complexity a dish like that has with such minimal ingredients. It's a family recipe that has gone back generations and one that I hope to continue on in my own family one day. I just can't go past a tiramisu.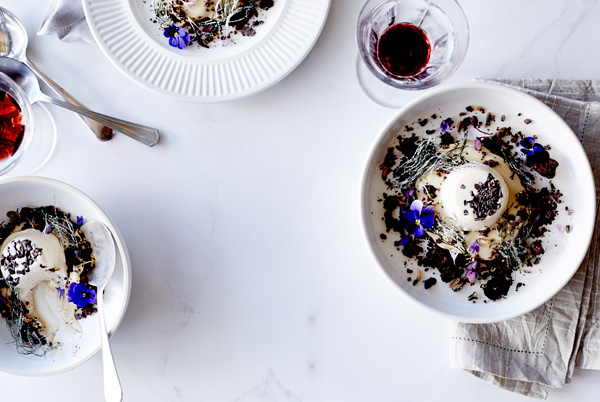 Chestnut Forest - A modern tiramisu, p.122-123.
AGFG: How has Australian produce influenced your traditional Italian recipes?
Laura: I don't think there's anything better than getting your hands on some of Australia's best fresh produce and what I absolutely love is going down to the local country markets on the weekend to collect the freshest of produce. The way I was taught how to cook traditional Italian food was by using the freshest ingredients that were in season at the time, so I'm a true believer in fresh, seasonal local produce.
AGFG: What is the greatest piece of advice you received from the MasterChef judges?
Laura: Cook the food you love to eat, the food your Dad loves to eat, and the food your Nonna's taught you how to cook. Because that's the food we love to eat too.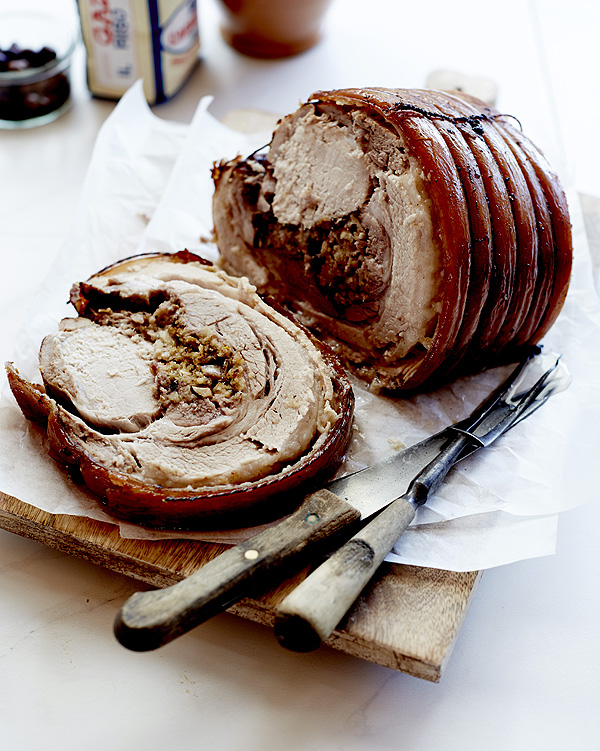 Slow Roasted Boneless Pork Loin, stuffed with chestnuts and cranberries, p. 115.
AGFG: What has life after MasterChef held for you?
Laura: Life after Masterchef has been non-stop. I took a few weeks off after filming then went straight into a full time job at Restaurant Orana/ Street Adl – Jock Zonfrillo's Restaurants in Adelaide, and that was about 11 months ago now. I was lucky enough to publish my cookbook through Hardie Grants 'My Italian Kitchen', I am an ambassador for San Remo Pasta, Heatlie BBQ and get to do a little bit of travel here and there which is always fun, and I'm an ambassador for the Starlight Foundation.
AGFG: What are three ingredients you can't live without?
Laura:Artichokes, dark chocolate and anchovies.
AGFG: Do you still have plans to open a tapas bar in McLaren Vale? If yes, where, when and what might it be called?
Laura: I think I am all over the place at the moment with what I would like to do. I think a lot of people turn you off having your own restaurant which is really hard. If anything, I would really love to maybe open a cooking school one day … To be continued…
AGFG: How have your friends and family reacted to your new-found fame and success?
Laura: This is a great question! [laughs] Well my friends absolutely LOVE it! They still get all giggly and excited when people recognise me on the streets. My family are all for it too, I mean they're all so supportive, but so embarrassing when it comes to public recognitions.
AGFG: Have you been back to Italy since the competition ended? Do you have plans to go?
Laura: No I haven't, but God yeah I intend on going back! I think if I had it my way, I would have got on a plane after MasterChef finished and stayed there for a few months. I will go back soon though; I think if I'm going to do it, I want to do it properly and spend about six months there starting at the top and working my way down to the bottom, chasing all things food!
AGFG: If your family asked you to cook for them right now, what would you make?
Laura: Lasagne – hands down! It's a family favourite!
All images from My Italian Kitchen by Laura Cassai published by Hardie Grant RRP $39.95 available in stores nationally and online here.