Did you know that on this day (March 2) in 1956 negotiations for full independence of Morocco from the French was signed in Paris? By April 7, France had officially relinquished its protectorate in Morocco and later that year Spain also recognised Morocco as an independent state. #themoreyouknow
Culture
Morocco has a rich culinary heritage and it is usually one of the reasons many are attracted to the region and guests invited into a Moroccan home are treated most hospitably, often expressed with food. Tasty Moroccan cuisine translates with the subtle play of flavours that combine spicy, savoury and sweet, while techniques such as marrying meat, poultry, or fish with fruit are unforgettable to the palate.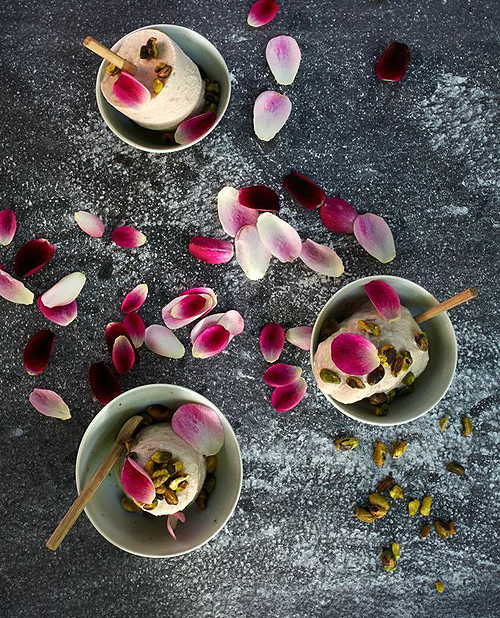 Rosewater Ice Cream ~ Credit Sarah Renard
Recipes
Want to investigate Moroccan a little further? Try your cooking skills with Moroccan Beef Tagine followed by Rosewater ice cream.
Dining
If you rather be immersed in a restaurant setting, explore the traditional world of Moroccan cuisine at Marrakech Restaurant in the heart of North Adelaide. Enjoy dishes such as bestella, a Moroccan meat pie covered in flaky layers of crispy crepe-like pastry or perhaps a traditional Afrah tagine, lamb cooked until tender with cinnamon, honey, prunes and roasted almonds is more your taste.
Enjoy Moroccan tapas in Mosman with scenic views over Middle Harbour at Afous Restaurant where you can share an assortment of dishes such as Moroccan meat balls, Lamb brochette (marinated in cumin, paprika, garlic and herbs) as well as a marinated eggplant salad. For something a little more modern try the saffron chicken cooked with preserved lemon, onion, tomatoes and olives.
For more Moroccan restaurants around you see our guide here.