December 2011
Miguel Maestre - Celebrating Life & Love With Spanish Cooking
With 'Boys Weekend' season two in late pre production, shooting soon to commence, and being that Miguel Maestre's second book 'Spanish Cooking' was released through New Holland just this spring, life is full of exciting new beginnings for the celebrated chef.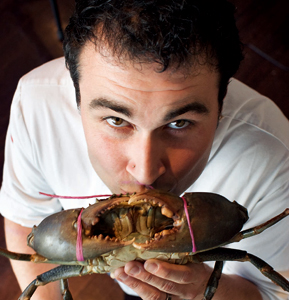 Everything pales in comparison to the domestic stir in the Maestre household, however, as just weeks before our interview Miguel and his tirelessly supportive partner, Sascha gave birth to their first child, a baby girl named Claudia (after Claudia Schiffer, of course).
Miguel, if not a bit sleep deprived, peppered our conversation with his characteristic contagious laugh and after a few short weeks of fatherhood there was already a strong hint of renewed vitality in the chef's overall point of view on his career and life. Already known in the public eye for his contagious positivity and charismatic charm, Miguel turned up the heat and spoke passionately about his life in Sydney and the ever-expanding elements of his career.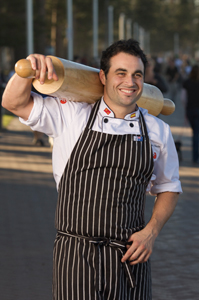 AGFG: There's reason enough to celebrate as your first child has just been born and you recently celebrated your own 32nd birthday, all things considered what does being thirty-something mean to you?
Maestre: So far for me being thirty-something has been full of the most amazing changes; getting the house, growing together with my wife… Where I am from, this is what gives life meaning. Right now I'm putting in as much time and energy as I can into playing with Claudia and I plan to teach her all the secrets of the kitchen.
AGFG: Now that you're a father, will you be paying penance for any headaches you caused your parents?
Maestre: In relation to food, when I was growing up mum didn't give me a choice and told me what to eat. In 'Spanish Cooking' I include a recipe for roasted red capsicums in the 'vegetales' section with a bit about that. My mum and I used to have endless fights when I was little as I didn't like capsicum, but now it is my favourite vegetable. It's really funny that when you are little some foods become your biggest nightmare and everything changes when you grow up. I now thank my mum for making me eat all those vegetables and apologise for the headaches I have caused her.
AGFG: So you're not going to make Claudia eat her peas if she doesn't want to?
Maestre: There's always a way around people's ideas about certain kinds of foods; turning the tastes around can make people's likings shine through. If a kid doesn't like carrots, for example, first you make carrot juice, and if they don't like that, you make carrot dip, still no, you try carrot salsa… There's always a way around 'not liking' something. You don't like liver? I will make it for you in a way that you will like it. It comes down to looks and aesthetic. You need to know how to play with food. We'll find a way to make Claudia want to eat something, even if she doesn't think she likes it.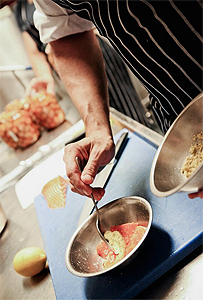 AGFG: Compared to your first book, 'Spanish Cooking' is very authentic in that you've gone back to Spain and dug deep to uncover family recipes and share them with the world. You couldn't have released this book at a better time now that you're starting the next Maestre generation, the first on Australian soil. As you begin to raise your own family, does it give you a different perspective when it comes to your career?
Maestre: I'm a different man and see life in a different way; you don't know what it's like until it happens to you. When your first child is born, your whole life turns around and it's so special. I can not wait to share my passion and teach Claudia to cook pasta, work vegetables, and to love all flavours.
AGFG: In 'Spanish Cooking' there are some delightful little quips such as 'onions make us cry and I am still looking for the vegetable that makes us laugh, but capsicums and peas are my favourites and make me smile.' You were born to be a chef, decided to move from Spain to Sydney, and powered your way into the public eye in Australia and the world. All things considered, what is it about being a chef today that makes you smile?
Maestre: Combining the old with the new and sharing it. The old Spanish way of eating highlights different tapas for different times of day and you see that represented in my first book, "Miguel's Tapas." As I grow as a person, I grow as a chef and these days I'm am really following traditional ways – the Spanish food way is to share it. It's about family. We used to have enormous Sunday lunches together with up to 50 family members gathering on my grandparent's farm.
You'll find this reflected in 'Spanish Cooking'; it's well researched and comes from the heart. I didn't write what I thought people wanted to read, I wrote to showcase Spanish food and represent it as far more than people typically think it is. It took a long time and required many phone calls to Spain… I have an idea for the third, though right now my spare time is spent with Claudia.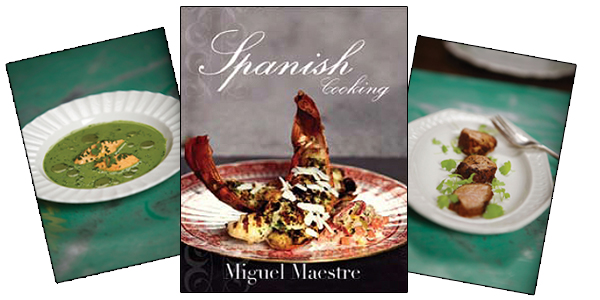 AGFG: As part of your intro to 'Spanish Cooking' you've inserted the idea that "we need to preserve our roots in our food, accepting new trends but not forgetting where we came from". Your marmitako de pescado, tomato and capsicum fish broth is based on an old traditional recipe and you mention the fact that it was once made with tuna though these days is commonly created with cod, due to inflation. In one of your desserts you've opted for Oreos over a homemade biscuit – much more convenient. How do you feel about altering recipes and the creative process of cooking?
Maestre: Just as I always knew I would be a cook, I always knew I would live somewhere else in the world. I love Spain. I miss it every day. But I knew I would leave. Australia is such an amazing place and it's natural to adapt recipes somewhat based on my experience living here and knowing how people cook. I'm here because my wife is Australian; we were both travelling the world and met in the restaurant we were working in at the time. The first time we met I could not speak English. Imagine our first date - it was so much fun. I fell in love with her as soon as I saw her.
AGFG: In your latest cookbook there's a memorable photo of you holding a pig over your shoulder, just prior to preparing it for the roasted suckling pig with sherry recipe. Tell us about the importance of meat in Spanish cooking.
Maestre: Meat is super important in Spanish cooking, so much so that I start this book with the carne section. Pork is considered the king of Spanish cooking, hare is the queen and lamb is the prince and the most important thing is that we respect the animals as playing an important part of our culture. We love our meat and it becomes nice and tender through slowly roasting. In the Maestre family classic suckling pig recipe I break tradition and add a little sherry, though the rest is true to form the way grandpa taught me, that all you need is a good fire and nothing else.
AGFG: In your opinion, what is your best bloke dish?
Maestre: You can't go wrong with a crumbed pork cutlet and celeriac remoulade – it's so amazing. The recipe in "Spanish Cooking" features celeriac aioli and fresh granny smith apple alongside the biggest pork cutlet you can find.
AGFG: And for the ladies?
Maestre: Definitely cure salmon with chilli and star anise; with a subtle chille flavour, it is beautiful, fresh & light.
AGFG: Is there a recipe for your sexy Spanish accent?
Maestre: Speaking of accents, it's the strangest thing; my little brother Carlos works as a restaurant manager, and even though we both grew up in the south of Spain, he speaks perfect English. As far as Maestre accents go, he's like the newer iPhone 4S and I'm the iPhone 3. I learned to speak English in Edinburgh on the job, never really formally in school or anything and the accent remains.
AGFG: Ingredient you can't live without?
Maestre: Love is the biggest ingredient in my life. We have to love what we cook. We have to love when we cook. Angry food doesn't taste as good. When you love what you do, you can taste it in the food.
AGFG: Your Murcian Mediterranean cultural roots permeate the pages of your recent book, not only in the recipes but in the black and white family photos that contribute to the story of your origins. Compared to those old snapshots, you're no longer the "chubby" kid you once were. How do you keep fit?
Maestre: I run. And I'm trying to surf… I will learn.
AGFG: On a professional level you've covered impressive ground, merging into the Sydney dining scene seven years ago at The Rocks. Though sometimes with success there's controversy and last year there was documented tension between you and proprietor Nelson Ng at Manly's El Toro Loco. You've since left and the restaurant name's been changed to El Poco Loco. What did you learn from this debacle and its coverage in the public eye?
Maestre: I definitely learned from it. Whatever doesn't make you fatter makes you stronger. I've flipped past that page in my life and nowadays only work with business partners that work in a way that's similar to me. El Toro was the best experience of my life because it was unsuccessful until I arrived and then I turned into the busiest Spanish restaurant in all of Australia and I accomplished this before I turned 30.
But I had the wrong business partner. I work hard to do what I want and am really happy focusing on what I do best - other people aren't like that. There was some sensationalism in the media about our business conflict and nobody truly new what was happening behind the scenes.
AGFG: You now co-own Aperitif with Manu Fieldel; what are you two cooking up there?
Maestre: At our tapas restaurant in Potts Point, we both do our thing and it works really well; it's a little Spanish and a little French and our patrons love the variety. It's a stylistically compatible menu designed by good friends. The relationship between Manu & I is really positive and we've done many projects together in the past so at Aperitif we keep it easy going and offer great service, a recipe for success.
AGFG: Anything else in the works?
Maestre: I've also launched my own personal chef business because I've had lots of requests for catering, "please Miguel, come to my house and cook for my friends…" that kind of thing. I can travel anywhere, really. You need me on the Gold Coast? I can cook wherever you need me and can be booked online with miguelmaestre.com.au.
Cooking for people in this way is really personal and I meet with the host to find their likings, then head to the markets and create a specific menu with them in mind. I love it because I love people so much; I get to talk with people and share my expertise – it's a great experience for everyone.
AGFG: When we see you presenting on TV, your passion really resonates. Can you tell us about you current projects?
Maestre: 'Boys Weekend' season two is starting to shoot soon; it plays on Channel 10 & Lifestyle Network and is distributed in over 150 countries. It's all about cooking and having fun – the motto of my life. There's no script. It's very free. We research the area in advance then the producers chuck us in there and we cook for each other, opting for dishes that feature regional produce. It's really accessible and a show for everyone. The locations for season two are a secret, though a little birdy told me we're likely to go international. I'm open to travelling anywhere in the world; every country has something gastronomically special to offer.
AGFG: Do you think they're planning to shoot in Spain?
I hope so. Everything changed when I moved here and I'm such an ambassador from where I'm from. I am still Spanish here in Australia. It's my legacy.
Read more in Miguel Maestre's Chef Profile.
Check out our 'Spanish Cooking' book review (3 recipes included).