A Part of Miguel Maestre's Legacy
With two books under his belt, Miguel Maestre is no stranger to the writing process and by way of comparison promises that 'Spanish Cooking' (released by New Holland, September 2011) delivers something beyond what you'll find in its predecessor.
His second book shares authentic Spanish recipes that he sourced from the shelves of his family in Murcia, Spain, researching beyond where necessary into the countryside. Some of the dishes you'll make are over hundreds of years old and the compilation will be part of his legacy in preserving tradition in lieu blurring national history with these times of globalization.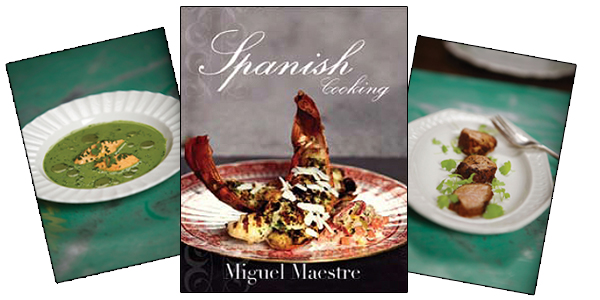 We know Miguel Maestre to be a master is the kitchen, though readers can relax into this book knowing that he presents these dishes so that you can follow along and acquire the techniques; where possible he keeps with tradition and there are no "tricks" per se. Some of these recipes are really easy and quite helpful, like the Lomo de Orza paprika and lemon marinated pork fillet where you learn an old way to preserve meat that once cured, can be kept "in the fridge for ages".
Keeping it simple and delicious, one brilliant aspect to 'Spanish Cooking' is that it's completely accessible to the Australian cook because he's wisely adapted original recipes in such a way that the flavour is maintained, however, the ingredients are available locally so you're not stuck missing something key. Take his Gazpacho Verde Picante, a green capsicum soup with piquillo mousse with definite Spanish accents, though you can surely source an Australian chilli pepper with the flavour you desire to complete the recipe.
A product of his culture, Maestre is generous and extroverted and full of conviction; as such he's made a point of travelling far and wide to select a great variety of regional dishes that represent the culinary diversity of Spain. These dishes go far beyond the common notion that Spanish food is typified by sangria and paella. The only question for Miguel was how to pick because food is so dear to the Spanish; as such 'Spanish Cooking' is a collection of his favourites. His inclusion of Navajas al Ajillo razor clams garlic style is an example of Miguel offering up his favourites; he maintains, "I would love to have them for lunch every day if I was a millionaire."
It's enjoyable to flip through the book and note his introductory notes at the beginning of some of recipes. It's in these liners that more of the Maestre story is told and that familial spirit that defines this cookbook begins to settle in. Stories about his upbringing in Spain and why he's chosen to present a certain recipe gives 'Spanish Cooking' a personal touch and expresses, in typical fashion for this popular chef, a contagious love and passion for food.