If we were betting on which event would be the most anticipated in the Australian racing calendar, then the Melbourne Cup would have the best odds. Crowds gather from all across the country to participate in 'the race that stops a nation.' However it's not just the thoroughbreds that have the masses flocking, it is no secret that the main highlight is not the race itself, but the fashion on the field.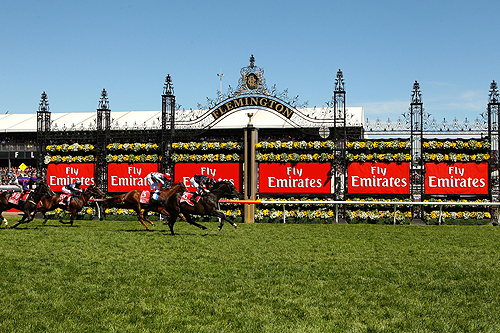 Field Fashion 2015
The fashion forward are in their element during the Melbourne Cup Carnival, with the aim being to stand out from the crowd. Cup fashion is all about being a little daring and having fun with what you are wearing. Remember ladies wear the dress; don't let the dress wear you!
This year is all about bold colours, bold prints and pushing the boundaries on the fashion norm. If you were thinking about pairing your outfit with a fascinator then think again as word on the street is that fascinators are out and hats and statement pieces are in. So think couture headpieces, metallic crowns and colourful statement pieces. Cup day is all about making a statement but the choice of headwear can either make or break an outfit.
Field fashion is not just for the ladies, men can have just as much as fun with their outfit as the fairer sex. For the dapper gentlemen, you cannot go wrong with either a three piece or a double breasted suit. To mix it up a bit, men can go one colour for their jacket and another for their pants. Men are also encouraged to think bold with their outfit choice, so either opt for some colour or an eye-catching pattern.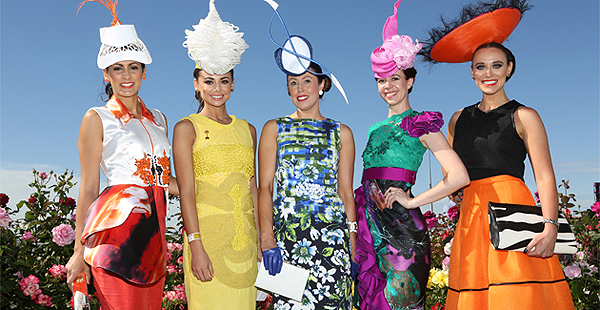 Where to watch the Melbourne Cup
If you can't make it to Flemington for the big day, then don't worry as there are a number of venues that will be hosting a Melbourne Cup event so you won't miss out on all the action. To see the list of establishments that are currently promoting specials check out our Melbourne Cup What's On Guide and get in quick to secure your spot.
Race day tips
If you are lucky enough to be at Flemington for Cup day, then there are a few things you will need to consider to keep you looking your best throughout the day. First of all, Melbourne's notorious ever-changing weather patterns must be considered when preparing for the day. A hat or umbrella is highly recommended to keep out the heat and any unpredicted rain and prepare for the unexpected wind gushes by pinning down your hats and headpieces and be careful of light weight dresses.
Heat and make-up make for a sweaty mess so keep a clutch with lipstick and a compact on hand for quick touch-ups throughout the day. Sunglasses and band aids are also necessities. High heels +a long day spent standing on turf = blisters!
So you have pulled off the perfect race day look and are looking elegant and sophisticated, what can go wrong? Well add a combination of too much alcohol and sun to the mix and things can start to go downhill. Nobody wants to be the one stumbling around, heels in hand, yelling at anyone who dares to comment on your drunken state. Make sure you stay hydrated and seek out some shade so you can end the day with your reputation intact.
By Sarah Dionysius.
Images sources from Fest300 and Flemington.