Add some wow-factor with these awesome cake and cupcakes recipes. Author Candice Clayton has provided 50 of her all-time favourite recipes, each including a hidden element of surprise that is sure to impress.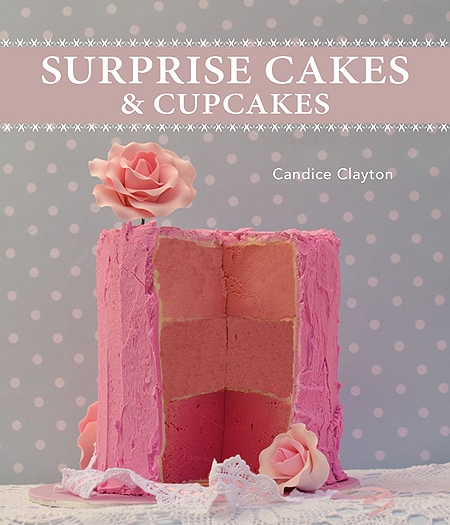 The cookbook includes step-by-step instructions for each recipe, so even the most in-experienced baker can whip up something as grand as a circus themed cake with complimenting cupcakes or a multi-tiered rainbow cake. What makes these cakes and cupcakes extra special is that once you bite in to them you will be delighted with an unexpected filling of either lollies, jelly or even an unanticipated flavour sensation. Now, that's some exciting cake!
Jack the Pumpkin Lantern cake with Halloween cupcakes, we've got the recipe for you just in time for Halloween!
Stuck for an idea on what novelty cake to make for your child's birthday party? Well look no more as this cook book is sure to have a creation to please even the fussiest youngster.Thrill your little race car fan with a checkerboard race track cake or delight your fairy princess with an enchanting fairy door cake, complete with a generous filling of lollies.
However this cookbook is not just for kids, there's plenty of cakes that can be enjoyed by the grown-ups too. Treat your mum on Mother's Day (or just because!) with a giant mug shaped chocolate cake with matching cupcakes; the extra surprise – they're filled with strawberry flavoured white chocolate mud cake balls. Or at your next dinner party bring out the adults-only jelly shot cupcakes. Filled with alcohol of your choice, they are sure to be a hit.
There's also cakes for events such as Christmas, Halloween or a baptism. For the hopeless romantic, there's even a thoughtful idea on how to propose to your loved one. An elegant rose topped cupcake is used to conceal the ring. How could they say no to that?
A different take on the everyday cake recipe, this cookbook provides a number of fun cake and cupcake options for every occasion.
By Sarah Dionysius.
Recipes and Images from Surprise Cakes and Cupcakes by Candice Clayton. Surprise Cakes and Cupcakes is available at all good bookstores and online from New Holland Publishers.