By Leigh O'Connor. Photo of Vince Trim by Rosie Hastie, MONA.
As a small Kiwi boy in the kitchen of his mother's motel, Vince Trim knew he wanted to be a Chef and nothing has changed - except his location.
Now Executive Chef at MONA in Berriedale, Vince oversees the food and beverage team, working across The Source and Faro restaurants, Mona Wine Bar and Café and the Heavy Metal Kitchen.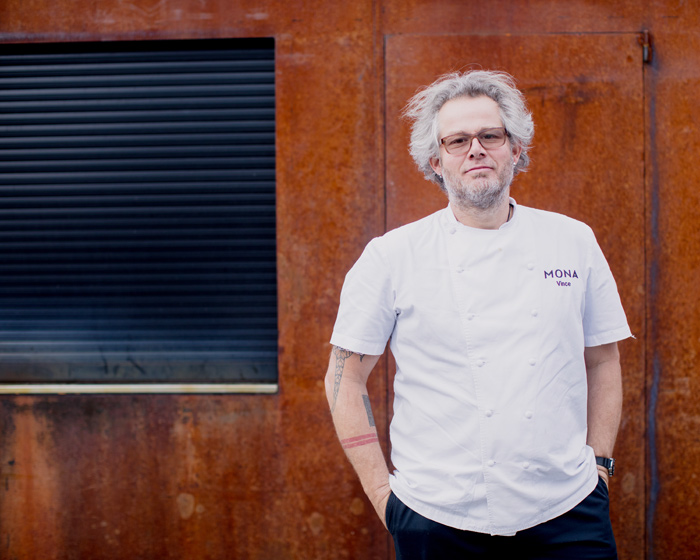 Executive Chef Vince Trim.
Faro is not your traditional dining destination, rather an immersive, world-class, art and food experience. Whether you are looking to linger over a stunning cocktail and small plates on the luxurious couches or settle in at a table for a full swing at the rich and varied menu, Faro delights and delivers on all levels.
Residing in the Pharos wing of the museum and named after a Greek lighthouse, this restaurant is walled by tall windows, features a white ball the size of a small bus and has been described by MONA owner and Faro bar fly David Walsh, as 'barely controlled chaos.'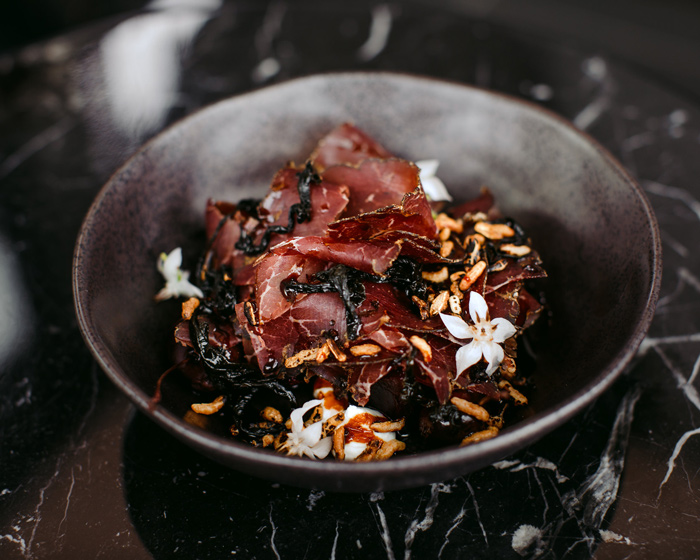 Air-dried beef with salt-baked beetroot at Faro.
"I hope people feel they have had an extraordinary experience at MONA and leave with a sense of wonder at how special the entire place is," Vince says. "Our style at Faro is based around a tapas sharing menu and is influenced by locally grown or wild produce from Tasmania's seasonal environment.
"On any given day, we may use wallaby from a local hunter, vegetables from local growers, walnuts from a neighbour, or nettles from our own vineyard."
Tasmania, like New Zealand, also has an abundant selection of succulent seafood, so of course, oysters are on the menu at Faro. For Vince, oysters are a love affair that has been in the making for two decades.
"It has only taken me 20 years to enjoy oysters… but I'm there now!"
Vince also oversees MONA's catering kitchen, which services a busy annual calendar of functions and festivals, as well as stand-alone, on and off-site launches and events, including major exhibition openings.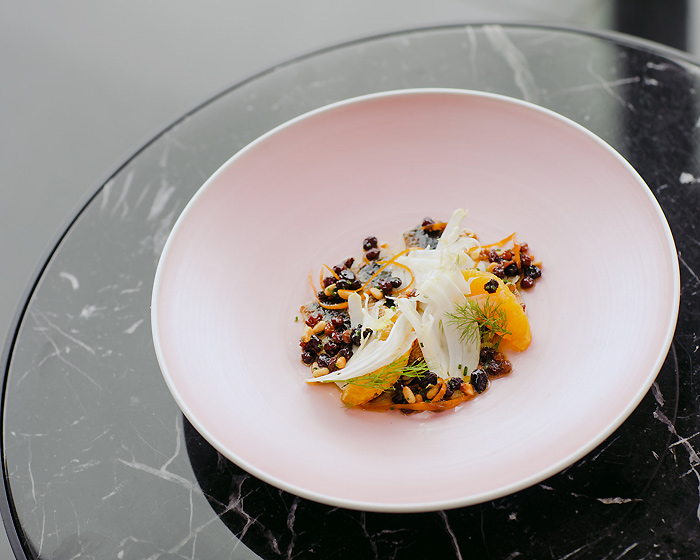 Grilled sardines, fennel, orange, currants and pine nuts at Faro.
One such event was the book launch of Eat the Problem – a cookbook by MONA curator and Walsh's wife Kirsha Kaechele, which ties together recipes and art to raise awareness of Australia's fragile ecosystem by addressing one of its biggest threats – invasive species.
With dishes by Chefs like Heston Blumenthal, Peter Gilmore, Matt Stone and Shannon Bennett, the book has raised a few eyebrows for recipes such as sweet and sour cane toad legs, yellow carp curry and pheasant with onion cream and wild fennel.
"Kirsha has well and truly brought invasive species into conversation – we served everything from cane toad to starfish and camel milk," Vince says.
More likely to be found on the normal dining menu these days are manchego and leek croquettes, smoked mozzarella empanadas and seared lamb backstrap with black garlic and quinoa; but don't despair it all still resembles art on a plate.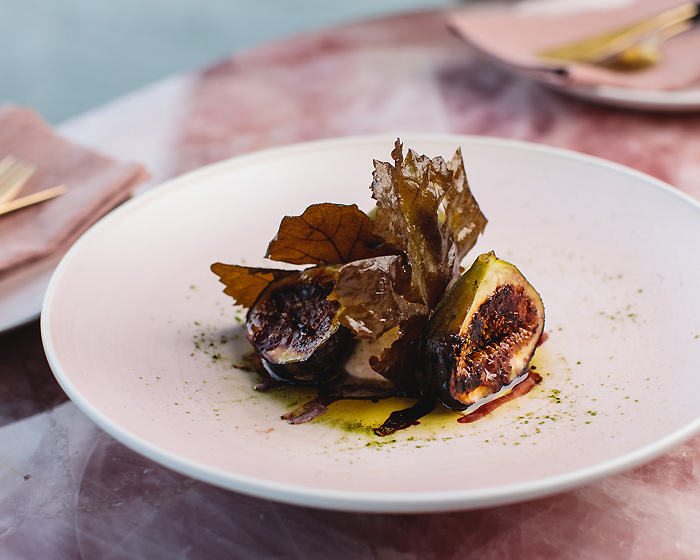 Fig, burrata, vincotto, vine leaf and lovage at Faro.
It's hard to imagine what this talented, quirky and adventurous Chef has left to achieve… apart from a desire to learn to shoot his own meat:
"Who knows what the next five years will bring. That question is the most interesting part of being here at MONA and in Tasmania, but I know whatever it is, it will be an amazing journey, much like the last 10 years have been," Vince predicts.
What are the trending ingredients for 2020 and why?
"I'm hoping to see Wild Shot venison make an appearance on menus in Tasmania in 2020 for a number of reasons; firstly, it's so delicious and secondly, it's ethical and sustainable."