"Love is the best ingredient in life – everything tastes better." ~ Miguel Maestre.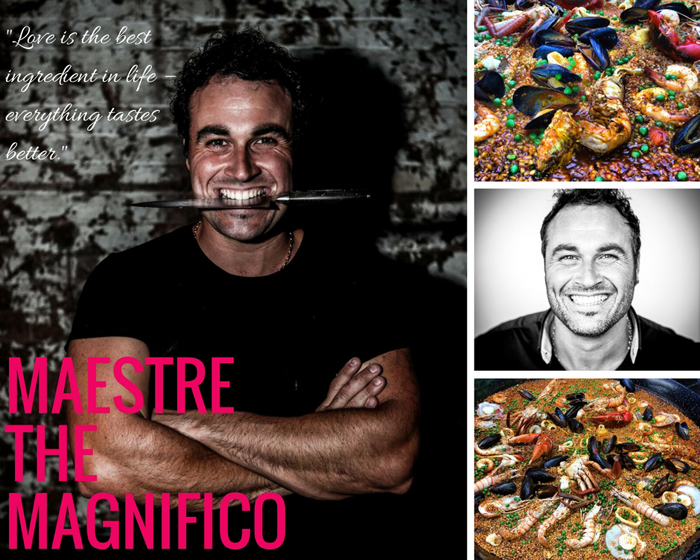 Whirlwind charisma and an incomparable passion for his native cuisine have made Spaniard Miguel Maestre a household name in Australia. Miguel's love for food and life is infectious and he brings this to everything he does, whether in the kitchen, writing a book or joining the team on lifestyle television show 'The Living Room.'
Born in Murcia in the South of Spain, Miguel's family lived and breathed good food and wine, pre-determining his future from an early age. He first started cooking at 21 when he moved to Scotland to experience the world and from there his rise through culinary ranks has been nothing short of spectacular.
He now calls Sydney home after establishing himself as one of this country's leading Chefs, with a talent for incorporating Spanish ingredients and cooking styles into his Australian menus.
Opening the biggest Spanish restaurant in Australia – El Toro Loco - in an outstanding waterfront location at Manly Beach, earnt him 'The Crazy Bull' moniker, which he has embraced and emblazoned as a stamp on his career.
At 29, Miguel added another dot point to his resume when he was Chef at the most prestigious event in the country, the Emirates Melbourne Cup. It is these efforts Down Under that have earnt him huge praise back home where the King of Spain bestowed on him the highest award a civilian can receive – The Order of Civil Merits – for his extraordinary service to the nation.
It is Miguel's co-hosting role on 'The Living Room' that has catapulted him into Aussie homes and hearts, as he embarks on weekly sojourns with good mate Dr Chris Brown, travelling the country sampling food and adventure.
The author of two books – 'Miguel's Tapas' and 'Spanish Cooking,' he became the first Australian Chef to launch iPad and iPhone apps in 2011, featuring some of his most iconic recipes.
He shares one of those recipes, Paella a la Maestre with us - using fresh, local seafood and Spanish paella rice, this traditional plate brings together the flavours of the ocean with smoky chorizo sausage, paprika and saffron.
Nothing says Spain more than paella, a Valencian dish with ancient roots and humble origins that has now become a favourite around the globe, served straight to the table drizzled with a little olive oil and scattered with parsley and lemon wedges.
Paired with a glass of Rioja red wine, enjoy Miguel's version with family, friends and loved ones. Buen provecho…