By Freya Ensbey.
"100 of the world's best Chefs, cooks and food artisans and the food they make for the people they love."
One hundred of the world's finest cooks, Chefs, bakers and food artisans from around the globe, including Australia, New Zealand, South Africa and British regions join forces, sharing with the world a single recipe they hold dear to their heart, filled with fond memories and shared in good company. All royalties from the sales of this cookbook are given to the Nelson Mandela Foundation to develop and support community food and agricultural projects, which aid in the upliftment of the impoverished through food sustainability and empowerment.
The Nelson Mandela Foundation has partnered with Food & Trees for Africa, an organisation that advances and promotes climate change action, sustainable natural resource management, permaculture food security and organic farming to design a food security initiative and Made With Love is one heartfelt way anyone can get involved to help.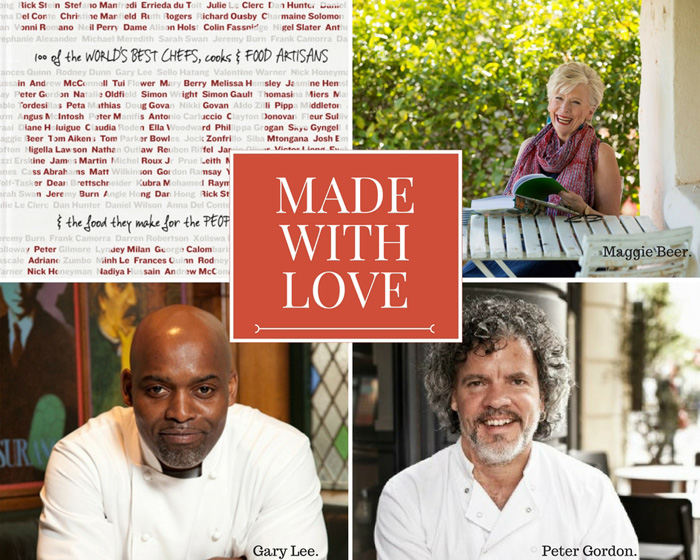 Having had a love affair with quinces for over 42 years, well known Australian cook, Maggie Beer shares with readers her smooth and decadent chocolate, quince and almond tart. This tart screams love with a soft, gooey centre, and served with lashings of mascarpone, this recipe will become a well requested favourite for special occasions.
Hailing from acclaimed London restaurant, The Ivy, Executive Chef Gary Lee has a vision of bringing people together to share meals, with many of the dishes at The Ivy designed with a sense of community in mind. In this book, he shares his hearty meal of Moroccan spiced rump of lamb with hummus, harissa and smoked eggplant. He believes that a good meal is when everyone should be able to get a little bit of what everybody else is having, and this dish is very much like that. Each condiment to accompany the lamb can also be used as a stand-alone recipe, with the hummus making for a great party dip.
Sometimes the most memorable meals are the simplest of ones. Peter Gordon, Chef and restaurateur from New Zealand shares his Dad's soufflé omelette, a childhood favourite, with smoked streaky bacon, onion, tomatoes and melted cheddar cheese making for the perfect breakfast in bed option for a Sunday morning.
This cookbook encompasses so much more than just recipes. While many of us have the ability to share food with those we love, the reality is that many live in circumstances where they cannot. Through purchasing Made With Love, we can share in a joyous meal that holds a place in the heart of acclaimed Chefs whilst supporting a great cause.