By Freya Ensbey.
Running the highly successful Hanoi Cooking Centre based in Vietnam's old quarter, Tracey Lister shares with her students, years of culinary experience along with her passion for Vietnamese cuisine; whilst her husband works as a writer and educator of Vietnam's cultural and social history, sharing between them decades of experience living and eating as locals of Hanoi.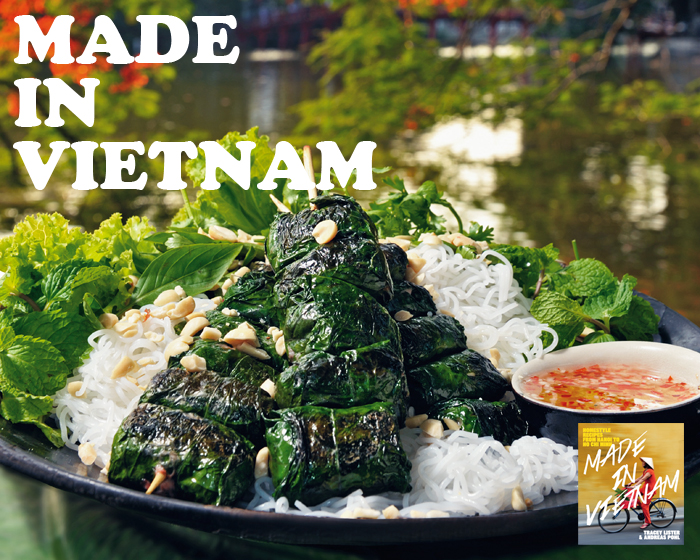 Pictured: beef in betel leaf.
Made in Vietnam is the fourth addition to the stable of successful Vietnamese cookbooks created by the dynamic duo, which follows the launch of KOTO: a Culinary Journey through Vietnam, Vietnamese Street Food and Real Vietnamese Cooking.
More than just a cookbook, Lister and Pohl take readers on a culinary voyage through the unique and vibrant country that is Vietnam. Using traditional cooking techniques to recreate local dishes and classic favourites at home, as well as lush photography and fascinating personal insights into the intricacies of the country's rich culture, this book is your authoritative guide to Vietnamese cuisine.
For a dish sure to impress, serve up lacy spring rolls with crab, prawn and taro. These little net shaped morsels are just as tasty as they are fun to make. The bowl of dough is made for fingers to be dipped in and held above the pan as the dough drips off in lines, moving the hands in a circular motion to create the net which is used as a vehicle to be stuffed with mushrooms, crab meat, pork and fish sauce, creating bite sized rolls ready to be fried and dipped in a tangy sauce, bursting with flavour in every bite.
Try the tofu pillows with crispy lemongrass for a party pleaser simply served on a skewer or ideal as an added texture to salads. This recipe shares with it a great tip for frying, saying that in Vietnam, a wooden chopstick is used to work out whether a pan of oil is hot enough for frying, simply put the chopstick into the oil, when small bubbles rise to the surface, the temperature is just right.
It is local knowledge that any good restaurant in Hoi An will have their own version of fish steamed in banana leaf. The traditional way of cooking fish like this ensures that the fish is kept moist, while allowing the smoky flavours from the grill to penetrate the sweet flesh. Calling for the use of mackerel, an oily species, this recipe uses lemongrass and ginger to deliver a flavoursome and exciting whole fish experience drizzled with a lime and chilli sauce to serve.
Drawing on the three main culinary regions of the country, the robust food of the North, the imperial cuisine from the centre and the sweet and spicy food from the tropical South, Made in Vietnam delivers page after page of homestyle recipes from Hanoi to Ho Chi Minh, so you too can create a little Vietnamese magic in your very own home.
Images and recipes from Made In Vietnam by Tracey Lister & Andreas Pohl, published by Hardie Grant Books RRP $39.99 and is available in stores nationally.