There is always a limit and a sign it's been reached, for some it's looking at a large pile of foil wrappers with one eyebrow raised, wondering where all the chocolate got to, for others it's the realisation that hot cross buns come in packets of six because they're supposed to be shared. It's usually this juncture in time that encourages a long walk and the acquisition of fresh air, yep, it's Easter all right. Perhaps this year the time has come to break the cycle and head out for lunch a few times, instead of the steady diet of chocolate, chocolate milkshakes and chocolate chocolates. If the sudden urge to leave the choc stocked hidey hole of home arises, here is a list of places to celebrate Easter out and about in keeping with the Easter theme.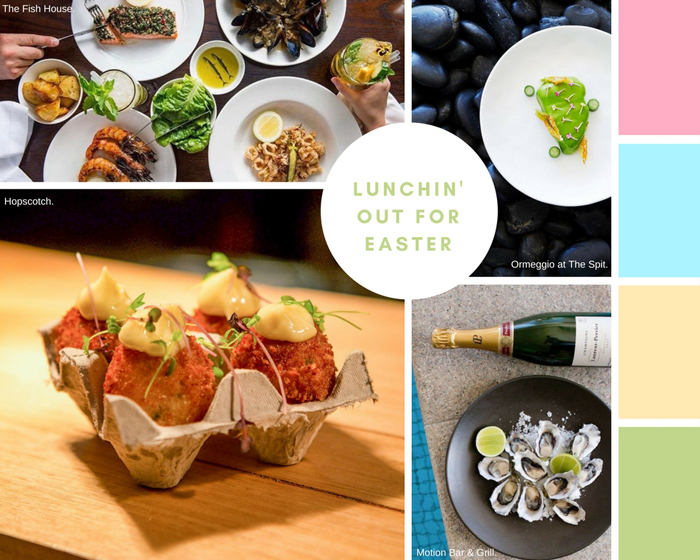 The Fish House | QLD
Situated directly adjacent to picturesque, Burleigh Heads beach is the Gold Coast Bulletin's awarded "Best Fine Dining Restaurant," The Fish House, making a splash for tourists and locals alike. Known for serving the freshest seafood available in a simplistic, Southern European inspired menu, The Fish House will be the ideal place to spend Good Friday or Easter Sunday.
Ormeggio at The Spit | NSW
For those seeking a lavish dining experience just north of Sydney, allow multi award winning, Italian inspired, Ormeggio at The Spit to welcome you into their breathtaking establishment. Their Chefs have created a special seafood menu for $129 per person to celebrate Good Friday. As they'll be open for dinner only, you'll need to book your table early to avoid disappointment.
Braza Churrascaria | NSW - Manly, Leichhardt, Darling Harbour and Miranda
Don't be deterred by the Brazilian vibe, Braza is going completely traditional this Easter long weekend and will be offering an exclusive seafood banquet, including prawns, calamari, smoked mussels, whole fish and salmon as part of a traditional churrasco (just without the meat).
Vines Restaurant | NSW
Vines Restaurant at Hollydene Estate presents a unique and inviting dining environment with a rustic Modern Australian menu in the Hunter Valley. Unwind with the breathtaking views of surrounding vineyards, framed by the rugged hills of Wollemi national park, over a glass of one of Hollydene Estate's 23 varieties of wine, while navigating through a menu focused on fresh and seasonal local produce this Easter long weekend. They're a popular spot, so be sure to book.
Hopscotch | VIC
"Do you think the Easter bunny loves hops as much as we do? Because he does an awful lot of it!" ~ Hopscotch.
Urban Beer Bar, Hopscotch can be found on Riverside Quay, just a step back from the popular Southbank waterfront strip. To quote the Hopscotch team directly, beer is the game, a phrase exemplified by the 30 different tap beers on offer to sample, as well as a brew of the month from an on-site custom microbrewery. This Easter long weekend enjoy breakfast and DJ's from late afternoon along with both of their Easter cocktails – Cadbury Cream Egg Smash and Hazelnut Hops & Dreams.
Motion Bar & Grill | QLD
Fresh from a multi-million dollar revamp, the Brisbane Marriott has unveiled Motion Bar & Grill and with it, a new city dining destination. Enjoy both Good Friday and Easter Saturday night for an Easter seafood buffet of hot and cold seafood, paired with a selection of chilled wines from a wine buffet along with a vast array of decadent dessert options.
Caledonian Inn | SA
The Cally, as locals know it, is an old English style stone pub with a long timber bar, relaxed seating, an open fireplace and ambient lighting inside, whilst outside boasts a spacious beer garden, creating the ideal space for the whole family to enjoy. This Easter Saturday and Sunday, Cousin Leonard along with special guests, indie folk band Free Genie, will be performing live.
This is just an early snap shot of what to expect around the country, our Easter What's On Guide is live and updated regularly, so be sure to check back as we hop closer to Easter.