Australia's picture perfect getaway
One of the most beautiful islands in the Pacific, Lord Howe Island is an Australian treasure, situated off the Sydney coast. One of just four islands to be World Heritage listed, Lord Howe is surrounded by piercing blue waters and soft white sand, attracting an assortment of travelers looking for a paradise getaway. With a subtropical climate, relaxed pace and high quality of hospitality, Lord Howe Island makes for a popular Australian honeymoon destination, however remains just as popular with families after little island holiday.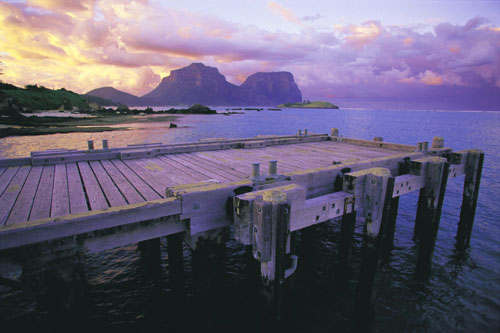 What can I do on Lord Howe Island?
A natural wonderland, Lord Howe Island is full of outdoor adventures, including bushwalks, snorkeling and fishing. With a mild climate all year round, anytime is a good time to visit Lord Howe, with a maximum temperature averaging around 25 degrees. A variety of home-style and contemporary cuisine is available on the island, a particular favourite being the locally caught kingfish. Lord Howe is also one of Australia's best bird watching destinations, with more than 130 permanent and migratory bird species around the island.
If you want your Lord Howe experience to consist of luxury, relaxation and pampering, why not indulge in a trip to the day spa, go for a few rounds at the picture perfect golf course or hop aboard a glass bottom boat and inspect the bright marine life that lies beneath the calm waters. For must see attractions, take a trip to Ball's Pyramid as well as a hike on Mount Lidbird.
For more information on Lord Howe Island, click here