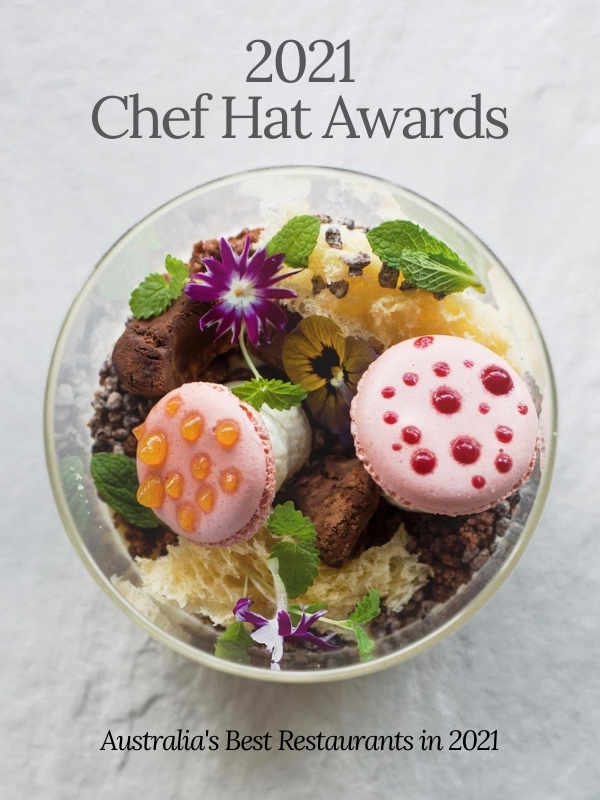 "Tumultuous" – "Tenuous" – "Terrifying" are unsurprisingly some of the impassioned words used by this year's Chef Hat award-winners to describe the 12 months just gone. But if there is one word which really summed up 2020 for us, it was "Goodwill"…the COVID currency.
The year has certainly been a year like no other – an horrific start with Australia burning, immediately followed by a global pandemic!
Few would have ever anticipated a year with when such a volume of Australia's restaurants would be forced to close their doors. Fewer still would believe that the saving grace of so many of country's top Chefs, would be the humble takeaway.
The devastation caused by catastrophic fires and restrictions required to curb the spread of COVID-19 have left no restaurant unaffected, but the consequences have certainly been far more ruinous for some.
As we release our 2021 Chef Hat Awards, we respectfully recognise the field has not been level. This year's awards are a credit to the phenomenal efforts of those who have managed to endure, but in no way take away from the incredible efforts and creativity of some of those forced into closure.
We concede too that lockdown and border restrictions have obstructed our judges' efforts this past year, and acknowledge that we have not visited as many restaurants as we otherwise would have liked.
In our pursuit of the country's best restaurants notwithstanding, the support by the Australian dining public has been nothing but extraordinary, with their generous willingness to support and help identify venues worthy of Chef Hat consideration.
We would like to thank you for your unbroken enthusiasm.
Some notable closures of 2020 (not all COVID-related):
•Caveau (Wollongong).
•The Boathouse at Blackwattle Bay (Sydney).
•Orana (Adelaide).
•Ezard (Melbourne).
•Stokehouse Q (Brisbane).
•Wasabi (Noosa).
•The Fish House (Burleigh).
•Bistro Guillaume (Sydney).
•Biota Dining (Bowral).
•Captain Moonlight (Anglesea).
•Gladioli (Port Fairy).
•Dinner by Heston Blumenthal (Melbourne).
•The Olfactory Inn (Strathalbyn).
•Franklin (Hobart).
•Red Cabbage Food & Wine (South Perth).
•St Michael (Highgate).
•Must Winebar (Mount Lawley).
•The Wolfe (East Brisbane).
•Beaux Rumble (Fortitude Valley).
•Songbirds (Mount Tamborine).
Some notable openings of 2020:
•Aura Hobart (Tasmania).
•Elska Restaurant – newly opened and also moving to New Farm in Brisbane, coming straight in at a 16 (Queensland).
•Winston pop-up in Noosa (Wasabi) - Chef in residence Cameron Matthews (Queensland).
•Sodafish (NSW)
•Esteban (NSW).
•Fleur at The Royal (WA).
•Market Bistro (Queensland).
Anticipated openings in 2021:
•Luci Melbourne (Chef Sam Moore).
•Society Restaurant Melbourne (Chef Martin Benn).
2021 Chef Hat Winners by State:
Now it's your chance to share your memorable moments of the past year:
If you'd like to know more about what makes an AGFG Chef Hatted Restaurant award-winning, you can find our rating criteria
here
.
We encourage all budding food enthusiasts to vote for their favourite establishments and contribute their opinions on the establishments they visit. To do this, read about our sperate
Readers' Choice Awards.
The 2021 Readers' Choice Awards will be announced in February.