February 2013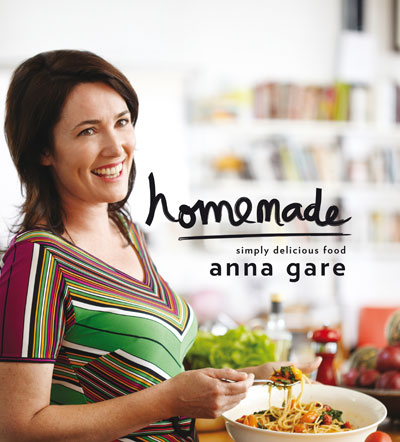 Homemade Food Recipes from the Heart
While in her twenties, Anna Gare kept busy globetrotting with her band The Jam Tarts - the name a dead giveaway of her inner foodie calling. Becoming pregnant, she returned home to Fremantle WA where she has contentedly remained ever since, with family and long-time friends comfortably situated within a 5km radius.
Flash forward and it followed suit that local publisher, Fremantle Press, took interest in Anna's work and Homemade came into fruition. Cooked and photographed in her own kitchen, Anna's first cookbook is a personal selection of naughty and nice dishes, spontaneously presented in no particular order but well indexed at the back.
You'll find an artichoke tapenade recipe right beside her husband Luc's baked beans - a family favourite, though as you can imagine he is rarely required to cook much at all. "After 8 years, I've ruined him," Anna confesses. In Homemade you'll also discover chocolate, cardamom and ginger semifreddo dessert just after Gino's prawn fettuccine; Anna's been eating this dish at the chef's own local restaurant since she was a young girl.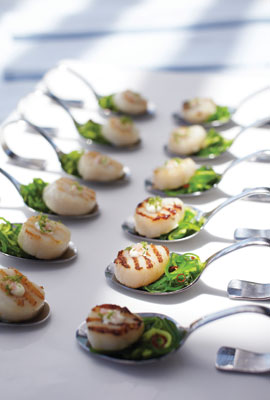 Welcome Home - Food Recipes for Love
Flying to Melbourne for TV shoots such as Junior MasterChef and her newest show, The Great Australian Bake Off, Anna's homemade food recipes have contributed to her fame. Though Homemade is full of food recipes for every occasion, with Valentine's Day coming up we spoke to Anna about the pure seduction of silver spoon scallops, chocolate whimsy fully stop, and experiencing self-love with juicy mangoes.
Feel free to check out our AGFG Recipes section for a sample selection of Anna Gare's recipes from Homemade:
Eat with your Hands & Feel Free to Get Messy
"It's those little added ingredients that
make a dish naughty and ideal for romance."
AGFG: You maintain that home cooking is something that responds to what's in the market, what's in the fridge and who walks through the door. When the person who's walking into your kitchen is the one you love, in your opinion what are tried and true dishes destined to impress?
ANNA: A man… seafood, depending on the man of course. You need to know the person before you cook up the potion. A woman… chocolate.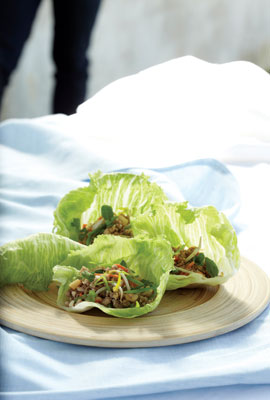 I would serve my husband ceviche, a white fleshed fish, nicely cubed with limes, coriander, chilli and tequila served either in spoons or shot glasses. Another way to serve seafood that would blow his mind is as sang choy bow, with the seafood wrapped in lettuce. It's those little added ingredients that make a dish naughty and ideal for romance.
Eating with a knife and fork is not sexy. My husband always tells me off at restaurants for eating with my hands. Food is sensual and sexual; it feels good and we need to touch it. In my home, 'no manners Tuesday' is definitely our favourite night.
Desserts are always nice and when you make one it's like you've gone the extra mile for that finishing touch. Tiny, little balls or light strawberry mousse, fruit with Grand Marnier, or something sweet with rosewater hints.
If I've had a big day, I'll hop in the bath and eat a mango; it's enjoyable and messy and delightful. A whole mango in the bath is decadent.
AGFG: In conclusion to Homemade you acknowledge the many levels of support your husband Luc offers, including his "endless love and willingness to taste, eat, and criticise your food when instructed". What part has food played in your romance?
ANNA: I love romance and food. There's nothing worse than a stodgy meal and a mini-series followed by apple pie and ice cream. Sexy food is light, healthy, fresh and flavoursome.
We were friends for years when I first met my husband, Luc. He was on-site at a disorganized cooking show and my session didn't end up happening. With scallops to spare, I asked if he'd like to try some… When I handed him the tapas for a taste, his eyes lit up as they would in an animation. He looked goofy and dough eyed – I knew something was there.
Scallops have to be one of the most romantic pieces of seafood; they're a trouser arouser, a light dish to keep the energy up. Combine that with a glass of confidence, such as champers, and you'll wind down for a first date or if you're already together, relax into the mood and remember why you're married in the first place.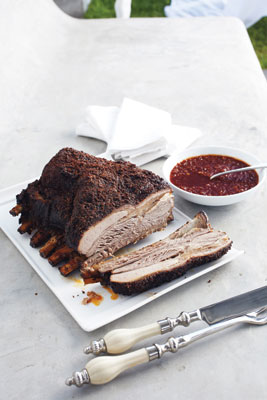 Luc always gives me flowers and I don't give him anything, but I do cook a beautiful meal - the best way to anyone's heart. Certain foods are aphrodisiacs and there is a science to it. With oysters, for example, there are those aphrodisiacal aspects and then there's the whole you are what you eat adage to be considered.
We spent a lot of time in America and picked up recipes along the way, developing dishes together as in our big Texan beef ribs. We make that recipe in the backyard pizza oven, shutting the door to smoke it, which people go crazy for.
Our tendency is to go through phases with food based on what's in season. But basically I cook whatever we crave lying in bed in the morning. When I was catering, I noticed on TV that Jamie Oliver cooks like we do with big handfuls of ingredients and using lots of fresh herbs.
I relate to food by balancing flavours; sweet, salty, acidic, and olive oil to tone things down because at times we opt for mellowness. Maggie Beer's verjuice is just fantastic; it synchronizes tastes for a four part harmony on the palate.
When you listen to music, a good musician knows when something's missing in the song; the whole equation comes as second nature, and the same goes for a good cook. We pick out the part that's missing. We taste something and know if it needs mids, if it's too sharp, or requires salt to bring out the flavours.
AGFG: Your 2011 Logie Award nominated TV show, playfully entitled Quickies in the Kitchen, evokes an idea of home cooking success on a few key levels. You've developed amazing rapport amongst mini foodies in your role on Junior MasterChef and you've returned to the screen with Channel 9's new competition show, The Great Australian Bake Off. Growing up with a huge fruit bowl on the table, you were forced to make your own sweets based on your parents' no rubbish food policy and your foodie fame has spun since the early years. What have you learned from cookery television work?
ANNA: I thought I was a pretty good cook at the age of 8 but have stopped bragging since Junior MasterChef. These kids are driven by their passion to cook and succeed and the adult MasterChef contestants seem to crack more under pressure – more to lose I guess.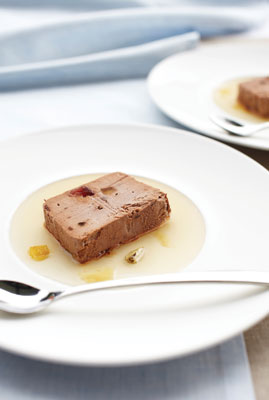 I've learnt that kids under pressure in a healthy, fun and competitive environment put aside their fears, stretch their boundaries and produce amazing dishes beyond their normal capabilities.
I'm close to my heart in the kitchen and with The Great Australian Bake Off these people are not trying to be acclaimed chefs they're just really into baking. It's about cooking from your heart, wanting to make pastry and share it. It's really humble; these bakers are not on the show because they want' to win, they're there because love feeding people and are passionate about pastries.
Homemade is published by Fremantle Press, rrp $49.95. Perfect for love month, you'll discover racy recipes such as puttancesca 'whore's style' pasta, artichoke tapenade, naughty potatoes, avocado carpaccio with seared scallops, plus raspberry, rose and vodka jellies for dessert.