"These days I have come to appreciate that La Dolce Vita is a way of life you can aspire to wherever in the world you may be, whatever the weather." ~ Silvia Colloca.
It seems everyone in their own way is searching for La Dolce Vita and according to Silvia Colloca, that even includes the people of Italy. In her latest contribution, zest for life and cheerful charisma leap from the pages through bright colours, photos overflowing with lavish dishes and warm, welcoming prose.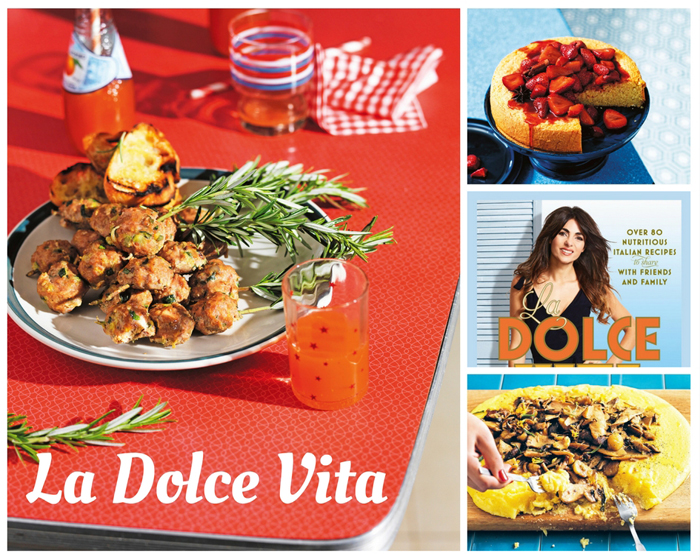 There is a 'let me show you it's easy' style, that extends from the accessible recipes to the Italian way of life and how to get there by "embracing life's sheer beauty" and "celebrating every moment."
On perusing a recipe, there is a continuous feeling of ease that persists, as if Silvia were explaining the recipe directly from her kitchen bench, glass of Campari in hand. Pictures show plastic cups of different hues, the speckled tops of portable tables and chinaware of the hardy caravan variety, planting the atmosphere Silvia talks about of "three generation families sitting around long tables draped with red and white tablecloths sharing an abundance of food, laughter and love."
The best insight into the person behind the actress, opera singer, author, blogger and Chef, comes from the chapter introductions that divide the book: drinks and nibbles, light lunches and it's not really a party unless there's dessert! Just to name a few. There are stories about living in Milan and the aperitivo atmosphere, of childhood memories from the Abruzzo countryside and life as an Australian Mum.
Mentioned in the beginning and embodied throughout, is a championing of the healthy side of Italian cuisine and the merits of the Mediterranean diet. Silvia puzzles over the notion that Italian food is a cuisine to be enjoyed occasionally and sparingly, contending that the Mediterranean diet is an elixir with olive oil instead of animal fat, plenty of fibre, fruit, greens, legumes, seafood, cereal and a little dairy from time to time, coupled with careful amounts of wine and meat.
Recipes vary from the traditional Italian to the nutritious and even the seductive, with different degrees of difficulty too, there are show stoppers as well as more accessible dishes like the zucchini, mint and turkey polpettine skewers (p 114), for instance. La Dolce Vita is also packed full of options that cater for a host of dietary requirements, egg free, gluten free, Pescatarian, Vegan and Vegetarian dishes are all neatly categorised at the back. Still, there is no lack of sweet options, like the Italian sponge cake with balsamic roasted strawberries (p 138).
"Even when we are in the mood to celebrate, it is easy to create nutritious dishes to mix up with the opulent ones; after all, we all need the occasional touch of naughty." ~ Silvia Colloca.
There are dishes that come right from the heart of Silvia's identity as a food writer, steeped in family history and tradition, for instance the rosemary roasted mushrooms and chestnuts on soft polenta (p 65), a warming, hearty meal fitting for sharing with the whole family.
"There was no sophistication in this simple meal; its real value was in that genuine Italian spirit of conviviality where the food is there as a conduit for happiness - no bells or whistles required." ~ Silvia Colloca.
Whether it's for dazzling guests, cooking for family, or even making edible gifts, La Dolce Vita is a lexicon of Italian favourites, designed so that everyone can live 'the sweet life' together. A welcome addition to the kitchen catalogue or the coffee table.
Recipes and images extracted from La Dolce Vita by Silvia Colloca, published by Penguin Random House.