AGFG caught up with James Brady to talk about Samphire Bites and Pigs & Pints.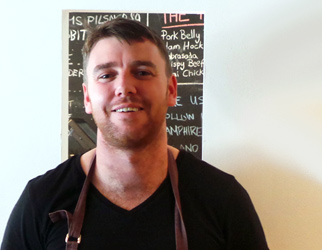 As Samphire Bites moves from Chevron Island to Broadbeach, AGFG was curious to see if there were any changes and surprises in store for Gold Coast diners. Although James was a little reserved on the details he went on to say that Samphire Bites will be more evolved and a greater experience for diners in Broadbeach than it was on Chevron.
"The Gold Coast is always evolving and so Samphire Bites had to also, it will evolve from what it was on Chevron. On Chevron, Samphire was a diluted form of myself, it never really became trendy, which was a good thing as we wanted to test the response it was going to get from diners, now that people know a bit about me I want to show them all of me so we are taking the idea of the bar we had on Chevron and making it a larger part of Samphire in Broadbeach where smaller savoury and sweet bites can be ordered by those that just enjoy a drink and a bite," said James.
In the main dining room of Samphire, there will be room for up to 60 diners. For lunch there will be a two course minimum as James wants everyone to have a full dining experience.
"It is very hard to expect a diner to be able to balance a menu so at Samphire we will do it for them, we have designed a two course and four course set menu, it won't matter what the diner chooses from this menu as it should give the results of a very balanced meal and of course we will have a Sommelier to accommodate all meals with the correct wine," said James.
Everything in Samphire Bites has a purpose; every dish has a little bit of James' personality, life experiences and history. Before each service Samphire will be filled with the smell of Thyme, which will kick start the diner's metabolism and appetite. James went on to explain that when he was in Spain there were thyme bushes everywhere and it was all he could ever smell, and it always made him hungry, so this gave him the idea to wet the appetite of his customers with one of his life experiences.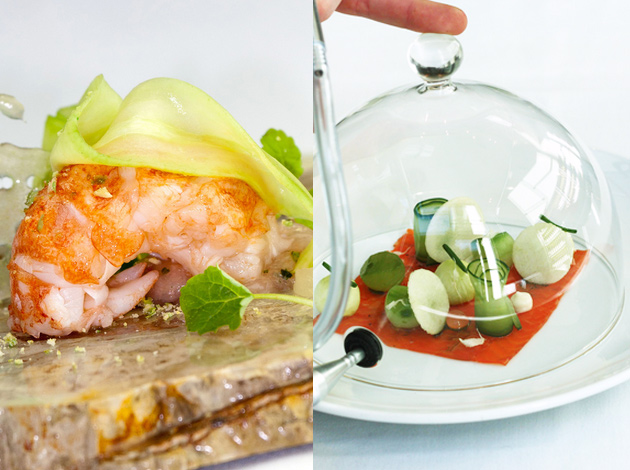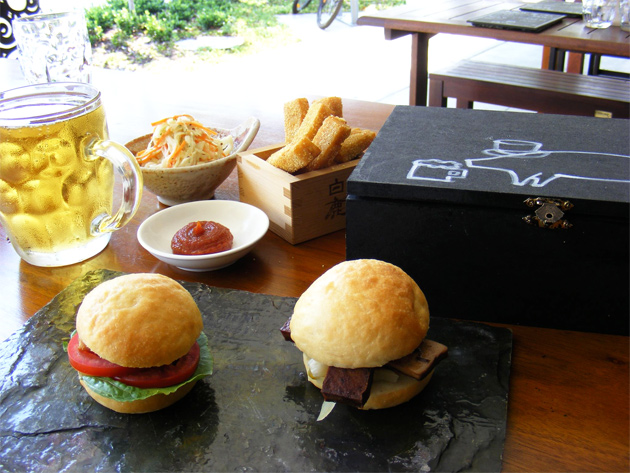 It's set to be a very busy year for James as he also looks forward to extending his Pigs and Pints venture. Pigs and Pints, also located on Chevron Island, were into the slider craze before it was trendy, pairing craft beer from across Australia and locally from Burleigh Brewing Company.
It was a venture that came to James when he was working at Poseidon. James used to serve a Grange box before each meal; diners would sit there stunned that the waiters would just serve them a bottle of Grange without asking. Most would start worrying about how much that one bottle of Grange would cost and whether they could afford the rest of the meal. To their surprise James would pull off the lid and it would start to smoke and once the air cleared the diners would be left with smoked chips in a Grange box. This was to put diners at ease and have a good laugh about the common stereotypes fine dining had. The idea of smoked potato chips grew into creating gourmet sliders which eventually grew into Pigs and Pints.
James hopes to extend Pigs and Pints from his one venue on Chevron Island to another venue in an undisclosed location in Burleigh. Before the second venue, a mobile Pigs and Pints van will take to the streets with their own mobile app, so at any time you will know where you can get your next gourmet slider fix.
AGFG has been watching James for quite some time, from his early beginnings at Vue de Monde in Melbourne to Poseidon and now to his own venture Samphire Bites and Pigs and Pints. His aspirations and passions for Samphire Bites are high and AGFG would definitely recommend following James' story, as he endeavours on his journey in fulfilling his personal goals including making the San Pellegrino 50 best restaurants list in the years to come.