By Sean Melrose.
There's something about Autumn that lends itself to the making and of course consumption, of preserves. Perhaps it's to do with the emergence of ripe figs, mandarins, oranges, quinces and pears, or the cooler climate that's ideal for scones with jam, toast with jam, or . . . jam on the spoon. The goal in mind might even be a batch of marmalade, bitter and zesty, which when paired with a cup of strong coffee is a rare treat. Below is a collation of our favourite preserves to get the kitchen buzzing and the cupboard well stocked with jams and chutneys. The suggested punworthy soundtrack for the production line includes Pump up the Jam by Technotronic, anything from the Space Jam soundtrack and definitely Jammin' by Bob Marley.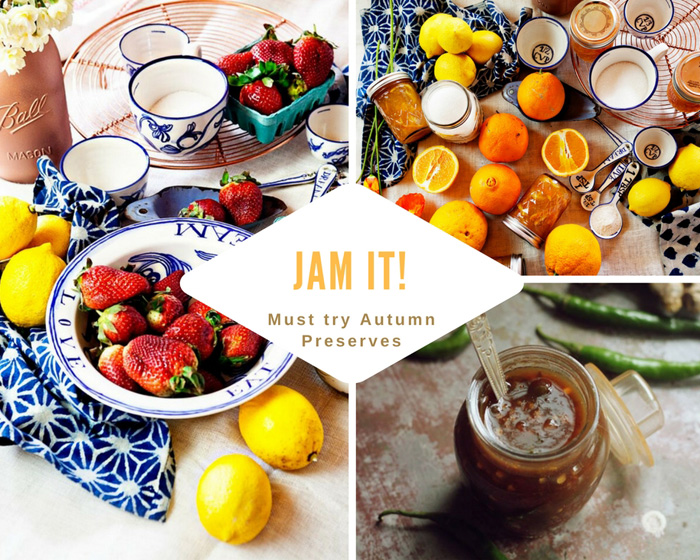 Perfect to pair up with some shredded chicken on a crispy roll for an Asian inspired spicy Autumn snack. The palm sugar provides a unique sweetness to the jam in combination with the fire from the rest of the ingredients.
Strawberry jam is a classic, but the great thing about making your own preserves is getting to mix it up a bit. A twist of lemon adds that zing to elevate the flavour nicely, adding an extra element to a jam ideal for any occasion, though particularly well suited to scones and cream.
The same traits that make marmalade with some heat the essential winter warming up tool, make it a winner for Autumn too. The powerful zest flavour from the rinds, matches beautifully with the heat from the habanero peppers.
If jam has a sidekick it's probably cream, just like chutney's partner in crime is cheese. The mission is quite clear, take one slice of fresh bread, one thick slice of cheese and add chutney, then simply kick back and enjoy the ultimate midday snack.
Allam Chutney (Ginger Chutney)
Excellent as a dipping sauce, this one includes some ingredients that might require some searching in the supermarket but it's worth the extra strain. Its main game is taking curries to the next level, so after the preserves are done it might be time to move on to the curries.