By Freya Ensbey.
Autumn is a beloved season for foodies, it's the change of weather that brings about new seasonally available produce. Cooking with produce that is in season ensures that we are eating the freshest available ingredients that have not needed to be stored over long periods of time and that are abundant with healthy nutrients. Don't fall into the trap of reaching for easy comfort food options over this cool period and stock your fridge and pantry so you can instead whip up a tasty Autumn dish to quell your appetite.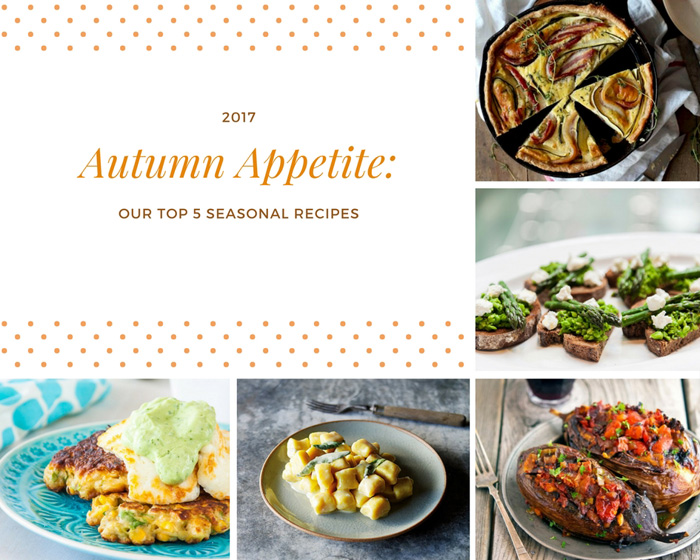 Zucchinis are abundant throughout Autumn and are an ideal vegetable to sneak into dishes for the kids as they are seemingly subtle in taste and absorb any flavour you put with them well. This quiche is super simple to make mid-week and is packed with protein from the eggs.
Asparagus and Crushed Peas on Toast
For those cool Sunday Autumn mornings, why not make your beloved a delicious breakfast in bed? This recipe calls for only a handful of ingredients and offers a crunch from the toasted rye, a minty punch of flavour from the minted peas and a smooth texture from the silky but punchy goats cheese.
This slow roasted eggplant recipe is the perfect filling dish for vegetarians to enjoy over Autumn with a glass of red. To serve as a finger food party option, this recipe could be adjusted to use finger eggplants instead.
Pumpkin Gnocchi with Gorgonzola Sauce
What better way to satisfy a hungry tummy than with pasta and cheese? This indulgent recipe was the creation of duo Alessandro Pavoni and Roberta Muir from the pages of their stunning book, A Lombardian Cookbook, filled with flavours from the Alps to the lakes of Northern Italy.
Created by Jennifer Schmidt, this simple, yet effective recipe was featured online on 'Delicious Every Day – a vegetarian food blog.' These fluffy fritters are packed with flavour and topped with fried halloumi and a smooth avocado, yoghurt, coriander and lime sauce.