By Leigh O'Connor.
Capital of the two greatest empires in history – Roman and Ottoman – Istanbul has long been a melting pot of mosques, markets and minarets. A huge city spanning two continents, in recent times Istanbul has cemented itself as a must-see destination for any European adventurer.
The Old City reflects cultural influences of empires gone by, the site of chariot races, Egyptian obelisks and rare Christian mosaics. While modern Istanbul is a hive of foodie tours, concerts, nightclubs and restaurants, a place where Europe and Asia collide in an explosion of sights, sounds and culinary delights.
With a city so rich in history, a walk down every street unveils a piece of the past. Tourists are spoilt for choice – listening to the call of prayer between the Blue Mosque and Hagia Sophia, watching the sun set over the skyline and embracing the cultural diversity that abounds from centuries of trade along the Silk Road.
Turkish people possess an infectious love of life that transcends ethnic boundaries - they work and play hard, treasure family and friendships and meld tradition with the modern world. They long to share their city with visitors and are more than helpful when asked for directions, recommendations on places to go or where to eat.
With history, art, culture and cuisine in mind, here's an insight into 10 tantalising tourist stops in this multi-cultural city, which fuses the past with the future…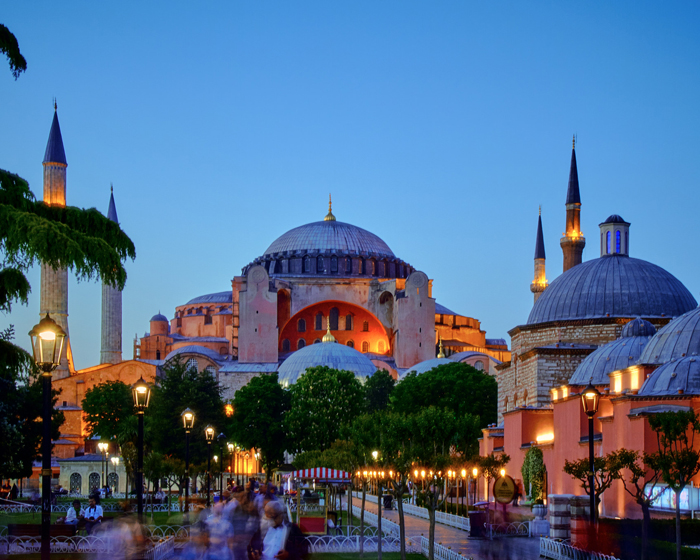 Hagia Sophia at dusk, photo: Pedro Szekely, flickr.
Hagia Sophia and the Blue Mosque
For more than a thousand years, Hagia Sophia was the largest church in the world. Now a museum it still retains a prayer room; and the most haunting and magical sound you will hear while in Istanbul is the call to prayer between Hagia and Sultan Ahmet Mosque - from minaret to minaret, muezzins answer each other as the city below listens.
Known as the Blue Mosque for the intricate tiles adorning interior walls, Sultan Ahmet is steeped in history. Built on the site of Byzantine emperors and facing Hagia Sophia, it is one of two mosques in the city with six minarets, and houses its founder's tomb, as well as a finely carved and sculptured marble mihrab, marking the direction of Mecca for those who pray there.
Topkapi Palace
This palace was the official and primary residence of Ottoman Sultans and at the height of its existence as a Royal residence, was home to up to 4000 people. Transformed into a museum in the 1920s, Topkapi contains large collections of porcelain, robes, weapons, Islamic manuscripts, treasure and jewellery. The grounds are huge, but most impressive are the Harem Apartments - more than 400 rooms where each Sultan's many concubines, wives, children and extended family lived in luxury.
Take a Turkish Bath (Hamam)
A hamam is not for the modest… whether you visit an historical bath or one in a hotel, nudity is usually required. Rest assured the baths are segregated with attendants the same sex as you and to appreciate the full experience, go for a body scrub and massage. Once there were 237 hamams in Istanbul, now about 60 are still in use and most are housed in lavish marble surrounds, where a three-step process of a sauna, steam and full body wash is employed. More modern hamams include variations of spa and treatment options to tempt tourists.
Bosphorus Boat Tour
Taking a cruise down the Bosphorus is a great way to see the city if you are short on time. Bosphorus Strait divides Istanbul in half and connects the Black and Marmara Seas, while cruising its 32 km length you sail under suspension bridges and past an unending stream of boats. An amazing panorama of the city unfolds and many of the important monuments, such as the great palaces of Dolmabahce and Beylerbeyi, are visible. The shores of the Bosphorus are one of the greenest parts of Istanbul, as it is now forbidden to build on its banks.
Whirling Dervish Show
A spiritual journey of dervishes whirling for divine love, the Sema Ceremony is one of the most important Turkish cultural traditions, dating back more than 800 years. Today the dance can be seen in public, but this hasn't always been the case, as it was perceived with suspicion and banned in 1925 soon after Turkey gained independence from the Ottomans and became a republic. It wasn't until 1954, when as a way to draw visitors to Istanbul, dervishes were allowed to publicly perform again. Most performances last for an hour as dervishes begin to gently spin counter clockwise with their hands raised to the heavens - the faster they spin, the more their skirts begin to flair and rise.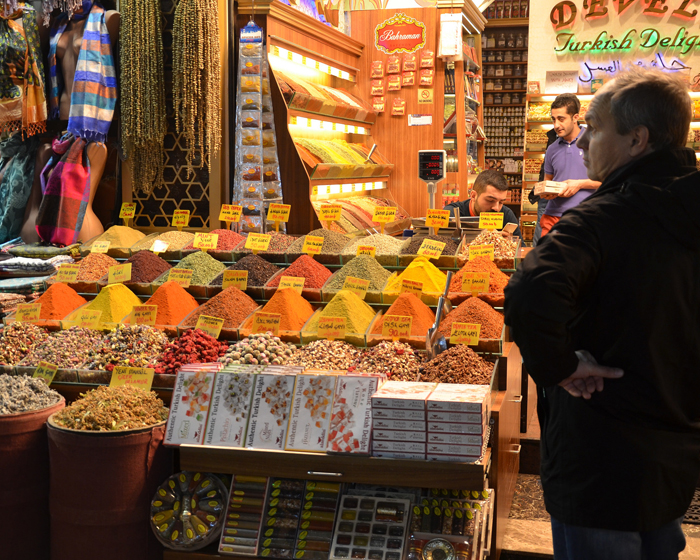 A spice merchant who has just opened his store, contemplates the order of business for the day next to his display inside the Spice Bazaar in Istanbul. Photo: Shankar S, flickr.
Visit the Spice Bazaar
Vibrant spices, Turkish delight and every stall imaginable can be found at the Istanbul Spice Bazaar. Stalls sell caviar, dried herbs, honey, nuts and dried fruit, as well as tourist trinkets and edible souvenirs. Constructed in the 1660s as part of the New Mosque, in its heyday the bazaar was the last stop for camel caravans travelling the Silk Road from China, India and Persia. Some prices are marked, but a little haggling is expected and enjoyed by vendors, don't forget to stock up on some Turkish coffee and olive oil soaps.
Take a Turkish Food Tour
Awaken your culinary senses with a Turkish food night walking tour of Istanbul, where you can eat like a local, grill your own kebabs on an open fire in a barbeque restaurant and party the night away at a tapas bar with live music. Most tours are for small groups for more personalised attention from the guide and take between three to five hours, strolling around hidden streets and neighbourhoods, scouting out the best food haunts the city has to offer. Taste treats such as 'borek' (flaky pastry), nibble on mezze plates and sip on 'raki' – locally loved anise flavoured firewater – arriving back at your hotel fully satiated and with a greater appreciation of Turkish cuisine.
Taste Turkish Tea
By the time you leave Turkey, you will have drunk your weight in tea – they serve it with everything. There is never a bad time to drink tea, usually drunk in a special curved, see-through glass with a small plate underneath to make it easier to carry and serve. Traditional Turkish tea is black, although some locals do imbibe herbal varieties such as rose hip and linden flower, one tip for tourists is that the famous apple tea is actually something concocted for foreigners. Most hosts will continue to keep refilling your glass as it is considered not kosher to run out, so if you have had enough place your spoon on the top of the glass as soon as you finish, which signifies 'no more, thank you.'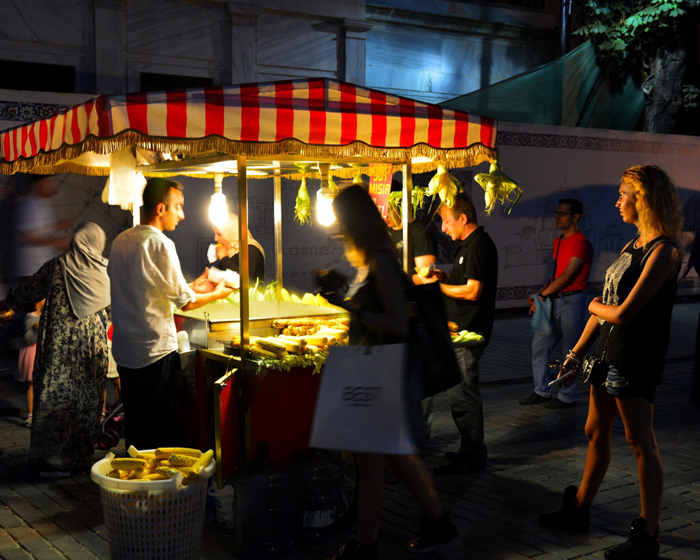 Ramadan Street Scene. Photo: Harold Litwiler, flickr.
Smoke a Hookah
A hookah pipe is called a 'nargile' in Turkey and smoking one is a surprisingly popular activity among locals of all ages. You can order tobacco in a variety of flavours such as apple, cherry, banana, coffee or orange and spend hours lounging around, smoking and of course drinking tea. Long a prominent part of Turkish culture, the hookah suffered a serious decline in use with the advent of cigarettes, now it is making a comeback as it is considered more social and a lot more tranquil than hurriedly puffing down a smoke on the sidewalk. The Perla Kallavi rooftop café of Istiklal Caddesi is one of the best places to try this practice and enjoy city views.
Get your Groove on at a Belly Dancing Show
Probably one of the best known cultural activities in Turkey is a belly dancing show and night clubs are the most common venues to find dancers in action. An old art form still enjoyed by Turks of all classes, the dancer is usually a woman with exceedingly well-trained abdominal muscles. One of the best shows, albeit a little touristy, is at Sultana's 1001 Nights where as well as plates of Turkish meze and bottomless glasses of red wine, you can see the "world's best belly dancer Didem" in action.
Now that we have piqued your interest, click
here
for more Istanbul Insights.