By Sean Melrose.
"In Istanbul homes, people cook. They make the classics you find on the menus at the city's restaurants, but above all they cook dishes rooted in their family's origins. What makes Istanbul special is that it brings together all of the country's regions, specialties and customs." ~ Pomme Larmoyer, p 132.
Part essential cookbook collection material, part key card to an authentic culinary expedition of Istanbul, traveller, food writer and editor, Pomme Larmoyer delivers an inspiring golden volume bursting with life and light.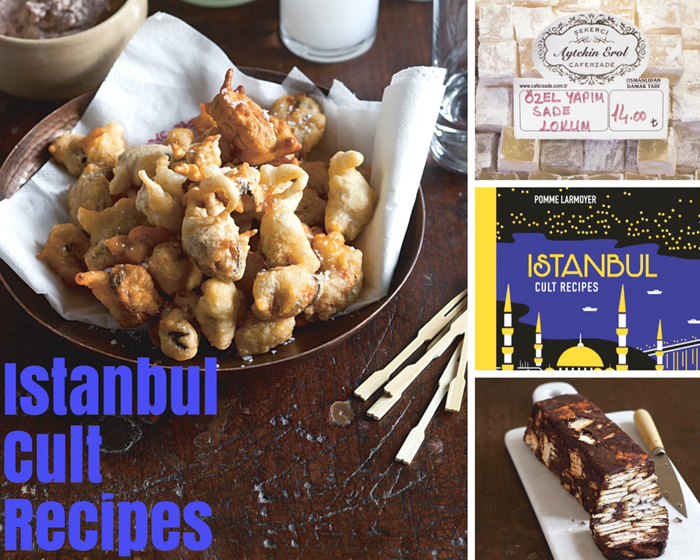 Conveniently, the recipes are divided up into categories and prefaced with an introduction including artfully labelled maps that guide the way through old Constantinople, ripe with little tips from Larmoyer who has done all the scout like groundwork.
Exceptional authentic recipes are complemented by captivating images from photographers Akiko Ida and Pierre Javelle. Pictured, are veritable jungles of organised exotic fruits and greens in every type and size imaginable, lit by bulbs that hang precariously from individual threads as the afternoon fades, beside row upon row of the freshest fish packed tightly in ice, shining in the camera lens.
A throng of lively, inviting dishes are captured on the pages with rustic, weathered accoutrements like weighty bread boards and specialised Turkish gas stoves. Generously filled plates and pots, vibrant bowls and brimming cups all cry out to be eaten immediately.
Running throughout the book are illustrations by Zeina Abirached, reminiscent of ancient pottery artwork that are both delightful and helpful, like the little cat who pops up to give sage advice, "Warning: this is hot! Especially if you add a few dried chillies."
Remember this is the part of the world we have to thank for mezze, so it's no surprise that the options for sharing are plentiful. Invite the troupe around to perhaps try some mussel fritters, just keep in mind the mezze rules.
"You do not rush a table of mezze; you savour it. Quantities are small but numerous, like the aromas. You drink - but, again, not too quickly. 'It's not the done thing to get drunk straight away. There are rules.' I've heard it said." ~ Pomme Larmoyer, p 25.
A recipe that simply cannot be missed from this archive of Turkish flavour, is of course the Mastic Turkish Delight. While likely to promote fervour amongst sweet tooths, the powdered little delicacies are not the only Turkish treats. Contained within Istanbul Cult Recipes is a whole chapter devoted to sweet Turkish fare.
"It is true that Istanbulites buy Turkish delight rather than make it. But if you cannot be there, you can always pretend a little with this recipe." ~ Pomme Larmoyer, p 234.
There is even a no bake chocolate cake, referred to as mosaic cake, which, upon slicing, reveals a mosaic like wall of biscuit, tastily enveloped in a tantalising chocolate mixture.
Larmoyer is a big believer that the way to get to know a country is through its kitchens, so it follows that anyone with Istanbul Cult Recipes under their arm has an opportunity to bring themselves closer to Turkey and its "megapolis" Istanbul, in the tastiest of ways. Ideal for the suitcase as much as the home kitchen.
Images and recipes from Istanbul Cult Recipes by Pomme Larmoyer (Murdoch Books, RRP $49.99).