Written and travelled by Michelle Tchea a Luxury Travel and Gourmet Food Professional who rose to fame after her highly successful cookbook 'Building a Perfect Meal.' Michelle's latest cookbook is "My Little SoHo Kitchen" and we definitely suggest to take a peak here.
With over 30,000 islands to sink your teeth into, the geographical layout of Sweden can be difficult to navigate. "Sweden is just one big body of land with small islands scattered across the coastline," says Totte Steneby, Head Sommelier at Djuret in Stockholm. "Each region is made of different chefs with different cuisine. We have some of the most influential cooks in the world in Sweden." Fortunately for travelers, information is not scarce in a country that has a wealth of highly celebrated bloggers. With a rich café culture known affectionately to locals as "Fika", I am thankful to venture into a country with coffee and cake on its mind.
The great thing about traveling in Sweden is the accessibility. Jumping from one island to another, catching the train or simply hiring a car for a couple of days can help you see more of the country and mingle with locals in true Swedish fashion.
The city of Stockholm sets the bar high, with innovation, design and creativity filling the air thanks to brands like Sandqvist, Absolut Vodka and ACNE. Travellers flock to the popular Scandic capital with high expectations given that new Nordic cuisine is rated as the best in the world. "We are well worth our good reputation, we have many talented chefs, [that are] ambitious and renowned," says Chef Henrik Norström of Restaurant Lux Dag för Dag in Stockholm. "The draw of Swedish food is to provide good food [and a] world-class experience with rural roots," he adds. The country's capital is set on almost a jigsaw of 14 islands as is a gourmand's destination.
Stockholm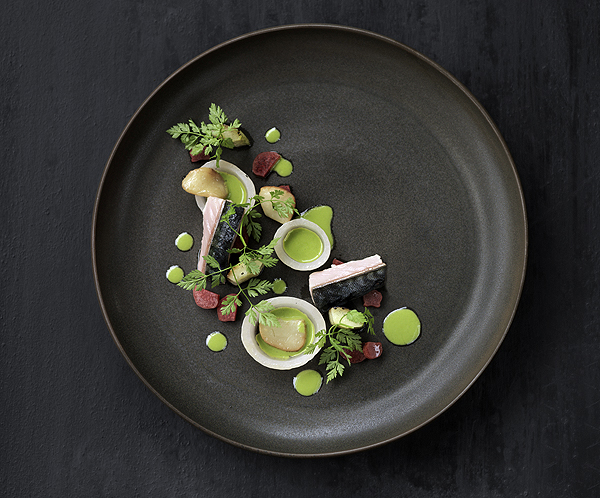 Oaxen Krog
Surrounded by fresh water lakes that lead to the archipelago, as well as parklands and forests within short boat rides, island hopping is strongly encouraged to experience the culinary diversity of Sweden. However, if time is not on your side, staying in Stockholm and picking one island to explore can be equally rewarding. To start, a cool hangout with cocktails and regional classics can be in the very hip Scandic Grand Central. Teaterbrasseriet, the restaurant hotel that puts other hotel restaurants to shame with a young team and modern atmosphere – a favourite spot for Friday night drinks after work. If you love the arts – be sure to check out the newly revitalized Vasateatern theatre, attached to the historical hotel.
If you want to venture further from the Train station, a five minute bus ride to an adjoining island is Restaurant Lux Dag för Dag where Chef Henrik Norström and his team smoke, salt and demand the best of all local produce, "Our guests can take part in the whole dining experience...making the most of seasonal produce and seeing how things are prepared."
If you are in Djurgaden for an evening stroll, be sure to work up an appetite before stopping at one of the most talked about restaurants in Stockholm: Oaxen Krog. If you have money to burn, go to Oaxen Krog for a Michelin-style atmosphere and meal, otherwise, stay in their bistro "the Slip" for equally delicious food at half the price. Husband and wife duo, Magnus Ek and Agneta Green, are pioneers of Swedish cuisine and should not be missed. If you want some heat to your dinner, book yourself a table at Ekstedt. Almost like dining with the coolest kids in the school cafeteria, it pays to know the 'right people' to get you the hottest seat in Stockholm's hottest restaurant. If you love meat, make sure you visit Djuret. Tucked in the old town of Stockholm, this is a non-touristy restaurant that is perfect for lunch if you are sticking to a budget but still have a hankering for first-class food. On the other side of town, Gastrologik is an intimate restaurant to pop into if shopping in residential Ostermalm.
Are and Jamtland
If Stockholm is Sweden's paradise for shoppers, Jämtland/Härjedalen is the country's playground for thrill seekers and nature enthusiasts. A short 45 minute plane ride will see you at one of Europe's premier alpine treasures. If trains and buses are more within your budget, don't be put off by the half day travel times to get there. Stretch your legs with friends on a dog sleighing safari in Duved, rub shoulders in Are with Olympic snowboarding metalists, or simply throw yourself down an off-piste slope and watch wild animals whoosh by on skis. Hiking trails, sailing and golf dictate the warmer months, but definitely try your hand at timber rafting for something totally different in Vamtland.
Inside scoop for foodies: if you want to stay ahead of the food game, book yourself a table at Faviken. Known as the "world's most daring restaurant," Faviken is a little unassuming, to say the least. Housed in an 18th century estate on 24,000 acres of hunting estate is where you will find Chef Magnus Nilsson. The restaurant, like the chef is raw and most definitely real. Focusing on local, sustainable and seasonal ingredients enter Faviken with expectations. The chef has had an amazing year and is currently taking time off until the season opens again in the Summer.
Heading to Are for just dinner would almost be insane, but definitely not unheard of. The closest neighbouring city, Ostersund is where you will find local producers like SAV for wine tastings that date back to the Viking era.
For coffee drinkers, stop at local coffee roaster and say hi to husband and wife duo, Per and Eva, both respected and highly awarded baristas. Chase your caffeine fix with local favourites from Chokladfabrik, where you will find handmade chocolates, pralines and gooey caramel to take home.
Gotland:
Don't waste your time perfecting the Swedish language if venturing out to Gotland. The small island 60 miles off the southeast coast of Sweden is an idyllic escape for those who like solitary. With Danish roots, Gotland is different to the rest of the country. "It's difficult to explain but Gotland has an 'island mentality'," says Daniel Erikkson, Press Manager of Gotland Tourism and my food guide. Sparse and less populated, the island is a magnet for two crowds: Neon-light night club goers and stressed locals looking for solace.
With open land, grazing herds and windmills dotting the landscape, Sweden's official food capital, according to the Swedish Government, has the best produce the country has to offer, catering to the world's best restaurants. "The location of Gotland, being part of the Baltic Sea, influences our taste," says Margareta Hoas, owner of local restaurant LillaBjers. "Gotland is different [to the rest of Sweden], cold winters and warm summers give us great produce unique to the region." Being the largest island in the Baltic Sea, the food culture is also completely different. "Gotlantic Vikings have influenced our tastes, from saffron to truffles, people visit Gotland for our food," adds Margareta.
Luxury hotels are key spots for 'luxury isolation' on Gotland. If serenity under the Swedish sun amongst mossy rocks and sapphire sea is enough for the day, food escapism can be a great activity to invest in. From rustic bakeries baking fresh saffron buns and farm houses with farm raised lamb next to handpicked asparagus, the locals take pride in their seasonal products. Be sure to try Gotlandsdricku, a home-brew that defies Swedish law, as well as other local delicacies like truffles and local Kobe beef. For those not interested in getting soaked in champagne, avoid the crowds during the annual weeklong, bubbly-soaked dance party called Stockholmsveckan.
Gothenburg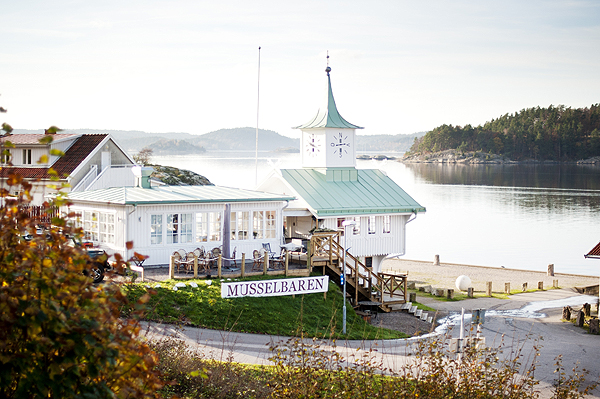 Musselbaren in Ljungskile
A hop, skip and a ferry ride from Stockholm is Gothenburg. But unlike all cities, Gothenburg is not just another small sister to Stockholm. Forget the Stockholm snobs and embrace the self described puckish and creative local cafes of Gothenburg. Musicians, artists, designers and budding entrepreneurs give off a youth-ish culture with vitality. The underground party scene takes a backseat during the day with food being the main pull of the city.
Moving north of Gothenburg, is where all the great Swedish crime novels are set. Early in the morning, leaving city-life behind and following signs to Oslo, there is something eerie yet pleasant about the slightly untouched beauty of the West. Known as a seafood lovers paradise, many of Stockholm's greatest chefs gather, forage and fish for the best seafood found in the area. Salt and Sill is a wonderful place to grab a light lunch – be sure to sample the herring platter. Known for its famous Herring competition, you will leave the area knowing that you had the best.
Serene nature reserves makking up the dramatic archipelago offer a wealth of water adventures. In between adventure sports like kayaking along the West Coast, don't forget to stop off at local ports for some fun on the waters. The small little village of Ljungskile is exactly as you imagine a Swedish fishing village that's quiet, relaxing and a perfect place to call home after retirement. There you will find Musselbaren, the first restaurant of local fisherman and entrepreneur, Jannes Bark. Look for the old clocktower if you get lost – everyone knows it's the spot for dinner and drinks in Ljungskile.
You really can't visit the West without visiting Smogen and saying hi to a fourth generation fishing family by the name of Olofsson. If you are a shellfish fan, ask Tommy to organize a trip on his boat with himself or his son for one of their famous Lobster Safari's. You may not catch and feast on a lobster during your first visit, but you will definitely make new friends by the end of your choppy adventure.
So where will your next adventure take you to? Everything around Sweden is a hop, skip and a jump away.