September 2011
Rick Stein at Bannisters & Other Endeavours
In Mollymook, located about three and a half hours drive from Sydney, you'll find Rick Stein at Bannisters where they celebrate local fish and shellfish – this is his first Australian endeavour. Recently he was in the country, for a combination of business and pleasure, giving us the perfect opportunity to set up an interview and discuss his multifaceted career. A world renowned English restaurateur and celebrity chef, Rick Stein's embracing this opportunity down under to work with his kitchen team, adapting recipes to perfectly suit the fresh goods he acquires at the seafood market.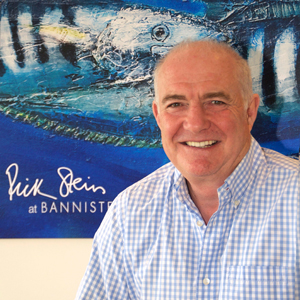 AGFG: You've a plethora of recipes under your belt; straight up, what recipe will you personally recreate time and time again?
STEIN: Quite a few… Here at Bannisters we're spinning off the Spanish series. You've reviewed 'Rick Stein's Spain', and there's a corresponding cookery show, where a Basque fish seafood stew is introduced: With plenty of mussels, clams, salt cod and lots of garlic, we're trying out a Bannisters version.
AGFG: Considering your work over the past few years, you're naturally adopting some of the Spanish ways into your own Australian cooking and within your other restaurants in the British Isles, emphasizing Spain's propensity towards great local produce. When it comes to the simplicity of cooking and the quality of raw materials, can you describe one of your tried & true techniques?
STEIN: I prefer to keep things simple and absolutely savour grilling fish. I like fried fish as well. My accompaniments follow suit and every ingredient is the best quality I can get my hands on. My style is commended for emphasizing generous portions of very fresh fish.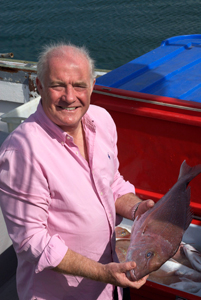 AGFG: The ingredient you can not live without?
STEIN: In Mollymook, home to Rick Stein at Bannisters, we celebrate local fish and shellfish so what comes from sea is of utmost importance. In 'Rick Stein's Spain' I write on Hake, and though you won't find it in these waters, it's similar to a perch with a slightly different taste.
You can actually find a fish variety from NZ waters and treat it like the Spanish equivalent, adorning it with fennel & finely chopped up peppers serving it with a tarragon mayo. So the key ingredient may be a certain fish, though where I'm cooking will determine what type that is, and from there I'll apply the same techniques.
Bannisters is an exciting opportunity to explore new waters. When the opportunity came up to take over the kitchen at Bannisters, I developed a relationship with Lucky, my fish market advisor in nearby Adelais Bay.
AGFG: Rick Stein at Bannisters celebrates the seafood of the south coast of NSW. Can you elaborate on your signature dishes inspired by the region?
STEIN: We draw a strong tourist crowd and families come back here year after year, often with a strong affection for the coast as somewhere they came on holiday as children. Our customers are pleased with our emphasis on seasonal seafood, first and foremost is its freshness: John Dory, kingfish, blue eye, tuna, sea urchins & rock lobsters will often be made into signature dishes.
AGFG: With regards to your eight restaurants, Rick Stein at Bannisters being your first in Australia, how close are you to the menu and the creative side of the food you're serving?
STEIN: I'm in touch with all my restaurants very regularly, daily with most of them. Being at Bannisters right now, we're busy trialling new recipes.
AGFG: What kind of mentorship role do you play with the Head Chefs in your establishments?
STEIN: We have regular kitchen meetings where the chefs discuss challenges and we brainstorm new ideas; we sit down and discuss where we've been eating out and bring new ideas to the table.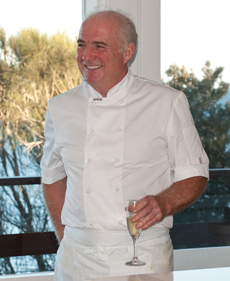 AGFG: You are a patron of charities, including the Padstow Youth Project that is close to your heart in the UK. What is your advice to ambitious young chefs?
STEIN: Right now there are difficulties in the UK finding trained chefs. We've taken the view that to inspire youth to become qualified chefs we need to get into the schools and inspire young people to get into hospitality. I'm currently working on the idea for a pop up restaurant in Cornwall, opening the restaurant to the public a few times a year to create a learning environment with a realistic application. Since there's a lot of unemployment and young people are also suffering from the recession, the mentorship initiatives we're taking are really rewarding.
AGFG: You share your time between two abodes, one in Padstow, and the other in Sydney where your fiancée resides. Tribute to your success, some have nicknamed Padstow as 'Padstein'. What is your take on fame?
STEIN: There's actually a family run business in Padstow that own a lot more than I do, it's just that the public knows about me because of the TV and books.
AGFG: Are you impressed by the measure of growth in the popularity of food and the impact 'celebrity chefs' have today?
STEIN: I'm generally impressed by the popularity of cooking and eating these days in the English speaking nations; somehow it's just taken off in pop culture… Maybe the appeal has to do with the natural enthusiasm that arises from the traditional approach of get togethers.
AGFG: By definition you wear many professional hats being a celebrity chef, restaurateur, author and television presenter. These days you typically release a cookbook such as 'Rick Stein's Spain' in conjunction with a TV series – 10 in total thus far - a trend that started in 1995 with 'Taste of The Sea'. How does the process work?
STEIN: It's simultaneous, really. TV is sometimes food driven and sometimes character driven; if I had my way we'd ALWAYS feature the best possible recipes in the programs whereas the producers and director are more about story and programming overall.
AGFG: Tell us more about developing a series…
STEIN: I really enjoy writing the book and developing the recipes. Where TV is more sociable, the book work is hard, hence it's really rewarding upon completion. Shooting the series is akin to going on holiday, especially because we've developed a proper production team over the years so we have no anxieties about working together. Though we do work hard and the hours are long in television production.
AGFG: Your original specialization is fish cookery and it's common knowledge that your passion for seafood is still foremost after all these years; incidentally, it is an essential component in Spanish cooking. Were there any new aspects of cooking seafood that you picked up while producing 'Rick Stein's Spain'?
STEIN: The Spanish are very good with their seafood. Cooking a la plancha on a flat metal surface is not a technique that I've been familiar with so I really picked up on that.
I really refined the cooking of octopus as well. There's a lot of old wives' tales out there about dunking them in boiling water or freezing them for awhile though the most important part is getting the right octopus. The Spanish use a common octopus distinguished by their two rows of suckers on the tentacles.
AGFG: For the TV series accompanying your latest book, you were filmed creating 15 recipes inspired by your travels throughout Spain. You describe the Spanish people as amicable and hospitable, supporting you in your endeavours to cook their cuisine. With respect to the process, as a chef, what recipe would you carry out somewhat differently if you were to demonstrate it again?
STEIN: Quite often I am not terribly careful in my demonstrations; I'll change a recipe around based on my intuitive process as I have cooked for so many years. People who've watched the program and read the book have written to me and queried as to why I wrote a recipe differently compared to the way I showed it on TV.
AGFG: Are people going to tire of cookery programs and publications?
STEIN: No, probably not. Like anything, as long as they are of good quality…
Written by AGFG staff writer Kelly Korpesio