August 2012
A Universal Dining Experience
Whether you're eating out or dining in, Christine Manfield offers voracious customers and curious cooks a healthy dose of spice. She is a celebrated owner chef of Universal Restaurant in Sydney, and acclaimed food and travel writer whose seventh book was released in May; following that she also has her own spice line to ease your culinary way.
Her latest release, Fire & Spice circumvents sugar, spice and everything nice, making room for recipes that reveal a broad spectrum of universally acknowledged good gastronomic foods from all over the globe.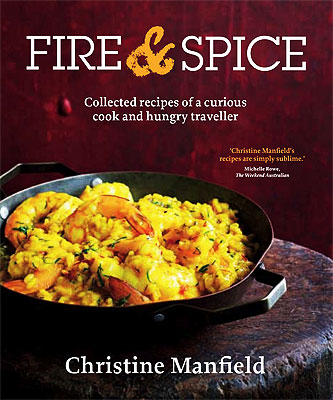 Distinctive Cuisine in Australia
Perfectionist cookery and travel lit author, Christine Manfield is a skilled master on many fronts. Under her vision and leadership, the Fire & Spice creative team has come together with a clear focus to deliver a book that will once again encourage keen cooks to endeavour with passion and flair.
After introducing the basic spice rules, you'll discover simple categories including fish and shellfish; meat and poultry; vegetables, rice and noodles; and desserts. Christine's essential tips are worth their weight in salt and her definitive glossary will guide you along the red hot road. The photography of Anson Smart makes a magical harmony to Christine's evolved culinary experiments.
"Fire & Spice is a synopsis of a life built around food,
a hand-picked selection of some of my personal favourites
from two much-loved recipe books."
-Christine Manfield

According to Christine, fire and spice in Australian cuisine are perfect potent partners in our cooking adventure. Her recipes throw caution to the wind, defying the convenience term "fusion" with a confident delivery of strong cross-cultural flavours that parallel Australia's characteristic cuisine.
A firm believer that food and travel go hand in hand, whether or not you've experienced exotic destinations such as India, Morocco, or Spain firsthand, Christine gives everyone the opportunity to take a fiery taste tour with spicy conjunctions in the convenience of your own kitchen.
Seasoning & Spice in Adventurous Recipes
Fire & Spice is an inclusive term that definitely includes desserts, including a few daring signatures; from entrees to mains to the grand finale, each recipe is a welcome adventure. Christine Manfield skilfully presents classics with contemporary components and gives a fresh face to Australian cuisine with clean flavours often presented with various options for optimum flexibility.
In top cookbooks each recipe reads as a minor inflection in the author's vast culinary journey as is the case in Fire & Spice. A seasoned chef and veteran traveller, Christine Manfield openly shares her personal "best of" recipe collection from respective works, allowing the reproduction of her food be a sensual showcase of her planetary explorations.
Fire and Spice was released by Penguin Australia in May 2012.