The Worst Flood in Brisbane History Hits Home
During a time when Queenslanders are trying to keep calm and positive, when politicians are guaranteeing food, clothing, shelter and petrol will be provided to flood victims, it is clear that everyone feels the impact of what is now being called Brisbane's worst flood.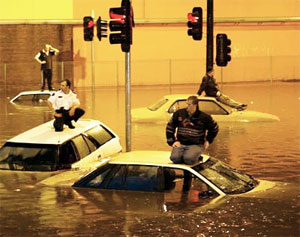 At the AGFG we acknowledge that many of our clients, such as restaurants and hotels are directly feeling the effect. The web video of Drift Café floating down the river, much to the despair of Owner David Moore, is receiving top hits online from concerned flood followers. Irony aside the heart of the matter is that Drift was Moore's "home away from home" and now it's gone. Drift Cafe had won the distinction Brisbane New Restaurant 2010 just last year.
In many cases the damage is irreparable and many restaurateurs are left in dire straights uncertain of what they're to do next as most riverside establishments are ineligible for flood insurance.
From their interviews and research thus far, chief executive officer for Restaurant & Catering Australia, John Hart claims, "the difficulty is that a lot of these businesses just won't survive." Whole districts such as Eagle St Pier in the city's entertainment centre are being flooded, immersing dozens of establishments in water.
Major hotels in Brisbane CBD, including Stamford Plaza and Marriot, were forced to close down. Those that remain in full working order are busy accommodating relief workers and emergency staff and housing residents who have been forced to check in whilst awaiting news on their flooded suburban home.
Our heart goes out all of the Brisbane flood victims and we hope industry businesses will be able to re-establish this year. In light of the tragedy and loss, Queenslanders are binding together to show the true Australian spirit by providing hospitality to those who have found themselves at a major loss of vocation and home.
Donate Now to the Premier's Disaster Relief Appeal
AGFG staff writer Kelly Korpesio