Grab your passport and head on over to the pages of Indian Made Easy by Amandip Uppal for a tantalising culinary adventure filled with fresh, vibrant ingredients and fragrant spices.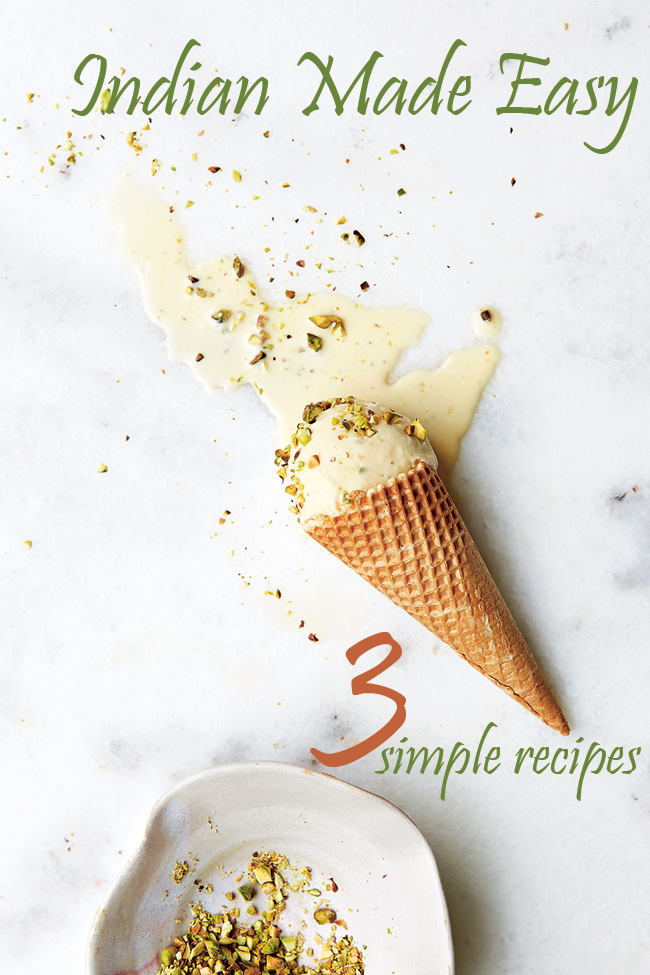 Amandip Uppal has been cooking since childhood and after following a career in fashion, her love of kitchen creations brought her to co-found one of London's most stylish catering companies, Lotus Events, and later began online foodie emporium ChilliHotChocolate.com. With the addition of her cookbook, she has now added teaching Indian cookery to her repertoire through the art of creating both simple dishes as well as complete banquets. Share in her experiences and fall back on her years of accumulated knowledge in 140 pages of pure Indian bliss.
Simplified, this charming cookbook is designed to entice anyone to give Indian cooking a try, with easy to follow recipes and guidelines for getting started. From the beginning, Amandip provides ideas on how to take a more casual approach to Indian cuisine, rather than over complicating it with impossible techniques and an overwhelming amount of ingredients. Having grown up cooking since the age of nine by her mother's side and with her father's guidance and love of spices, Amandip learned to trust her instincts, finding a passion for food by following her senses of sight and smell. Now, through the clean and user-friendly recipes, as well as the artistic photography of Lisa Linder, this passion is shared with you to practise and enjoy.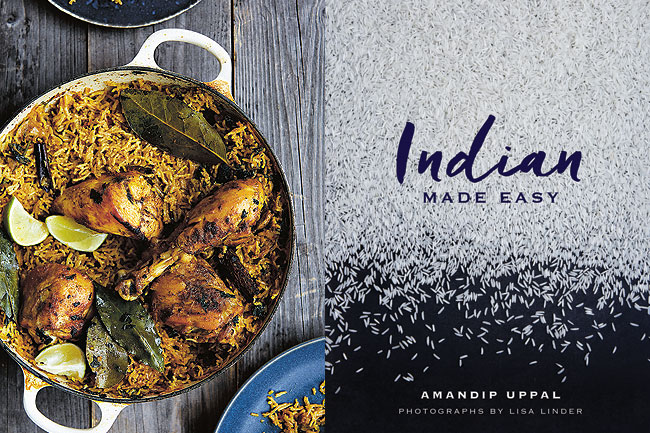 Indian Made Easy has been separated into chapters of introductory explanations before flowing onto an entire dinner feasts' worth of dishes, allowing readers time to peruse through light bites, vegetable and lentil dishes and on to fish, meat and poultry. Towards the end, pages are dedicated to hands on instructions for making everyone's favourite naan at home and finishing with desserts and drinks.
Before embarking on a gastronomic journey through Indian delights, Amandip endeavours to set you up with 15 must-have spices ready to go in the cupboard. Equipped with these beauties, a wide variety of dishes can be created from scratch without the stress of running to and from the shops. Find beloved classics, like a hearty curry of chicken pulao, a flavoursome one pot wonder to satisfy a crowd, or a simple brunch or snack that can be used as a dinner party appetiser like creamy peas and mushrooms served on thick slices of toasted bread. Finish with a cool and creamy pistachio kulfi, a traditional Indian dessert to escape pressing heat. Amandip provides a quick and easy version of the ice-cream with alternatives for pistachios such as fresh or dried chopped fruit.
Creamy Peas and Mushrooms, p.64.
If you have been waiting to sink your teeth into some delectable Indian cuisine, hand crafted by you at home rather than spooning it out of a takeaway container, get your hands on a copy of Indian Made Easy today and get started.
By Julie Johnson.
Recipes and images from Indian Made Easy by Amandip Uppal (Murdoch Books) $39.99 available in all good bookstores and online.