Consuming Christmas with Country Style Goodness
Two Christmases ago, I made a wish. Standing on the back step of my grandpa's newly built pergola and surrounded by the deep smell of gumtrees and slightly burnt but tasty sausages on the barbie, I closed my eyes and murmured… "Next year I want a white Christmas I want a with toasted marshmallows, a juicy turkey, and winning side dishes – something like the National Lampoon's Christmas Vacation movie without the crazy relatives."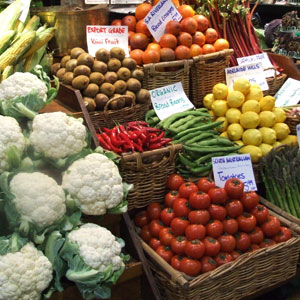 Chestuts Roasting on an Open Fire
I got my wish and found myself sitting in front of an open fire, marshmallows nestled on my burnt fingers, and a hot chocolate in the other. But something was screaming to me that this wasn't Christmas. Although I enjoyed the intense dark chocolate cocoa with rich shavings of mocha on top, I craved an ice cold Milo, sweet summer salads, and cooling desserts instead.
Christmas just wasn't Christmas without Santa Claus in shorts and a sweaty Mrs Claus following behind with a sack full of "fully refundable" presents, thank you!
So to make up for last years "lost" Christmas, I have the burning desire to make a Christmas feast to feed a football sized family gathering. With people flying in from all over Australia, it definitely helps to have a little support in the produce department when making the best Holiday meal ever.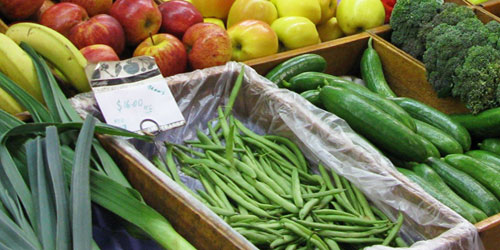 Nothing Beats Shopping at Farmers Markets
It is a common fact that meals only taste delicious because of the quality of produce used. Throwing in bad quality vegetables, slightly rotten fruit and using bad meat for roasts can result in horrible tasting food. Not to mention the angry faces of overly exhausted relatives with empty wallets. So to help you along with your Christmas menu, there's no need to invest in expensive dinners, lunches and festive afternoon teas unless someone else is shouting of course. Opt for a home cooked family meal with simplicity in mind and trust in the best produce Australia has to offer.
All can be found at your local farmers market. Make the farmer your friend and start early at the markets which mostly run throughout the summer. Be sure to pick up hot tips on what's in season when you book those turkey and ham orders and of course indulge in sweet offerings by mama bakeries that are currently taking over our sunburnt nation.
Here's some food for thought; this list is far from comprehensive as Farmers Markets are all over Australia. Let this list inspire you to look a little closer to discover the easily accessible market near you. Once you know the locale and hours of operation, becoming a regular is a cinch, naturally becoming part of your domestic shopping routine.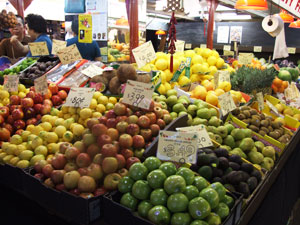 Nationwide Farmers Markets
Queensland: Marina Mirage Farmers Market, Mudgeeraba Farmers Market, Noosa Farmers Market, Brisbane Powerhouse Farmers Market, Redlands Farmers Market, Manly Fresh Food Market, & Rusty's Bazaar Market. Tasmania: Salamanca Market, Brookfield Market, Burnie Market, Dodges Artisan Market, Huon Valley Growers Market. South Australia: The Barossa Farmers Market, Adelaide Show Grounds Farmers Market, Adelaide Hills Farmers Market, Eyre Peninsula Farmers Market. Western Australia: The Perth Upmarket, The Fremantle Markets, Subi Farmer's Market. Victoria: Ferntree Gully Farmers Markets, Heathmont Farmers Market St. Kilda Veg Out Farmers Market, Healesville Farmers Market & White Hat Markets Resource.
AGFG contributing Writer and Photographer, Michelle Tchea is passionate about food and travel; her online alias is The Skinny Cook.