By Leigh O'Connor.
Do I want a wine? You bet your Shiraz I do!
On Tuesday May 25, wine lovers everywhere will pour a glass of their favourite drop to celebrate National Wine Day – like we need an excuse, right.
As you clink glasses to say cheers, have you ever wondered where this tradition came from? Apparently, the act of toasting started in ancient Rome when they would drop a piece of toasted bread into the wine glass to soften unsavoury tastes.
It wasn't much fun for women back then. If a husband found his wife drinking wine in early Roman times, he was at liberty to kill her; it was forbidden for women to drink wine!
Try that these days and there'll be Wine War I – here are three more fun facts about wine and three places to celebrate on Tuesday:
•A champagne bottle contains around 70-90 psi of pressure, roughly twice as much as your car tyre.
•Need to cool your wine in a hurry? Putting ice and salt in a bucket will chill wine much faster than just ice alone.
•The world's oldest bottle of wine dates back to 325 AD and was found in Speyer, Germany.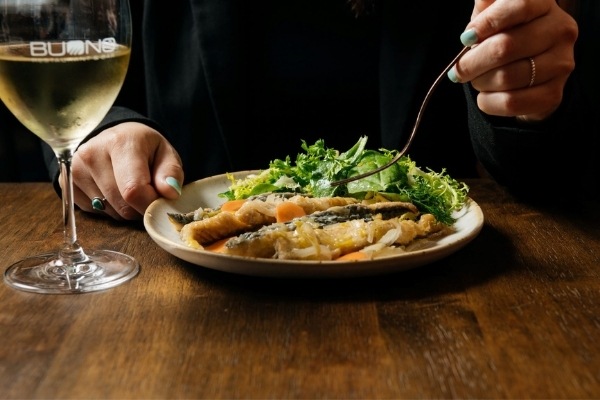 Buono's onion and leek marinated mackerel…ideally enjoy with a glass of Pecorino white wine.
Italians have a wonderful passion for food and wine – the spirit of welcoming another person into their home is to feed them. The beauty of sharing a meal with others is at the heart of all Italian cooking and that's what you'll find at the latest addition to the Melbourne dining scene,
Buono Restaurant & Bar
on Como Parade West in Parkdale.
From the black and white images of the Colosseum on the walls to elegant dark wood table settings, this ristorante oozes European charm, with a menu to match - start with onion and leek marinated mackerel fillets, paired with a glass of Pecorino white wine; before mains of housemade spaghetti, red wine and tomato duck ragu and Parmigiano.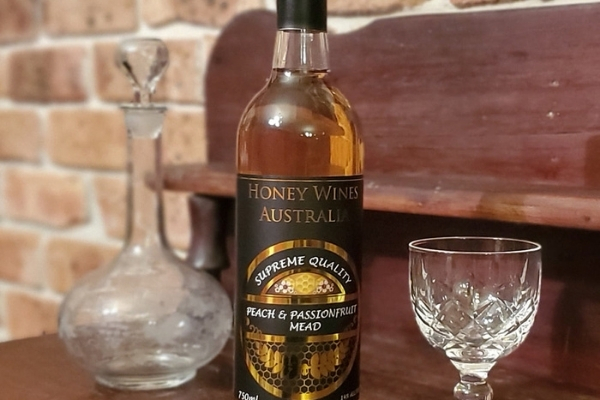 Honey Wines Peach and Passionfruit Mead.
Mead, also known as honey wine, is the oldest fermented drink in the world dating back to ancient China – now you can have it delivered to your door from
Honey Wines Australia
on Lake Street in Blackalls Park. What better way to celebrate National Wine Day on Tuesday than with a glass of watermelon, or peach and passionfruit mead?
This Hunter Valley winery also keeps bees to make honey for their mead, with the hard-working insects visiting around one million flowers to produce each bottle and flying 44,000 km. As well as honey wine, there's also products such as beeswax lip balm, creamed honey and chilli-infused honey sauce; or impress guests with a genuine Viking drinking horn made from ox horn.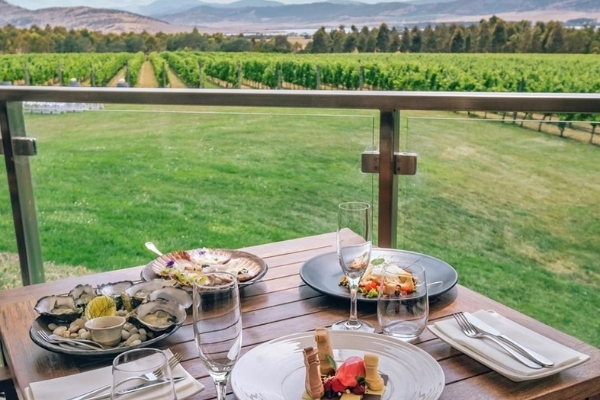 Wine and dine among the vines at Frogmore Creek Restaurant & Cellar Door.
Wine and dine among the vines at
Frogmore Creek Restaurant & Cellar Door
on Richmond Road in Cambridge. Experience the epitome of cool climate food and wine experiences at this multi-award winning venue; overlooking the spectacular Coal River Valley, you will find yourself immersed in Tasmania's wine country and all the sensory treats it has to offer.
Celebrate National Wine Day in style with seared scallops, cauliflower puree, crispy prosciutto, lemon honey dressing and mint pickled cucumber to start; followed by tamarind-glazed Scottsdale pork belly, kimchi, apple puree and pulled pork croquette, ideally enjoyed with a glass of estate Pinot Noir.
Bonne santé! To check out wineries near you, click
here.