Update 13/01/2020: We've just been notified that Chef, Sam Moore has left the restaurant at Orpheus Island Lodge due to personal reasons.
When Sam Moore swapped the golden sands of Broadbeach for the wonders of the Great Barrier Reef, he brought with him an award-winning culinary style imbued with the ethos of tropical with a dash of elegance.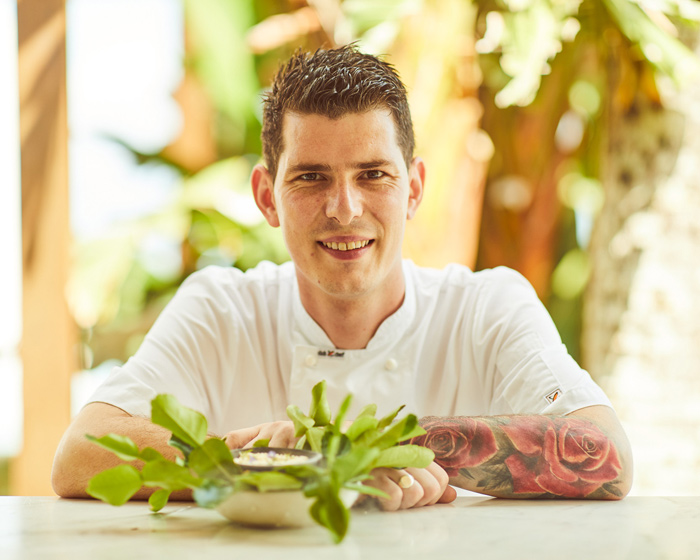 Chef Sam Moore.
Sam's 16-year journey as a Chef has spanned many cities from Europe to Sydney and Melbourne - he now calls exclusive Orpheus Island Lodge home, after a number of years as Head Chef at Sofitel Broadbeach's iconic room81 restaurant.
Growing up in the Scottish village of Tweedbank, it was at his own family table that Sam first discovered an appreciation for food, learning his early cooking skills from his father, who is also a Chef.
"I was about five years old when my father first took me into his kitchen; the buzz and noise of the Chefs amazed me," Sam recalls. "The best advice Dad ever gave me was to put my head down and work hard!"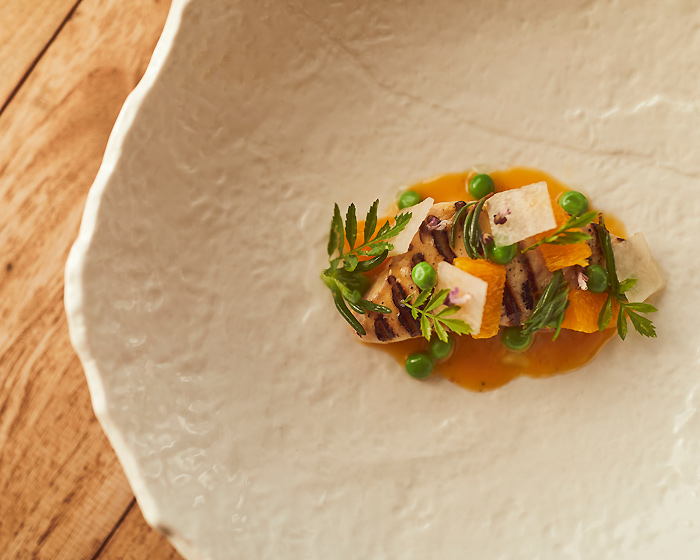 Barbequed Gold Band snapper, citrus, daikon and fresh peas.
Inspired by the nature of his homeland - rolling hillsides, clear coastal waters and verdant Scottish pastures - meant access to some of the most sought-after natural produce in the world. Rabbit, deer, duck and seafood were all in abundance and are still some of Sam's favourite ingredients.
"Today, I still take the time to traditionally cure, or smoke seafood like in Scotland. On Orpheus, I am also inspired by nature; it's wild!" he says.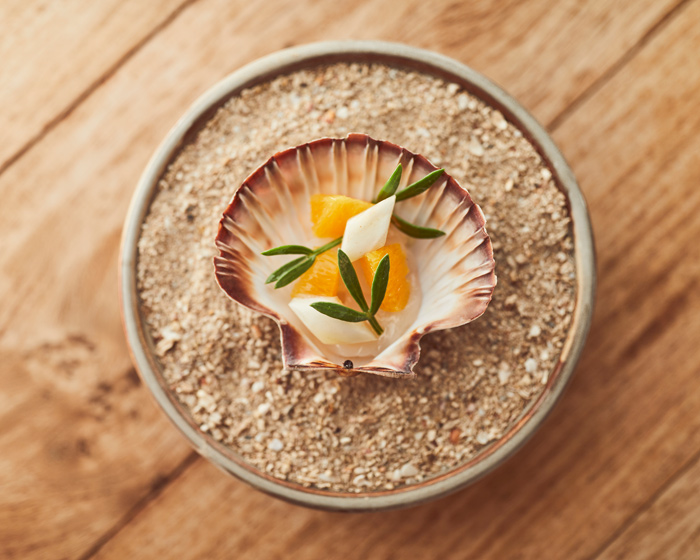 Scallop ceviche, orange and confit fennel.
Every day on the private island is a secluded, unspoiled tropical Whitsundays experience, stretching across 11km of immaculate turquoise coastline, surrounded by a pristine fringing reef. A food lovers' haven means each meal is an event, from gourmet breakfasts, shared tapas-style lunches to memorable degustation dinners.
"Here at Orpheus, we are committed to sustainability," Sam says. "We support the Australian Marine Conservation Society in their Good Fish Project, ensuring we only serve sustainably-sourced seafood to our guests.
"We also champion locally-grown produce, eat with the seasons for ultimate taste, support local food systems and hero Queensland farmers and suppliers to celebrate the fresh and wholesome bounty of North Queensland ingredients."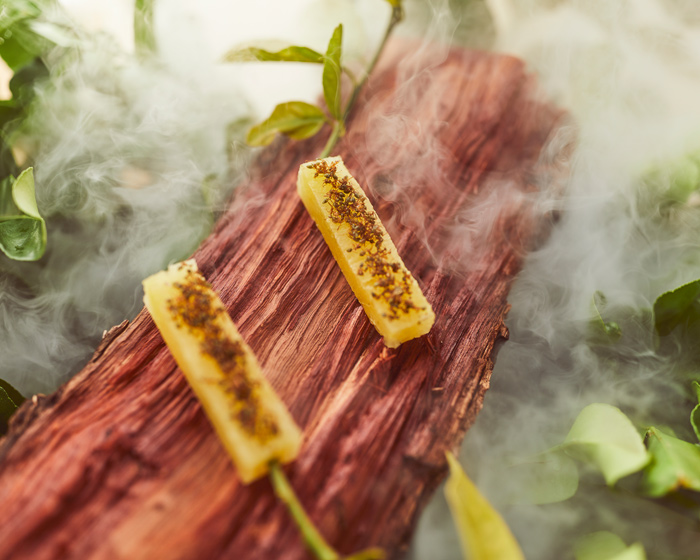 Green ants on a pineapple.
It's not surprising that his most eyebrow-raising dish was inspired by the island and its insect population.
"Green ants on a pineapple… we compress the pineapple in green ant gin, coriander stems and a touch of sugar syrup."
While his creations in the kitchen may be exotic when Sam gets home and wants a snack it's Mi Goreng instant noodles that hit the spot!
What are your trending ingredients for 2020 and why?
"The holy grail of reef fish, coral trout and red emperor, which we source from Chris Bolton Fishing. Chris showcases some of the finest line-caught reef fish in North Queensland. Also, it's not uncommon for our guests to cast a line in the fringing reefs and bring back incredible fish for us to cook to their liking, such as Spanish mackerel and nannygai (red snapper)."
Photography by Jason Ierace.