South Korea is known for many things – inventive electronics, kimchi and spicy beef dishes – break dancing isn't something that immediately springs to mind, especially when talking to a fine dining Chef.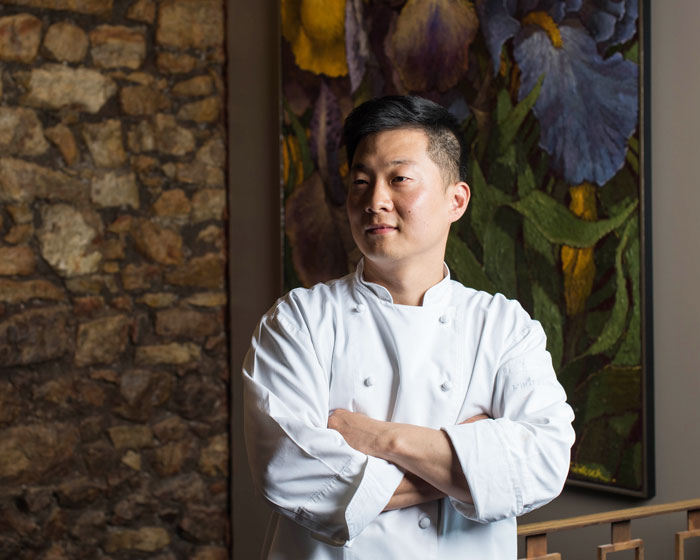 Chef Jin Choi.
Before Hardy's Verandah Restaurant Chef Jin Choi came to these shores, he was a teenage B-boy dancing on the Korean hip hop scene, even performing on national television. These days he is more inclined to break out moves in the kitchen than on stage, as he oversees the menu at this elegant restaurant, nestled in Mount Lofty House overlooking the rolling patchwork of Piccadilly Valley.
Just 15 minutes from Adelaide, this venue is styled with true refinement and opulence, where intimate tables are set with white linen, while magnificent views accompany any dining experience.
"I believe one of the most important factors of our restaurant is definitely the view," Jin says. "Once you are here, you cannot help but relax, breathe out all of the accumulated stress of daily life. While you settle into your chair and look out of the window, you'll notice nature. And just that. No cars, no noise, no worries."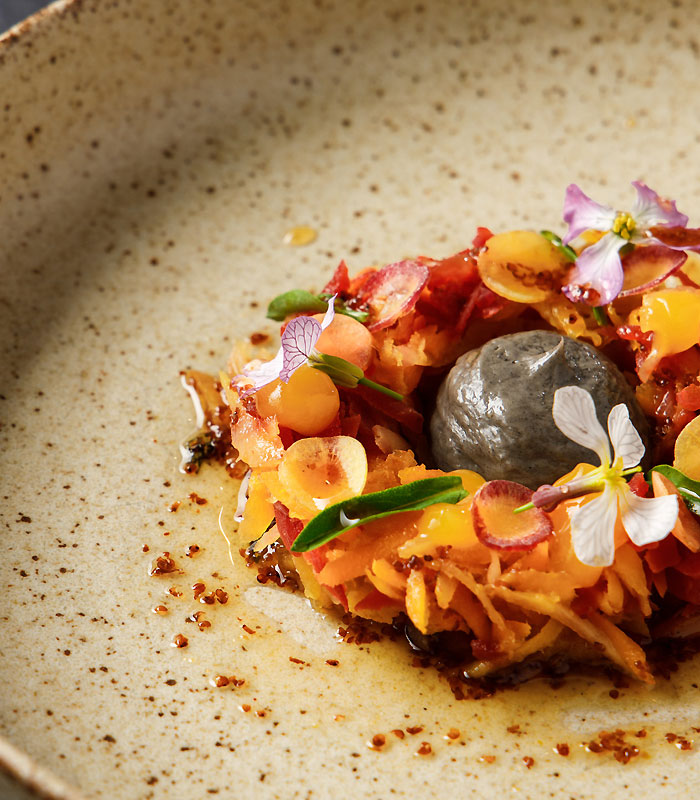 Heirloom carrot with sesame emulsion and local honey (current menu).
Growing up in a traditional Korean family, Jin has fond memories of gathering once a year to make soy sauce in preparation for the next 12 months.
"We'd also regularly make kimchi and other traditional fermented goodness. This is what I remember from my childhood, these memories are part of me and part of the Chef that I am today.
"When I am creating new dishes, I regularly draw inspiration from those past experiences and when I plate them, for me it is like paying homage to my roots and birth country's ancient knowledge."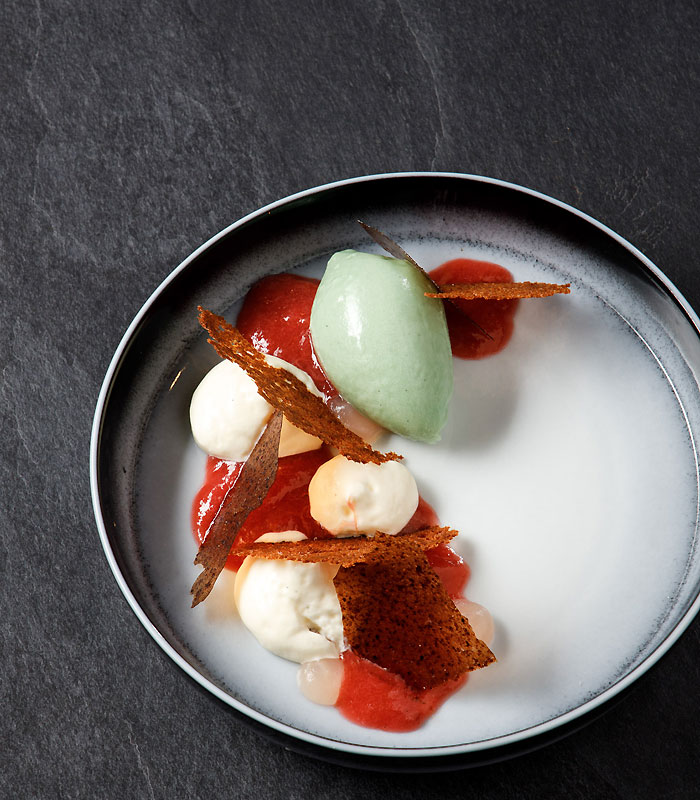 Green rhubarb dessert (past menu).
Jin regularly joined his Chef mother at the markets as a youngster and despite her hoping he would find inspiration in another career; he was already fascinated by everything related to food and cooking.
"By the time I left school, I did not listen to her. Today she is glad I insisted, and she is very proud of me."
In charge of creating delicious midnight snacks or family breakfasts when friends slept over, Jin always knew where his future path would lead.
"I was never a very good student, but instead I was always a very hands-on person and I still am to this very day."
Since moving to Australia in 2009, Jin has worked at some of the best restaurants in the county including The Bridge Room, Magill Estate and Momofuku Seibo. It is Hardy's where he has made his home and plates up dishes that are as visually stunning on the eyes as the palate.
"I believe what further sets Hardy's apart is our seven-course degustation menu, which is very Australian. For me, this means to incorporate and celebrate all the different cultures, tastes and cooking techniques that are practised across this wonderful nation."
He says people think of Korean food as being super spicy, but chilli is a recent ingredient in the country's food history.
"For example, we have been making kimchi for centuries, but it used to be white, as chilli was only imported a few hundred years ago. There are many different Korean dishes that are not spicy at all and they are most delicious too."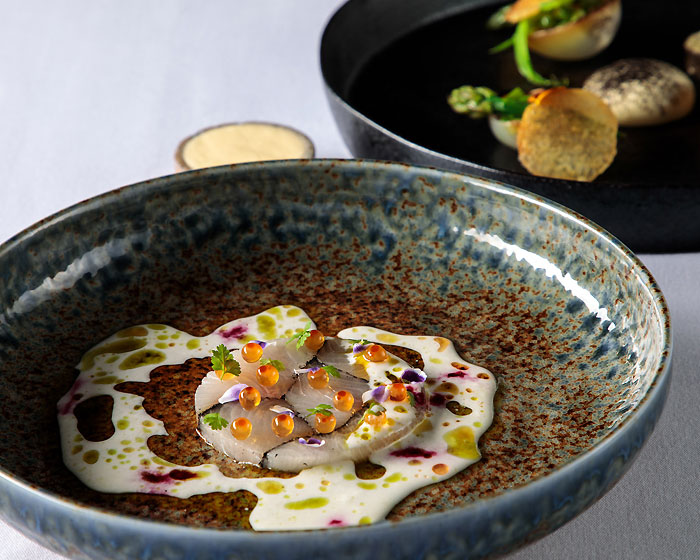 Kingfish crudo with buttermilk, beetroot vinegar, salmon roe and parsley oil (past menu).
One of his most inspiring dishes at Hardy's, kingfish crudo was created last year after looking at an Instagram drone photo of the Mount Lofty Botanic Garden, which is next to the restaurant. With beetroot, buttermilk and parsley oil, it was a beautiful combination of colours and flavours that reminded Jin of that picture.
With innovative dishes like this in his repertoire, Jin will be moving and shaking in the kitchen for many more tracks to come.
What are the trending ingredients for 2020 and why?
"Organic produce is definitely on trend. People are more aware of how food contributes to their own gut health and sourcing wholesome and organic produce is becoming very fashionable right now."