By Leigh O'Connor.
In her own words, there have been times in Jackie M's career when she has been presumed to be a lowly-educated, English-challenged refugee or mail order bride, because of her hawker vibe.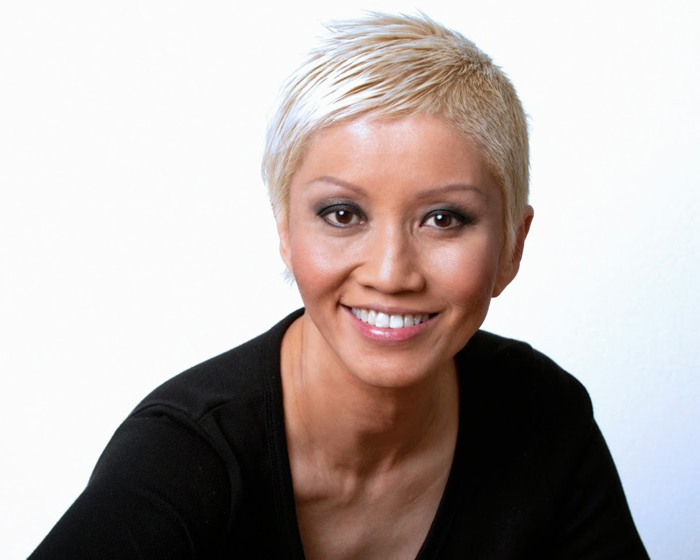 Ditching a successful IT career to make the life-changing decision to follow in her parents' footsteps and become a full-time cook, was a tough call financially for Sydney's self-confessed High Priestess of Asian Cuisine.
"I made about ten times more as an IT consultant, but I didn't want to end up in a nursing home one day wondering 'what if?' That was all it took for me to make the leap and I have never regretted it from a professional standpoint," Jackie tells AGFG.
Now a TV presenter, writer and pioneer of live video streaming – she broadcast the first episode of what would become a weekly cooking show back in 2012 – this Malaysian-born, Sydney-based livewire is known for her platinum pixie-cut and no holds barred approach to Asian cooking.
"My parents were street food vendors back in the day in Malaysia, but sadly their recipes are lost forever, as are those of countless hawkers whose kids chose to pursue other career paths," Jackie explains. "By taking up their mantle, I made it a personal mission of mine to try to master as many street food dishes as I can, that's why I describe myself as a Malaysian street food specialist."
Jackie learnt early on that what works in Malaysia may not necessarily work in Australia.
"When I ran my first stall at a morning farmer's market in Sydney's inner west, my offerings consisted of Malaysian favourites like laksa and nasi lemak. I sold almost nothing because most of the Aussies who walked past said they couldn't stomach eating anything spicy for breakfast – they wanted bacon and egg rolls and muffins.
"The next week, I showed up with roti canai (Malaysian flat bread) and spread it with kaya, a sweet homemade coconut jam and they loved it. As a kid in Malaysia we never ate roti canai with kaya – we ate toast – but I put the two together and came up with something that worked in Australia."
It worked so well people started wanting to buy tubs of kaya to take home, before realising they didn't know what to use it on, as they had only ever eaten it on roti canai.
"A week or two later, they'd come back to buy frozen roti so they could use up the kaya. I had to tell them you could in fact spread it on toast!"
These days her recipes are based on early experiences, where she sometimes had to take shortcuts in order to keep up with demand, plus the availability of ingredients and Australian taste buds.
"I'd like to think your average busy person would appreciate shortcuts, since not everyone has the luxury of spending five hours toiling in the kitchen every day. I have been criticised by the purists for this, but I don't worry too much.
"Besides, I don't think there are many food bloggers, or self-appointed food critics out there, who can claim they've had people line up for 45 minutes and pay hard-earned money to eat their food."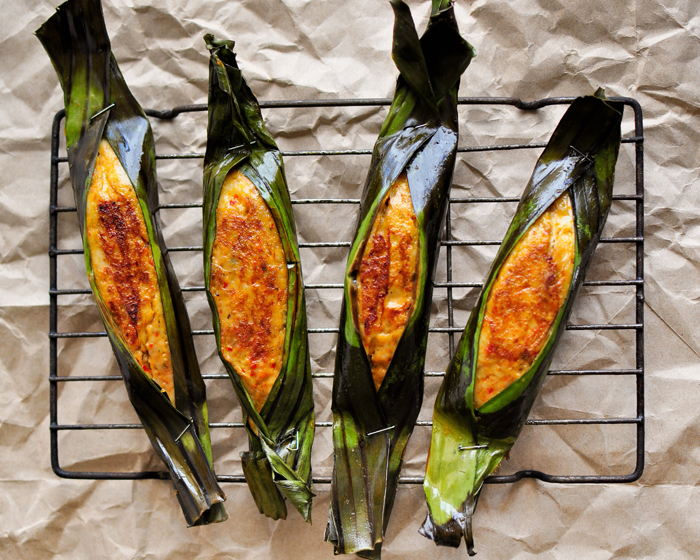 The recipe Jackie has chosen to share with AGFG readers is Otak-Otak (grilled spicy fish cakes) – a very popular street side snack especially in Penang, where it is wrapped in banana leaves and steamed – or in Melaka where it is grilled in coconut leaves.
"My version splits the difference – it's wrapped in banana leaves, but follows the recipe and cooking style of the southern version. In the absence of banana leaves, you can also drop spoonfuls of the filling into a pan and fry them as fishcakes."
Now the proud sole parent to Noah and a passionate advocate to raise awareness for Down Syndrome, Jackie says she was very driven, ambitious and an intense over-achiever before her son came along.
"Noah has taught me to stop and smell the flowers, to laugh a lot more and find joy in the smallest accomplishments. The most challenging aspect of being a Mum isn't so much to manage his needs and keep him safe, but to manage the expectations of a judgmental segment of society.
"I get blowback from sanctimonious strangers when I bring him along with me to my market stalls; even when there are no OHS issues at stake, people seem to find ways to make life hard for us by trying to get him removed through petitions and even calling the cops on me."
As well as Down Syndrome, Noah was born with serious medical problems and spent seven months in ICU, where Jackie says doctors tried many times to convince her to withdraw treatment on the basis he was never going to be a productive member of society.
"Everything I have done since is to try to prove them wrong and to show other parents, who might be faced with the same kind of decisions, to see the alternate possibility. It is why I fight for my son's right to be with me at all times."
In recent years, she has become a global ambassador for Southeast Asian food and in the future – with Noah in tow – would love to take groups travelling with her to show them the culinary aspects of Malaysia and Asia they'd never have the opportunity to experience otherwise and arm them with cooking skills to take home.
So, what does this high-flying businesswoman like to do in her spare time? You would be surprised…
"I like to geek out on languages through watching, for instance, political speeches in Malay and re-runs of English-language TV shows and movies, dubbed into one of the eight languages I grew up speaking, or have studied at university."
In any language, this is one woman on a mission to educate Australians in not only Asian cuisine, but also parenthood.