By Leigh O'Connor.
There's no bull about young gun Chef Jayden Barker's new Nobby Beach restaurant – Frederick's.
Opening tomorrow (Wednesday, November 14), the mastermind behind Chef-hatted Nero Dining in Broadbeach brings a new wining and dining destination to the Gold Coast suburb, named after late 19th Century grazier Frederick Fowler's head bullock Nobby, who went missing and was later found at the beach.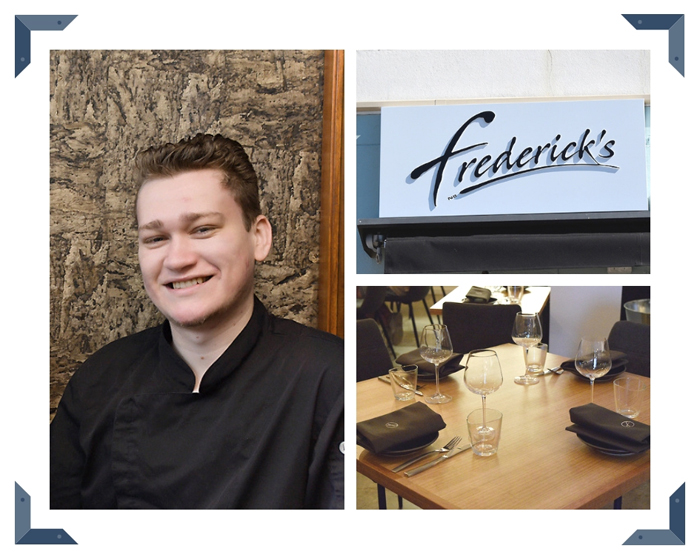 Jayden was so taken with the story, it is emblazoned on the outside windows of the sleek new venue for all to see. Located on Lavarack Road in the former Sparrow eatery, Frederick's serves a 'blur the lines' all-day breakfast menu from Tuesday to Sunday; while Thursday, Friday and Saturday nights guests can indulge in a five-course degustation, or graze on plates at the bar.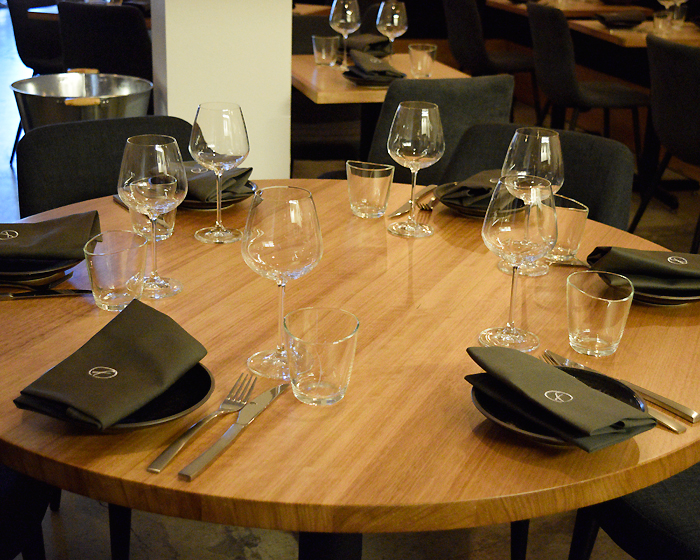 Embracing a bright and breezy ambiance during the day, Frederick's turns moodier at night with intimate light wood tables set with black monogrammed napkins and custom plates. Eggshell blue chairs add a coastal touch, while at the front of the bar there is room for a house DJ to rock Sunday tunes, or perhaps a live acoustic guitarist to entertain.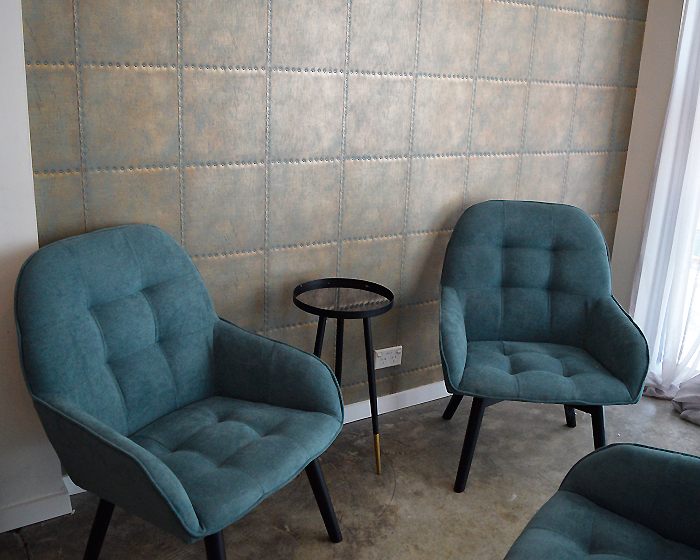 Jayden tells AGFG the Frederick's concept was born about 12 months ago:
"Over the past 18 months, I have really fallen in love with wine and matching food with wine so Dad (his father Andrew) and I started looking for a space to open a wine bar. It is a different concept to Nero, more casual in a way and it allows us to try some small, cool food ideas, not putting too many elements on the plate.
"On the other hand, the degustation menu opens us up to creativity and will change weekly. No one is going to walk in one week, come back the next and have the same food."
For first three months, Jayden will be solely at Frederick's, while Andrew continues to front the house at Nero with Josh Carey at the helm in the kitchen.
"We are extremely lucky that the staff we have at Nero have been there since the start, they have lived and breathed the business as we have. Josh and I did our apprenticeship together at an Irish pub, along with Frederick's Head Chef Jay Mallett. We have that trust in each other and it's great to have people who are almost family to us, taking care of our business."
Also joining the team at Nobby's is Jayden's fiancée Kate, who will take care of the day time trade.
"We have one of the best starting rosters you could get. Everyone believes in what we believe in… getting to know our customers, so that next time they come in we know their names," he says.
The question that begs to be asked is 'what's on the menu?'
"The style of food that I have moulded into - although I have a lot of years before I know exactly what I am cooking - is European inspired but Modern Australian in most essences, utilising local seafood, meat and vegetables. We have a Green Egg coal barbeque in the kitchen, so a lot of our meat and fish will be cooked directly over fire.
"Looking at Lennox Hastie at Firedoor, he was the big pioneer of cooking with fire two or three years ago and now a lot of Chefs are doing it - anyone who is anyone has a Japanese barbeque. It creates a flavour you can't get from cooking in an oven or pan, but also takes you back to the barbeques you have with your family – which is such a big Australian thing."
Jayden is particularly excited about his sand crab omelette going on the all-day menu.
"We have made our own fermented chilli paste, so the dish has a little bit of an Asian twist. We use local blue crab and the omelette is topped with beachy herbs and coastal greens, foraged from the beach and hinterland by Wild Forage Australia."
As for the degustation dishes – Jayden has something up his sleeve which is bound to catch the eye of a lot of diners.
"We are working with Black Hops Brewery from Burleigh Heads. We went down for a brewery tour and saw how they soak all their barley to make their beer, resulting in leftover spent grains. I am thinking about taking that used grain and making a risotto out of it, using taleggio and cauliflower.
"Quite a classical Italian dish, I plan on setting the taleggio a little bit to grate over top, with pickled cauliflower and pureed cauliflower through the spent grain. The dish will be paired on the degustation with the Black Hops Hornet beer, which we have on the menu."
The wine list has been capped at 50 and Jayden says there is something for everyone.
"The wines are primarily Australian, with a couple of Spanish, Italian and French. Most are from small batch producers - if you like your wine, you will know the labels on the shelf."
There are also plans for a two-session bottomless brunch on Sundays, with bottomless champagne or sparkling wine of choice, along with orange juice and live music.
This is one young man on a mission, taking the bull by the horns and charging forward to bigger and better things. Jayden is sure to be surprising Gold Coasters for many years to come.