Blossom into the spring celebrations
Considered one of the biggest and brightest events for the Australian Capital Territory, Floriade is a national celebration of flowers, floral design and public art. An annual springtime event, Floriade is currently the largest flower festival in the Southern Hemisphere, attracting an average of 300,000 national and international visitors each year and is fondly known as Australia's celebration of spring.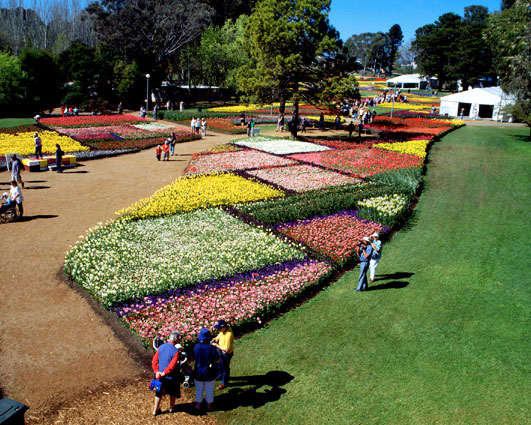 Floriade in Canberra
Beginning in 1988 to celebrate Australia's bicentenary as well as Canberra's 75th birthday, Floriade blossomed into such a success that it became an annual occurrence for Canberra, held each year in Commonwealth Park. More than one million bulbs and annuals are planted each year for Floriade, creating beds of blooming, vibrant colour that should be observed a few times throughout the festival due to different plants coming into flower.
Alongside the abundance of flora, Floriade has a variety of activities to suit the whole family, including demonstrations, displays and events. Gnome painting, teacup rides, petting zoo and national zoo exhibitions keep the children entertained, with night time shows of lights and creative displays a family friendly event run over 5 evenings.
Running over a month long period, Floriade is an inspiring and sensory rich journey to welcome the Australian springtime into bloom. After Floriade closes, flowers are cut and sent to local nursing homes and hospitals for more people to enjoy this little piece of Canberra's beauty.
For more information on Australia's flora and fauna, see here