By Leigh O'Connor.
"Once upon a time, I didn't really care about eating a healthy, balanced diet. I just loved food in all its wonderful forms. If I liked the look of something, I would just eat it, without a second thought about what I was doing to my body, let alone the planet." – Olivia Andrews.
Alarmingly, the average Australian adult only eats about half the amount of vegetables they should and the vast majority of children aren't consuming nearly enough vegetables each day.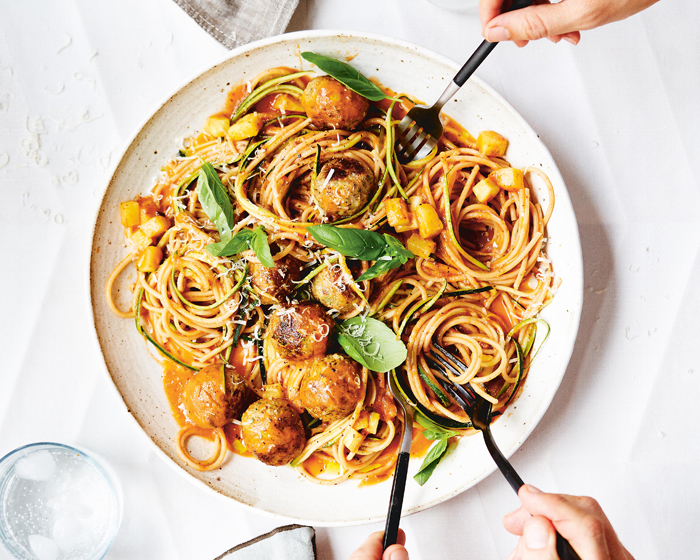 We all know about eating 5-6 serves a day, but sometimes we prefer burgers, nachos and chicken schnitzel to salad. So how do we get the balance back, without sacrificing flavour?
Welcome to a new, family-friendly way of eating – in Three Veg and Meat international bestselling author Olivia Andrews flips the balance on your plate, with new takes on all your favourite dishes to add more vegetables than meat.
Culinary director for meal-kit foodservice Marley Spoon, Olivia is also an ambassador for Nutrition Australia's Tryfor5 campaign, as well as writing two earlier cookbooks Whole Food Slow Cooked and Healthy Thermo Cooking for Busy Families.
"Our childhood memories and experiences often shape the way we eat. As a child, I was regularly fed snack foods, almost as a staple and I know this is why I still crave them as an adult," she says. "Every day in primary school I had a packet of chips for morning tea and often a small, white bread sandwich, usually smeared with margarine and topped with plastic cheese.
"To this day, these are two of my guilty pleasures – except I have replaced the margarine with butter in the sandwich and I fry it in a pan until the cheese melts."
Olivia confesses though, after a lunch like that her Mum would make lovely home-cooked meals for dinner and they would all sit around the table to eat them.
"We never had dessert, so I find I have little interest in sweets as an adult and only very rarely do I make dessert at home."
Olivia says for most of our lives we have been told that red meat is the source of iron, dairy is the source of calcium and we must eat meat, meat and more meat, to satisfy our bodies desperate need for protein.
"But health authorities are now saying that most of us consume an over-abundance of animal-based products and that instead, our diets should be made up of 70% plant-based foods; that vegetables should fill up to 50% of every plate we eat."
With more than 120 family-based recipes, Three Veg and Meat has something for everyone, including favourite 'junk foods' re-invented into healthy snacks. Whether you are a vegan, vegetarian, pescatarian, carnivore, or prefer to eat gluten-free, there is a dish for you; to make it even easier to get more peas and corn on your fork, there is a four-week meal plan and tips for feeding the fussiest of eaters in your family.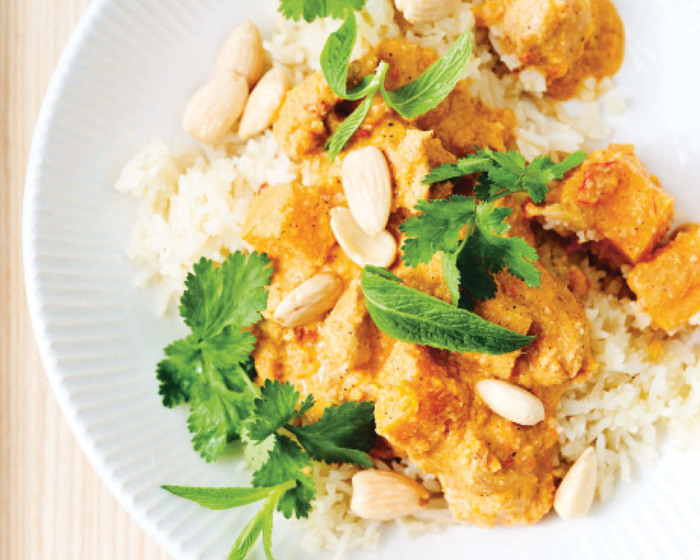 Butter chicken is one of the most searched recipes online to cook and enjoy at home. Olivia's butter-nut chicken version has less chicken than usual, but is still high in protein, containing 60% of the recommended daily intake for women and 50% for men – with half the protein coming from plant sources.
Pumpkin gives the sauce a lovely sweetness and using homemade yoghurt-based sour cream means you don't need to add saturated fat-laden cream, while the recipe also keeps the amount of butter to a minimum.
Olivia recently discovered spaghetti meatballs are actually an American invention, rather than Italian and her recipe for spaghetti 'n' more meatballs always goes down well at the family dinner table.
"It is wonderfully versatile, as you can easily cater for different tastes by serving the spaghetti with different types of meatballs, or veggie balls. Without losing out on carbs, this version serves up a bit less pasta, adding in zucchini noodles for a healthy veg and 'pasta' boost," she explains.
You can make your own roasted tomato passata sauce, or use a store-bought sauce, then top the dish with grated Parmesan and fresh basil leaves.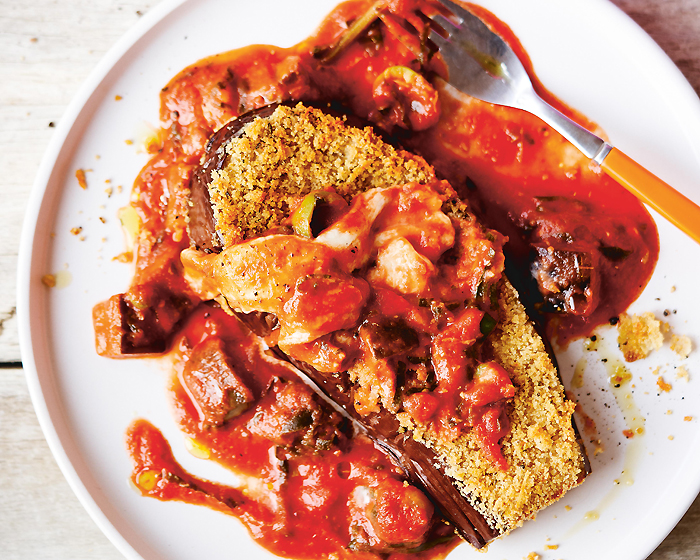 What is it about crumbed steak? Or crumbed anything? Some say texture and crunch are more important than taste – so if you are trying to get the kids to eat eggplant, here's a great way to start with Olivia's Fit-for-an-Army eggplant Parmi.
Crunchy on the outside and pillowy soft inside, the eggplant soaks up a lot of oil during frying which makes her method of baking the vegetable a much healthier result, while keeping it crisp. Slipping in wilted spinach, green olives, capers and a side of rocket, will guarantee even more plant food on the plate.
No matter whether you are a dedicated carnivore or not, this book has a myriad of options to encourage a healthier diet from quick 'roast' pork to ramen, tacos, sausage rolls and better chocolate brownies, all beautifully photographed and expertly put together. You won't want to flip back!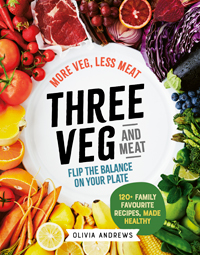 Images and Text from Three Veg and Meat by Olivia Andrews, Photography by Phu Tang, Murdoch Books RRP $39.99.