By Freya Ensbey.
Take to an Autumn picnic as we pair the best picnic plates with the best drops.
Not too hot and not too cold, Autumn is the perfect time of year for long, lingering day picnics. So, invite your loved ones, pack a rug and create your own gourmet picnic hamper matched with the perfect drop following our paired picnic plate recipes below, which looks awfully like a delicious menu, don't you think?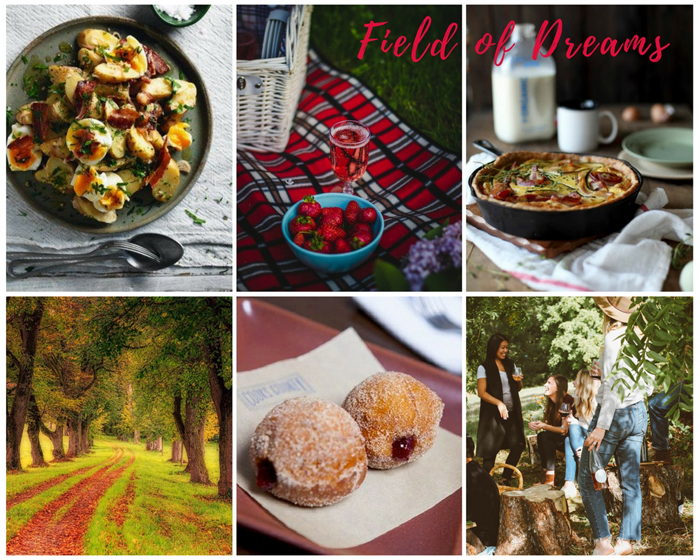 A picnic wouldn't be complete without a standout salad and celebrity Chef, Matt Moran has provided us with an all-time salad classic, with his own modern twist. Using Dijon mustard, lemon juice and red wine vinegar as a dressing to coat the potatoes, crispy bacon is added for texture along with soft boiled eggs, as the whole dish is lifted with the addition of fresh ingredients like shallots, flat-leaf parsley and punchy chives.
Pair With: Seville Hill 2015 Reserve Chardonnay
This chardonnay brings a crisp lightness to the palate, with tasting notes of almond and fig to complement the rich creaminess of the potato and the saltiness of the bacon. Be sure to serve chilled.
The best thing about these Chinese Zucchini Pancakes, it that they can be enjoyed any time of day. As they are easily kept in the freezer, you can make them in larger batches as a quick and easy meal option to re-heat throughout the week. Using only a handful of ingredients, these pancakes are best served with a side condiment like an eggplant dip.
Pair With: Flying Brick Cider 2016 Co MC Cider
A smooth and sweet, yet slightly acidic drop like the MC Cider will add a flavour of apple which pairs well with a subtle taste like that of these savoury pancakes.
Making the most of the ingredients you have already bought is a great way to save money and time on shopping. With any leftover zucchini from the Chinese pancakes, add to some bacon and a number of staple pantry and fridge ingredients which most home cooks already have, to make this decadent, melt in your mouth cheesy quiche.
Pair With: Garbin Estate Sparkling White
The saltiness of the bacon and creaminess in this dish is best complemented with the light and fresh bubbles of a champagne, just as the French would serve paired at a cocktail party.
Every meal should end on a sweet note, that's our motto anyway, and a picnic is no exception. These super fluffy and easily packed doughnuts are ideal to whip up the morning of and best enjoyed the same day, as if anyone could save them for the next day anyway! Filled with oozing jam of your choosing, these little balls of heaven are coated in cinnamon sugar, creating a delicious lip smacking mess with every bite.
Pair With: Chain Of Ponds 2017 Innocence Rosé
A Rosé, with a hint of bitterness, paired with a dessert like a jam doughnut softens the sugary sweetness creating an elegant accompaniment to each other.
For those of you who are left swooning on the idea of fresh air and good food this Autumn, our recommended providores also make for the ideal place to start, offering gourmet delicacies, treats and products from around our country, ready to pack for any picnic.