With the festive season now upon us the planning begins, lists are scribbled in crayon and pine trees start feeling vulnerable. Whether it be dusting off the old carol CDs, or carefully putting together a Christmas pudding with enough time for it to ripen in all its fruity glory, everyone has their methods for getting into the Christmas spirit.
Strawberry Panna Cotta at Bacchus.
The 'pud' will be the main event for some, part of an interesting turning point in life when Christmas gifts all of a sudden become a sideshow and glorious food takes centre stage; cured hams spark a twinkle in Grandad's eye and panettone puts a spring in Mum's step. While we roll our eyes at the supermarket displays coming earlier each year, the season is short and there is so much to eat yet, so little time! Let's take a look at what's going on in the food world as preparations ramp up:
Bacchus | South Brisbane QLD
It wouldn't be surprising to see the god of food, wine and indulgence himself lounging at Bacchus Restaurant, his South Brisbane namesake. Equip yourself with a cocktail, direct your gaze to the languid pool or the vibrant open kitchen, and indulge in an ever-changing array of dishes or investigate the lavish high tea, Tuesday to Sunday afternoon to catch up with friends before they vanish over the Christmas break.
Bracegirdle's | Glenelg SA
Filled with warm chocolate tones and heritage charm, Bracegirdle's House of Fine Chocolate in Glenelg is a chocolate lover's dream come true. Bracegirdle's multi-award winning chocolatiers handcraft creations on site, using only the finest Belgian chocolate. You'll surely need to sample something, before picking up that Christmas gift you came in for.
Fish Tank | Brighton VIC
An ideal location to pick up some pre-Chrissy seafood, Brighton's ever popular eatery tags itself as a 'healthy alternative to your corner fish and chip shop', but proves itself to be much more than that. It's a fishmonger doubling as a seafood cafe where you can buy fresh local seafood to cook at home; pick up fish and chips to go, or enjoy a sit-down meal.
Noosa Beach House Peter Kuruvita | Noosa Heads QLD
Plan a captivating four course Christmas lunch at Noosa Beach House, the brainchild of multi-talented Chef Peter Kuruvita. With its beach holiday style, this recent addition to the suave coastal dining hub of Noosa Heads' Hasting Street, has fast become the go-to for all crowds.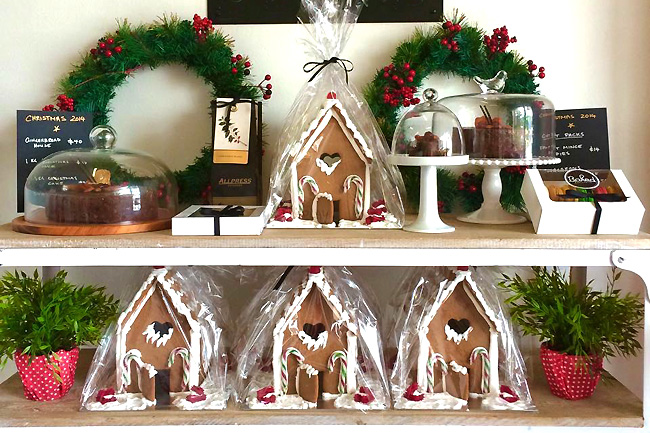 Gingerbread Houses for Christmas from Baked Patisserie.
Baked Patisserie | Kirrawee NSW
Marshall Road in Sydney's suburb of Kirrawee is the location for this cosy boutique, café style bakery. Baked Patisserie offers a selection of house baked goods like gourmet pies, sandwiches and cronuts as well as made to order cakes including the likes of chocolate fudge Mess Cake, or the famed Naked Cake – white chocolate fudge cake, topped with flowers. Make sure you visit early to get a hold of a show stopping Christmas cake.
Chez Olivier le Bistro | Prahran VIC
Perhaps take part in a French Christmas lunch at Chez Olivier Le Bistro, one of Melbourne's most loved French restaurants in the heart of Prahran's Greville Village. All elements combine in a harmonious vibe from the warm, inviting décor and regular art exhibitions to the friendly service, creating a 'tres parisien' romantic charm.
Ramon's at Willow Pond | Canning Vale WA
For something different, ditch the Christmas hat and don the flares, for Ramon's motown Christmas dinner and show. Award-winning Ramon's at Willow Pond, is situated on 2.2 hectares of beautifully manicured Japanese gardens. The Koi filled pond, cascading waterfall and relaxing landscape provide the perfect backdrop for a romantic dinner for two or a special occasion to share with friends and family.
The Khaya | Cootamundra NSW
Perhaps tick a gift of the list with a Christmas hamper from The Khaya, full of local Riverina produce, or just stay for brunch in the warm and cosy ambiance, with rustic corrugated iron wrapped around a front kitchen counter and colourful framed pieces from local artists on the walls.
Pod Food | Canberra ACT
Take a stroll along Canberra's vibrant gardens of Pialligo Plant Farm and you'll find Pod Food, a hidden culinary gem serving an innovative European-style menu. Enjoy Christmas lunch in this restored 1930s weatherboard cottage, stylishly fitted out with wood furnishings and modern art, setting the scene for a warm and refined dining experience.
Tailrace Café | Riverside TAS
Situated within the Tailrace Centre, Tailrace Cafe is dedicated to fun, food and family dining. Sample a thoroughly family friendly Christmas Day buffet in a spacious, fresh and contemporary layout, where parents can stop and relax while the kids play at the nearby Kids Paradise.
Tandoori Vibes | Darwin NT
Tandoori Vibes Restaurant and Bar is a popular dining hotspot for exotic tastes, located in the heart of Darwin CBD. Experience an alternative Christmas luncheon in the welcoming atmosphere of Tandoori Vibes' spacious interior, timelessly furnished with dark polished floorboards and cream walls, with features of deep burgundy adding a rich and warming ambiance.
If none of our suggestions are close to you, be sure to search via your location and check out our Christmas What's On Guide.